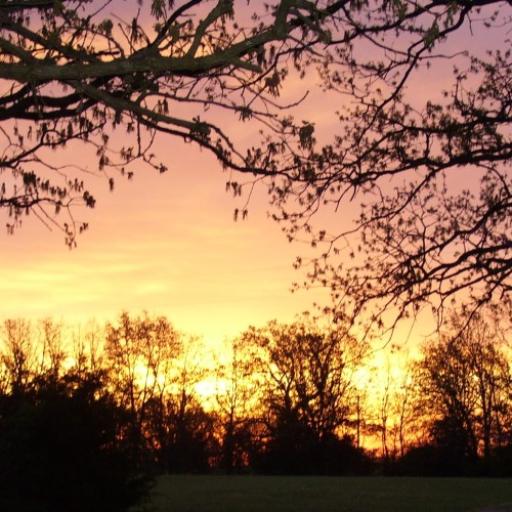 The Garden Chronicles - Week 19
It's been a busy couple of weeks. The corn got harvested in three pickings, each two days apart, and in it's place three rows of fall peas went in. I also dug a trench where some of the corn was standing and buried the stalks, after tying a dozen or so of them into shocks for Halloween decorations later on.
The weather hasn't been too bad. The rain stopped again, but temps have mostly been topping out in the mid to upper 80's. A cool, dry air mass is supposed to start blowing in tomorrow, so it looks like I'm about to enjoy a really beautiful week with low humidity. I can't wait. I love a mild August. As long as it doesn't portend an early frost, that is.
************
The first corn picking - August 5th.
.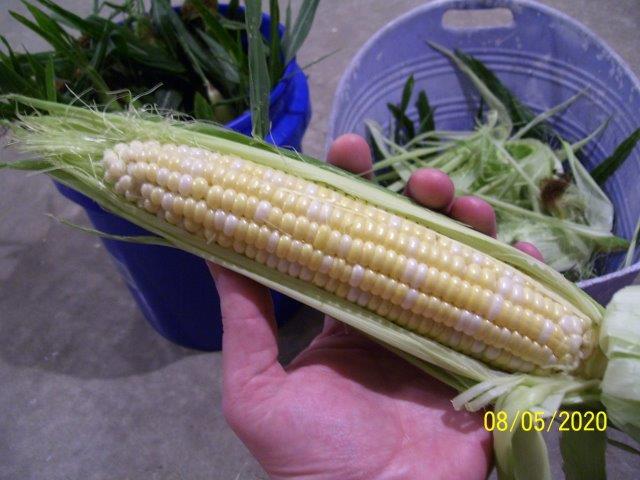 Beautiful. Not all of them were this clean, though. Plenty of them had earworms at the top.
.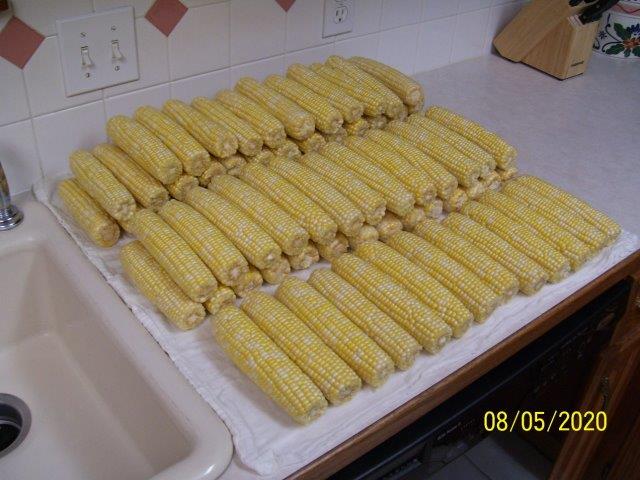 78 ears shucked and cleaned.
.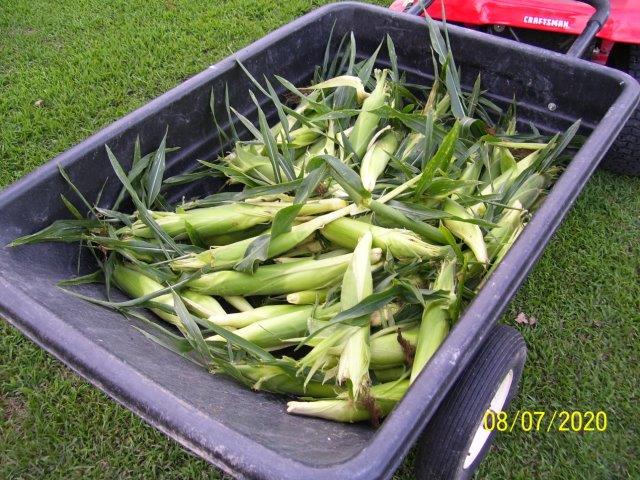 The second picking, two days later.
.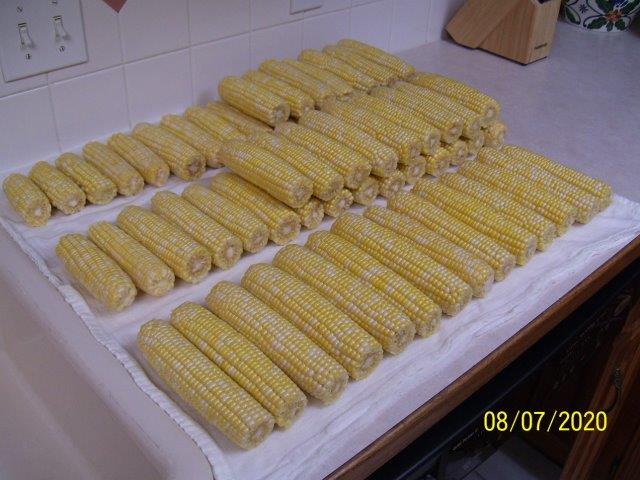 61 ears shucked and cleaned.
.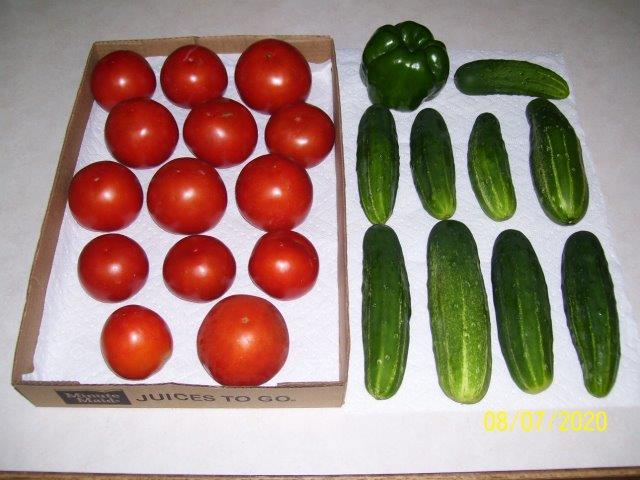 Some tomatoes, cukes, and a pepper from the same day.
.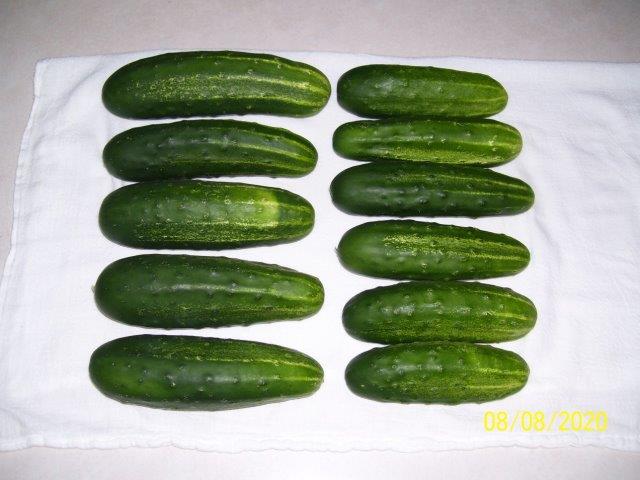 More cukes from the next day.
.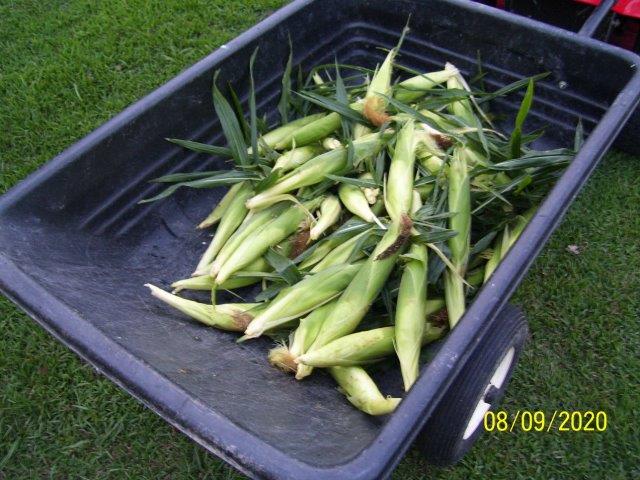 The third and final picking, four days after the first.
.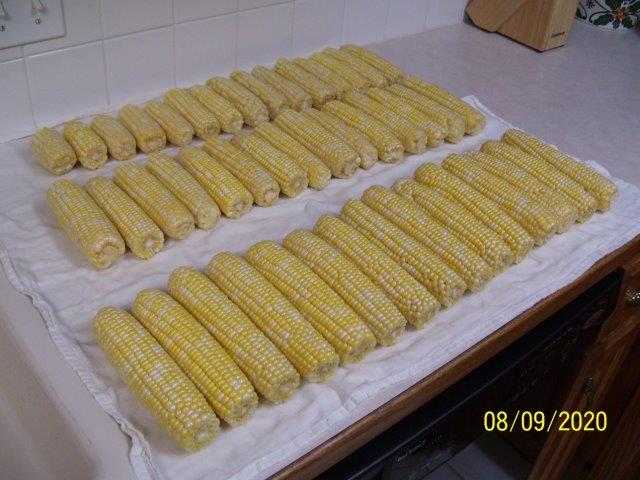 45 ears shucked and cleaned.
Also, when I cleared the corn stalks away I found an additional 8 ears that I'd missed.
Tally:
Pre-pick samples - 13
First picking - 78
Second picking - 61
Third picking - 45
Found while clearing stalks - 8
Total - 205
My yearly bare minimum goal is 150, so even with all the plants I lost this year I still made my goal and then some. If I hadn't lost so many plants early on I might well have had another hundred ears. It went in late, but it turned out to be a great year for corn.
If anyone liked what they saw, the variety was "Gotta Have It" from Gurney's.
.
Cooked and rolled in butter. Hard to beat.
.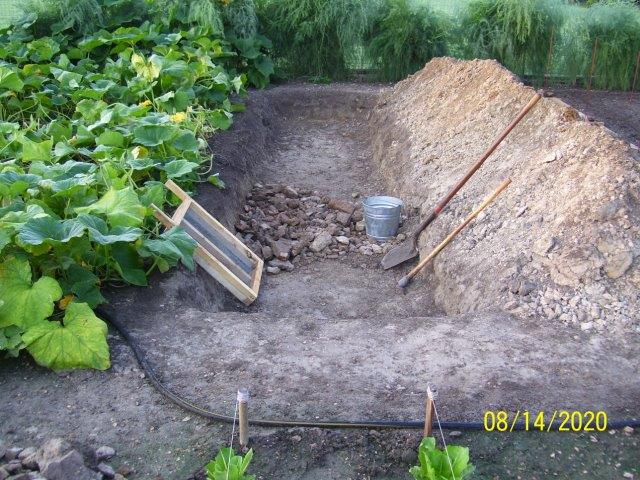 Here's the trench I dug for the stalk disposal. I started doing this about 6 years ago. I got tired of throwing away all of that perfectly good organic matter, and it's an opportunity to clear out rocks as well. Two birds with one stone.
.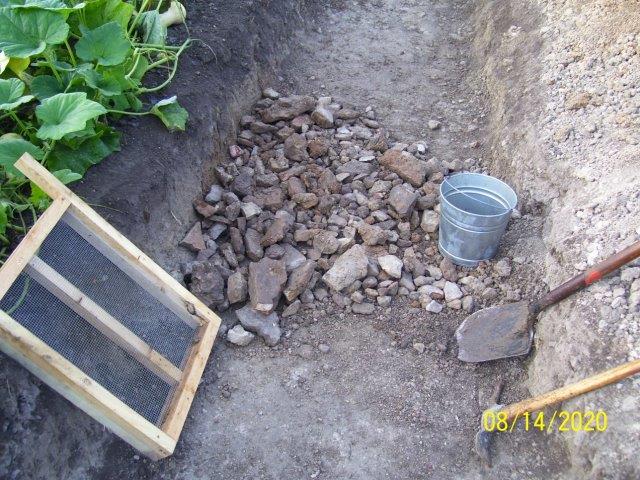 Here's what lurks a few inches below tiller depth.
.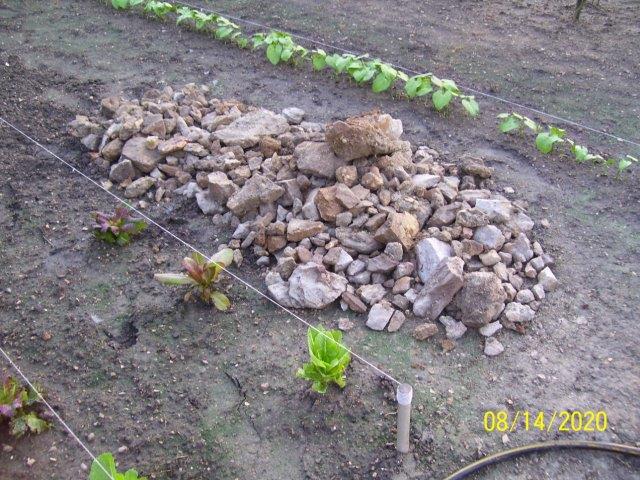 More of them. One of these years I might have the entire garden cleared of rocks down to at least two shovel depths.
.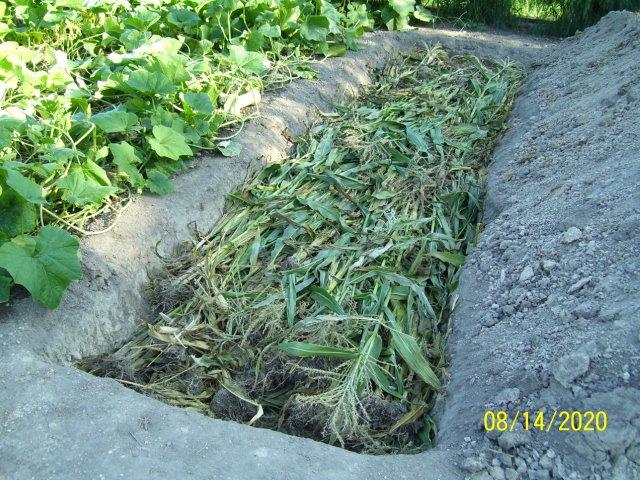 Rocks cleared and corn stalks in. They have 7 1/2 months to decompose before the first tilling of next year's garden. It's worked every year so far. I haven't tilled any up in the spring yet.
.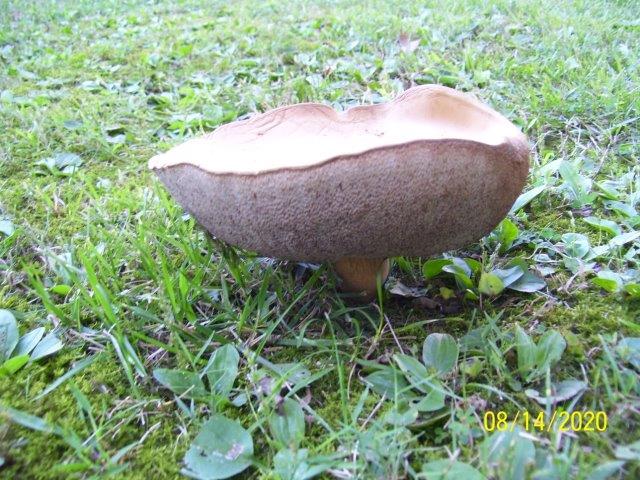 Does anyone know what kind of mushroom this is? I tried to identify it online, but I couldn't find anything that looked quite like it. It's about 6 inches across.
.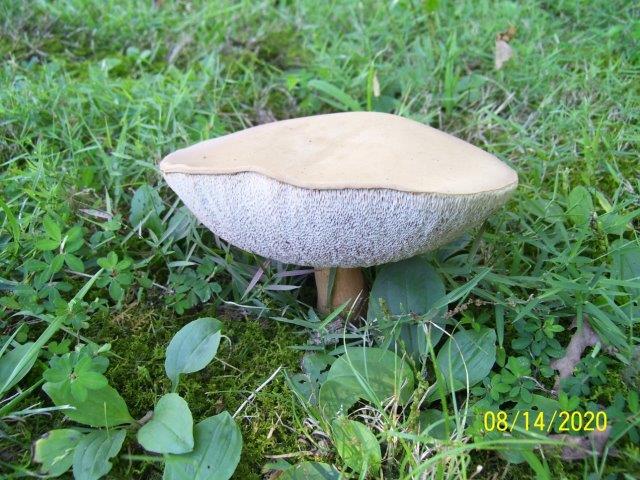 Here's another one growing about 2 feet away. This one's about 5 inches across.
.
This morning at sunrise. The Sun is moving southward along the horizon as the season advances. At the equinox it should be almost dead center on the garden.
.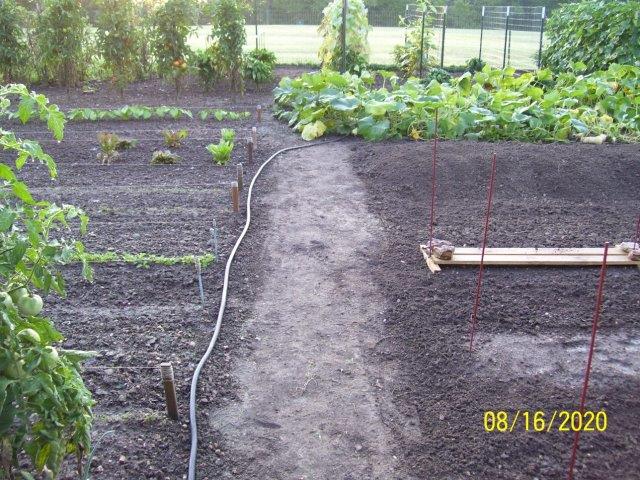 Not so crowded without the corn.
.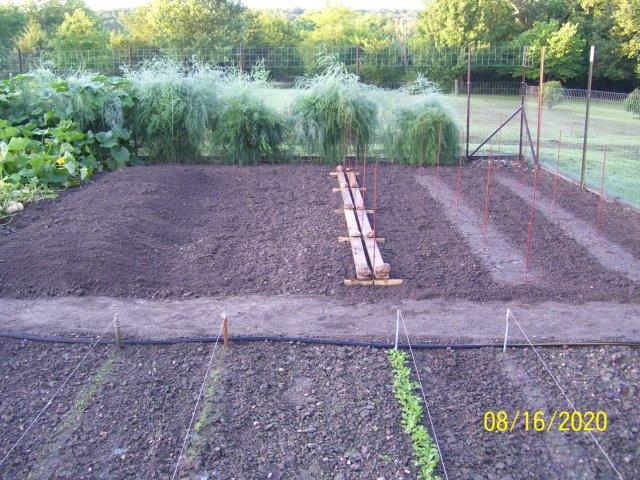 Three rows of low-trellised peas on the right. I only had enough boards for one trellis, so I guess I'm doing another experiment and the other two trellises are the control group. The variety is Maestro, which only needs about 30 inches of support. The stakes are in, but the trellises aren't on them yet. The seed is leftover from 2 years ago, so I don't know how well it'll do. I really hope it all comes up. I'm running out of time. The buried corn is on the far left. I'm going to put some spinach on top of it this week, and a row of kohlrabi between it and the peas.
.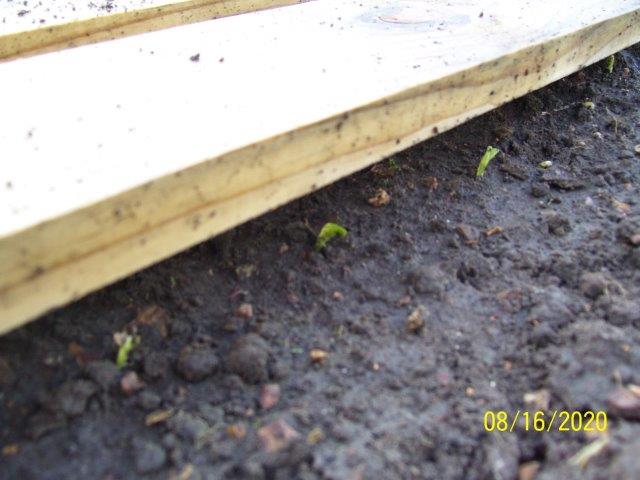 A few peas are just starting to come up under the boards, but I'm not seeing anything in the uncovered rows yet. Another win for the boards.
.
The Rutgers tomatoes, with Touchon carrots coming up next to them.
.
Touchon is an old French heirloom variety. I kind of like it.
.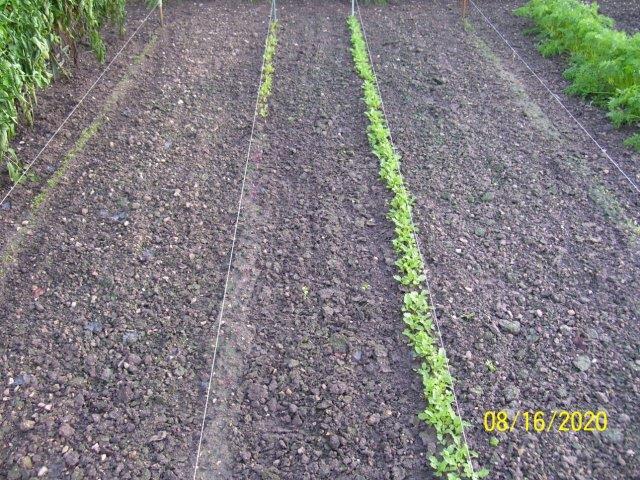 Two kinds of fall beets on the left, Detroit Dark Red and Bull's Blood, and those are the Silky Sweet Hybrid turnips on the right. I only had boards over half of these rows when I planted, but it was cool and mild that week, so it didn't seem to make much of a difference. They all germinated about the same, protected from the sun or not.
.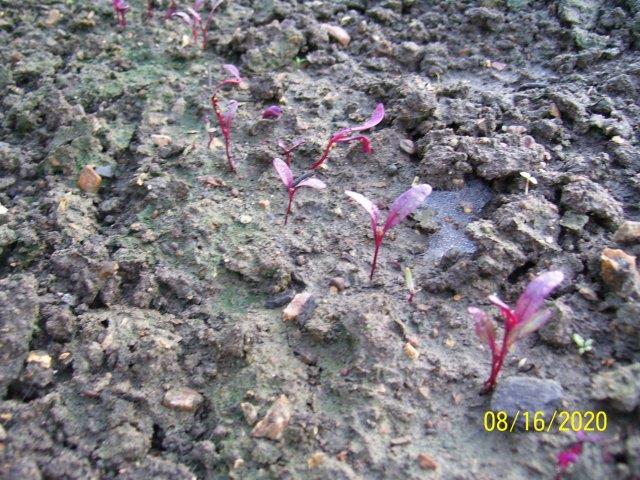 Here's the Bull's Blood beets that can't really be seen above. Red, red, red.
.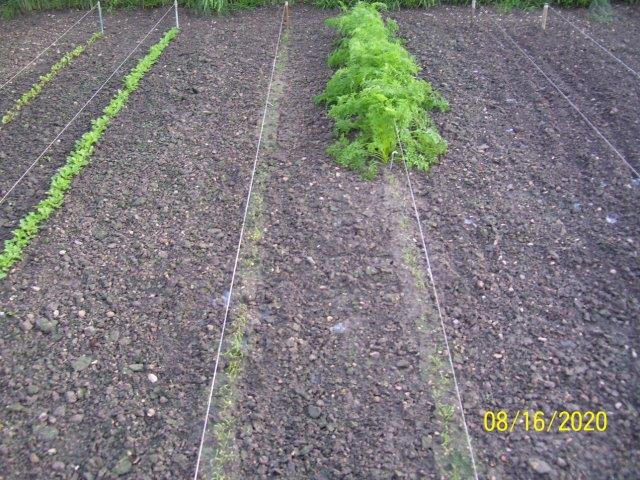 More fall/winter carrots. The bigger half-row is Touchon (started under boards back in June, if anyone remembers), and the new ones are Burpee's A#1 Hybrid.
.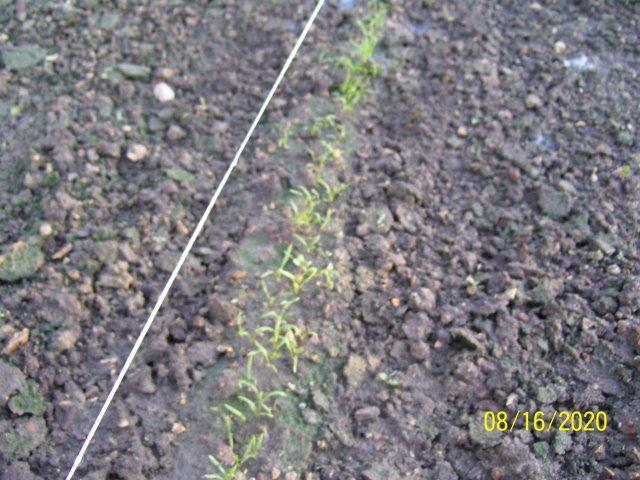 The A#1 Hybrid seedlings.
.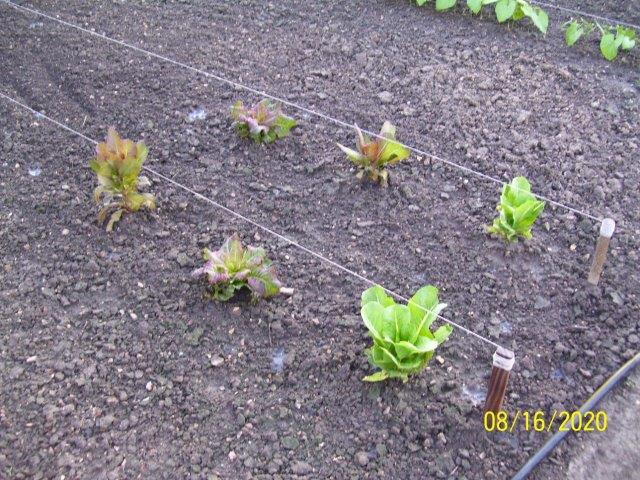 Lettuce. I really need to get some more of it out here and in the ground.
.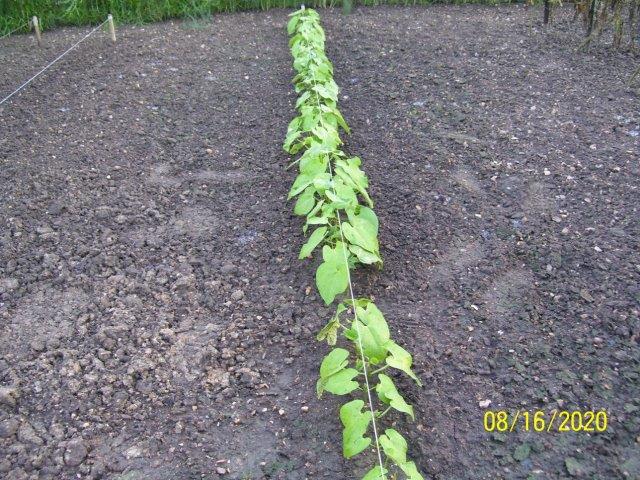 Finally, some decent bean germination. I still can't believe the time I had with beans this year.
.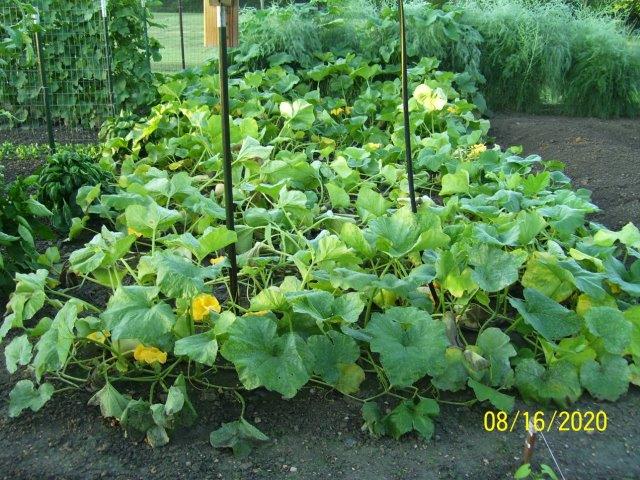 The butternut squash.
.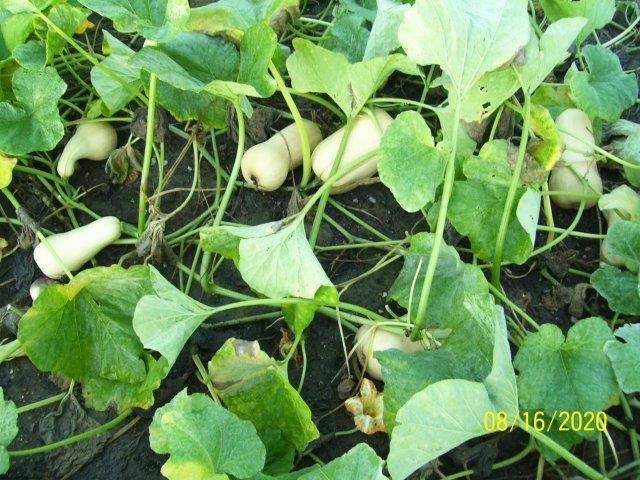 The variety is good old Waltham Butternut.
.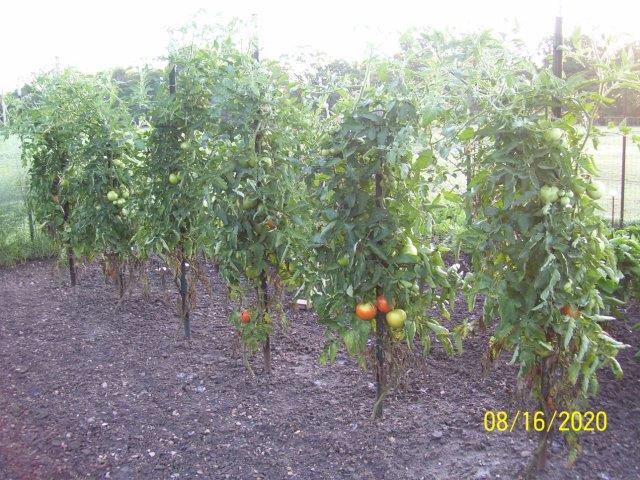 The Big Beef tomatoes, about to outgrow their posts. I have some poles I'll tie across the top for them to drape over.
.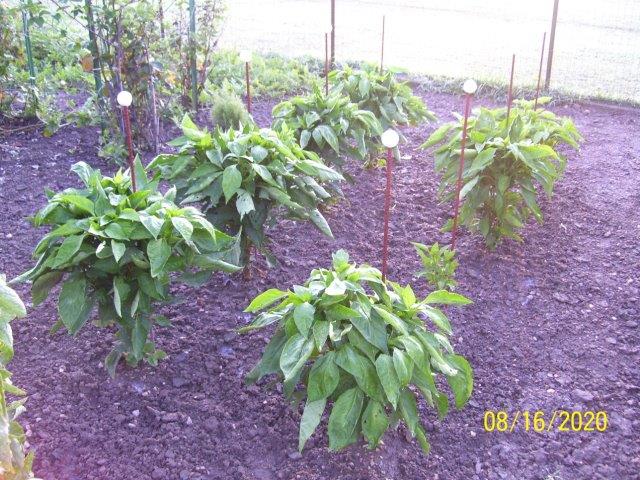 The nearly-drowned peppers.
.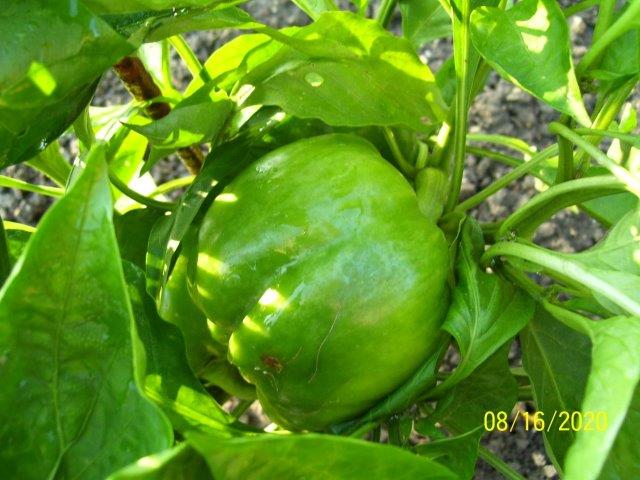 They're actually producing now. Slowly, but there are several flowers out. I hope I get a decent batch eventually.
.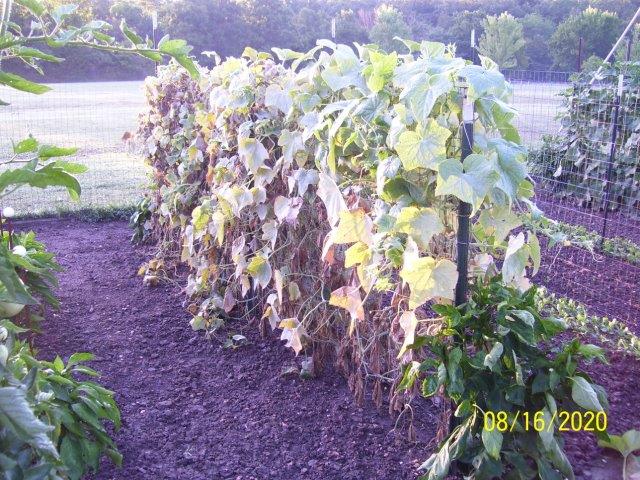 The older cucumbers are about done now.
.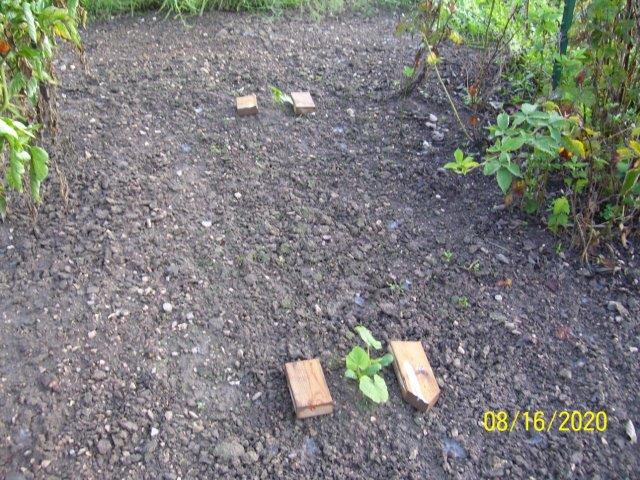 A couple of new zucchini plants. The scrap 2x4's are just markers so I don't step on them.
.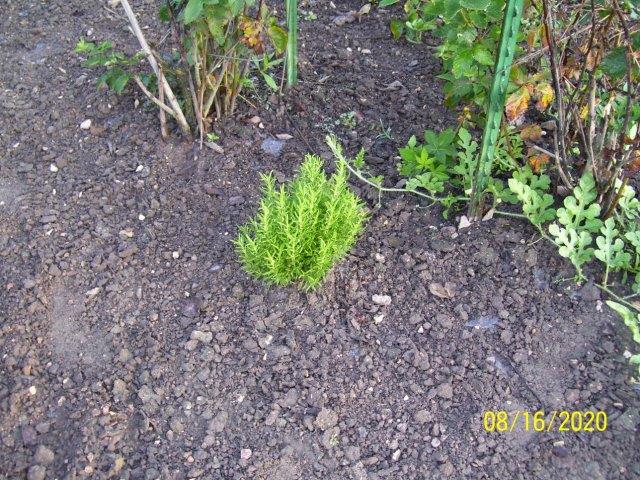 The rosemary is finally starting to grow. Better late than never.
.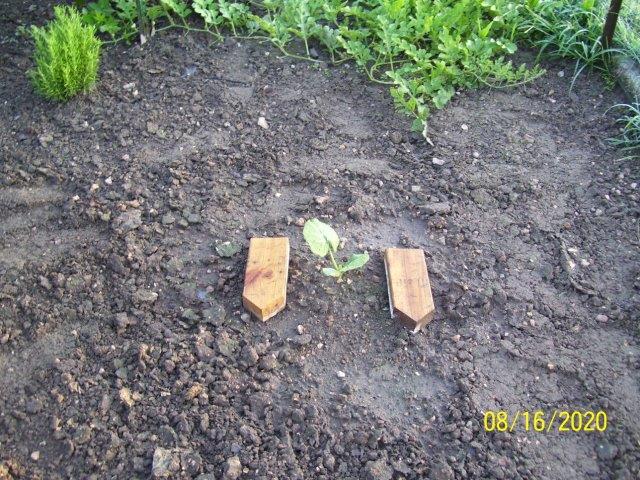 Another new zucchini.
.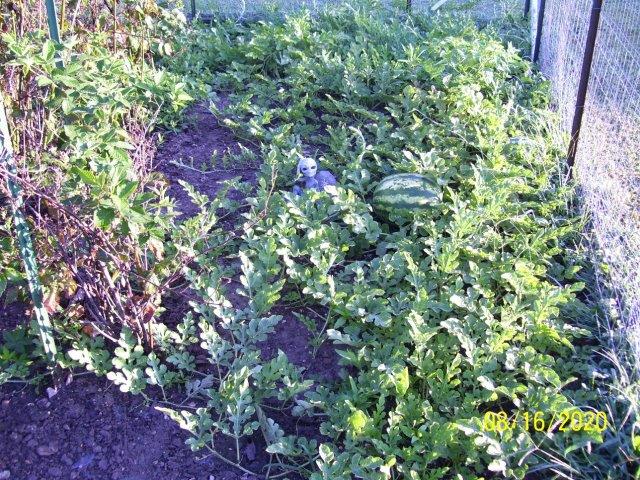 The watermelons. You can't really see them, but there are at least 7 in there.
.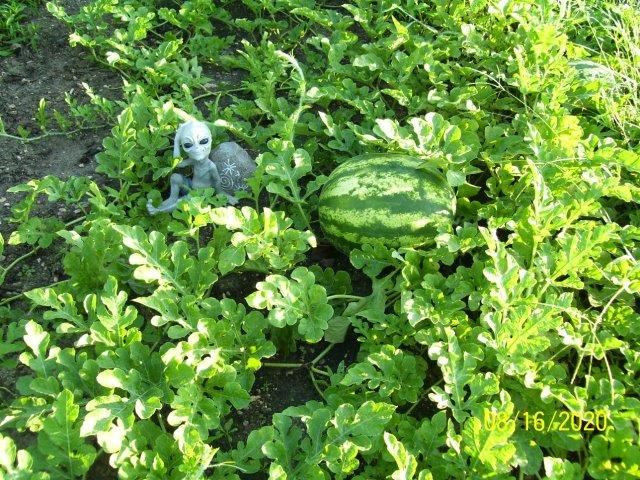 This ones probably going to get picked tomorrow.
.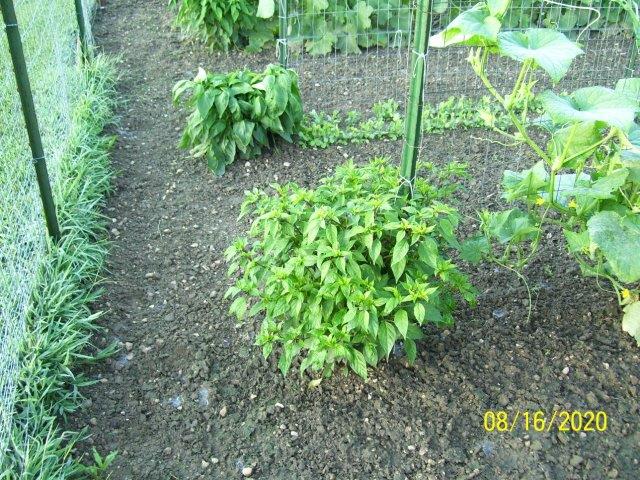 One of the mystery purple hot peppers in the foreground, and a regular Cal Wonder behind it.
.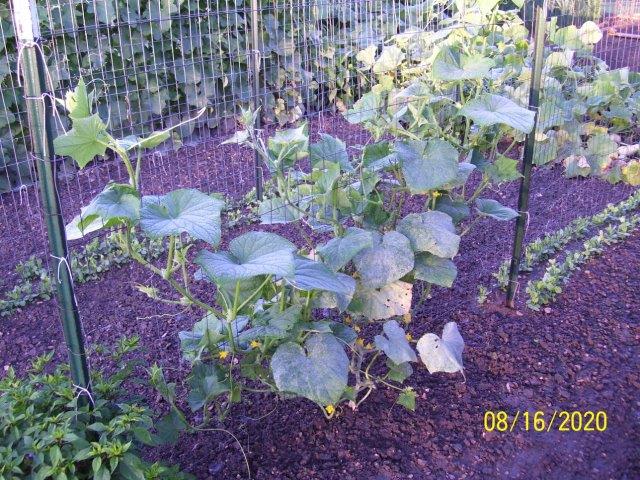 The third cucumber, flowering now.
.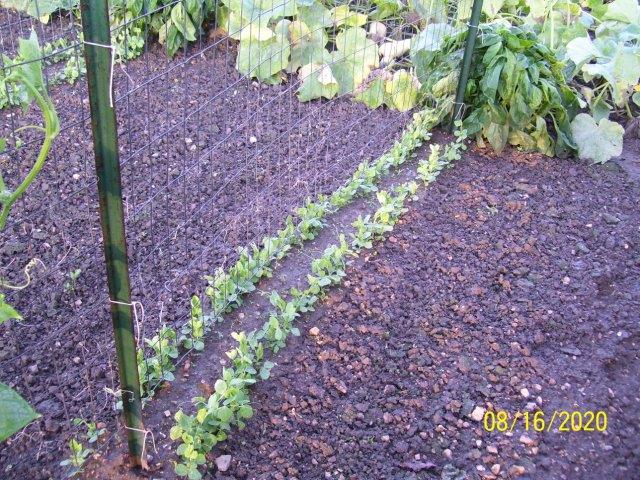 Some fall peas. Miragreen, the same variety I grew in the spring.
.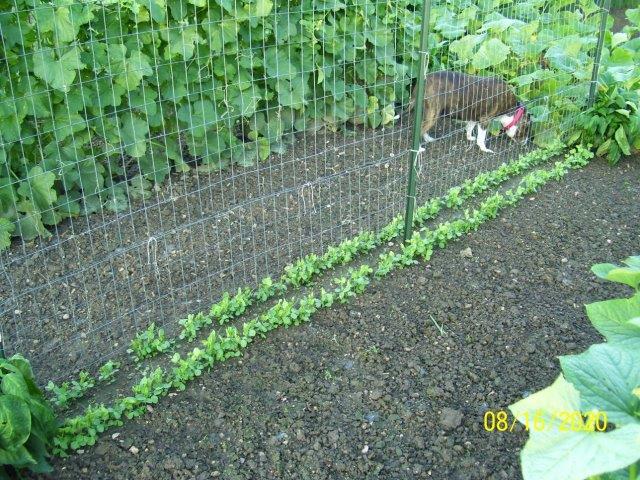 More Miragreen peas, and Polly investigating something in the squash.
.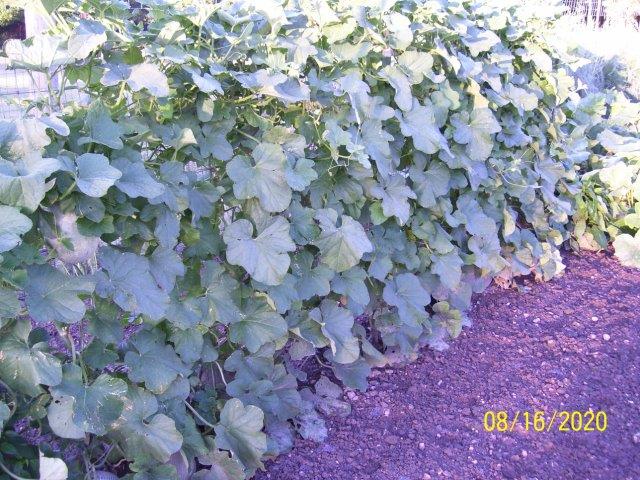 The cantaloupe trellis.
.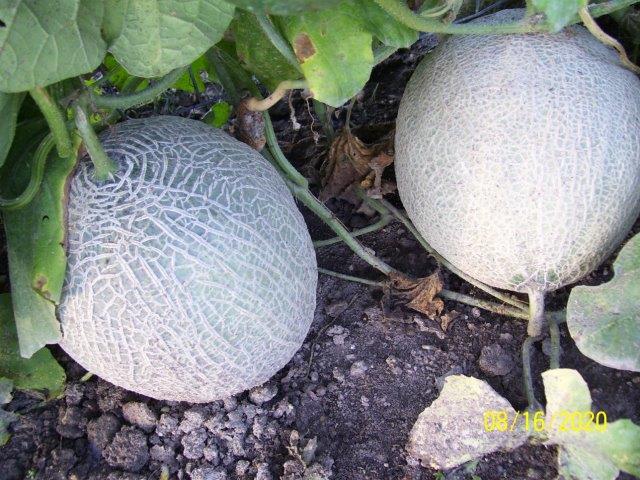 Cantaloupes.
.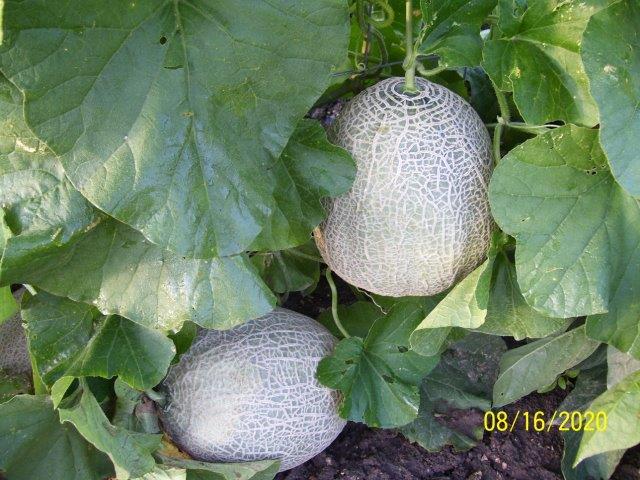 A couple more, one of them hanging.
.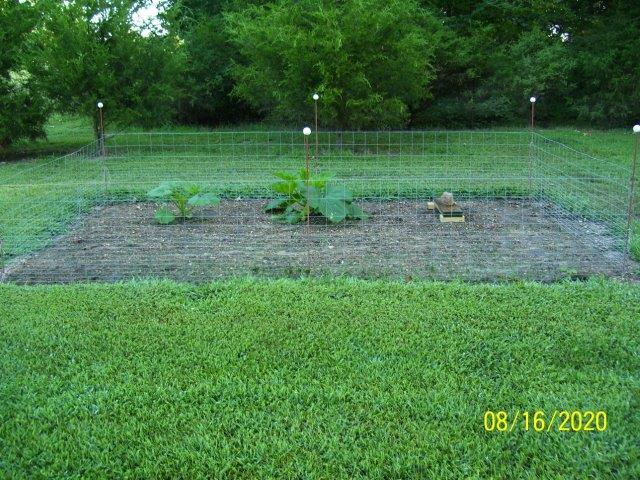 Zucchini in the side plot.
.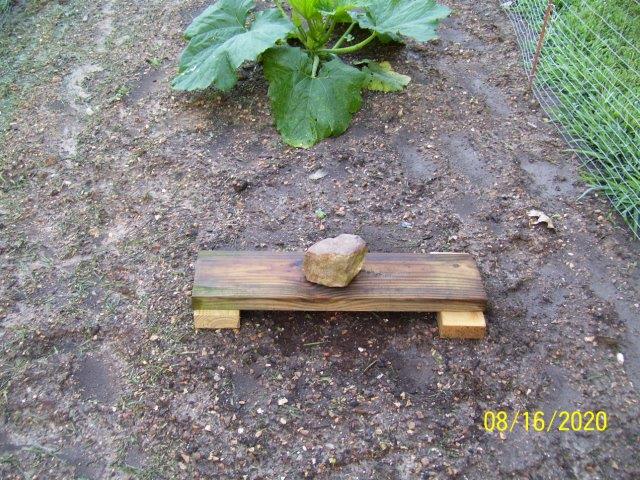 Some new seeds under a board. Probably the last planting.
.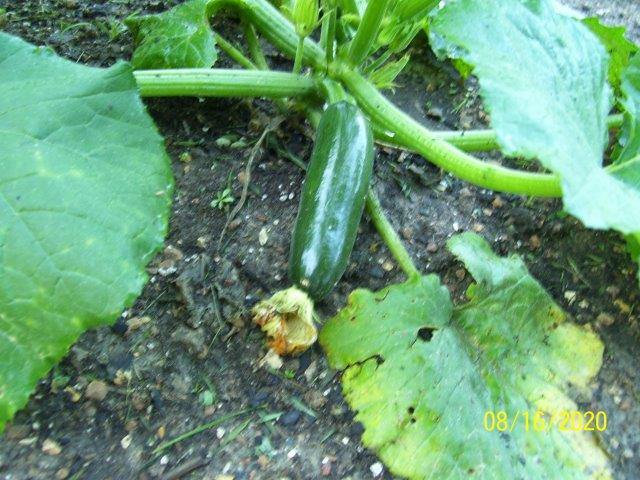 The middle one is producing now.
.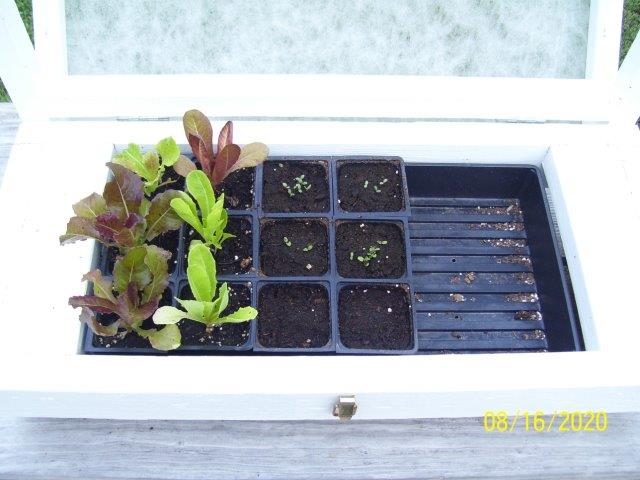 Lettuce in the starting planter.
.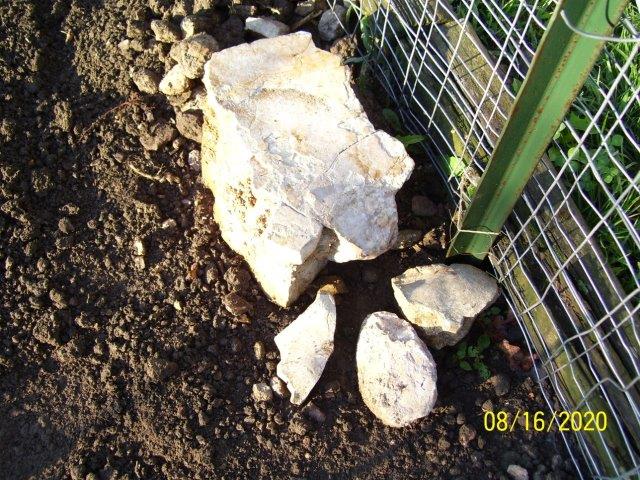 I kept a few chunks of chert that came out of the corn trench. I hope the larger one isn't too fractured. I'd really like to have a nice, big, solid piece of it.
.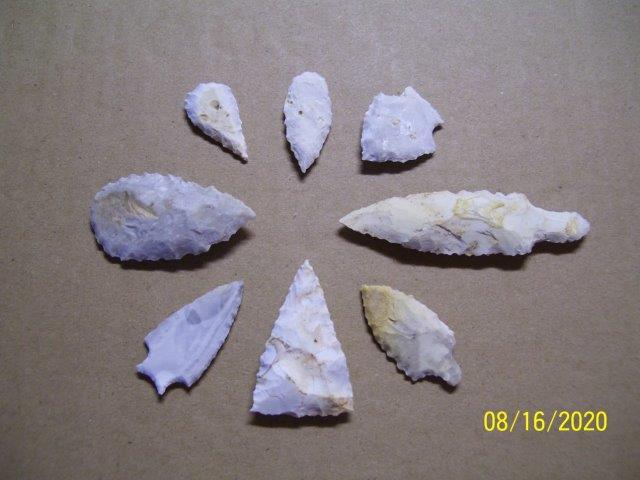 I use it for another hobby — some very amateurish flint knapping. These are some points I've made in the past out of chert from the garden and the yard.
.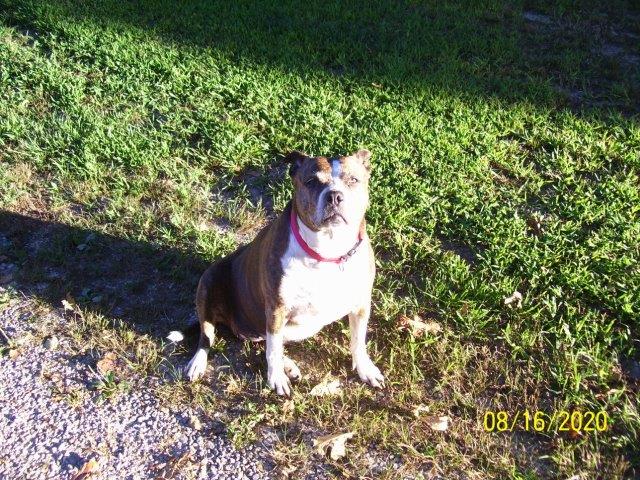 That's all for now.
.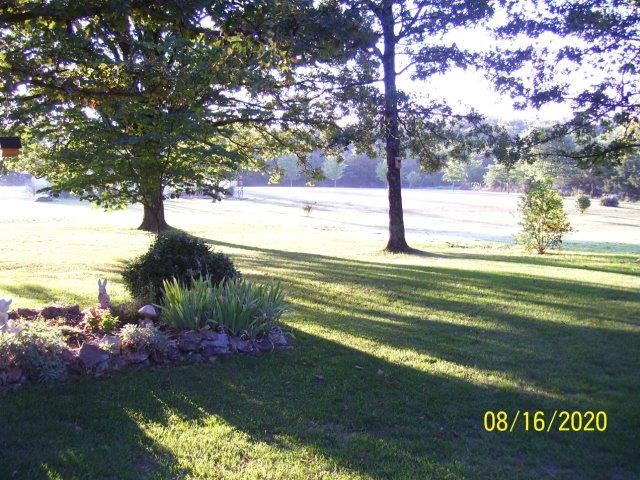 See you next time.