By:
TTGA
•
2 years ago
•
10 comments
This casserole can be made in either a 9"x9" pan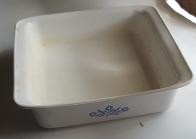 or in a 9"x11" pan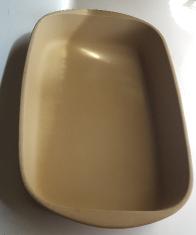 simply by adjusting the quantity of ingredients.  This recipe is set up for a 9"x11" pan so, for a lesser amount, simply cut back the quantity.  The ingredients should fill the pan and a bit of experimentation will show you the right amount for each.  While metal pans will work, I've found better results with either ceramic or stoneware pans.  They distribute the heat better with less chance of scorching.  You will also need a 2 cup measuring cup and a hand or rotary grater/slicer.  Slicing potatoes really thin by hand is very difficult to do well and very time consuming.
INGREDIENTS
1-1 1/2 pounds of bulk breakfast sausage.  You can use Hot, Mild or Sage; depending on your preference in flavor (I sometimes use a mixture).
6-9 Medium potatoes, peeled and sliced.
1/2 Medium diced onion.
1/2 Sweet Green Pepper (diced).
1 can condensed Cream of Mushroom soup.
1/2 to 1 cup of milk
8-12 ounces of shredded cheddar cheese
DIRECTIONS
Brown and drain sausage (easiest way is to use a glass bowl and a microwave).
Peel and slice potatoes.
Place soup, onions and peppers in a measuring cup and add milk to produce a mildly thick sauce (should be about as thick as gravy.  Add salt, pepper or sage as your particular taste dictates (I wouldn't recommend doing this until you've made it without these spices and can tell by experience what more might be needed).
Oil or spray sides and bottom of pan to make clean up easier.
Use half the potato slices to make a layer in the pan, covering the entire bottom.
Cover the potato layer with a layer consisting of half of the browned sausage.
Add a layer of the sauce.
Add a layer of cheese if you wish the result to be extra cheesy (Individual taste here.  I add one, my wife doesn't.  She doesn't like cheddar that much.)
Repeat the process with the rest of the ingredients.  Do not add a second layer of cheese at this time, though.
At this point, the pan should be filled to the top. Cover with aluminum foil and place in a pre-heated 350º oven.  Bake for 1 hour and 15 minutes.  At that time, remove foil and add the last layer of cheese.  Return to oven, without foil, for 10 minutes or until cheese is melted.