On CREATIVE ARTS/THURSDAY/FRIDAY … Can't Prove It, But …
By:
A. Macarthur
•
4 months ago
•
103 comments
I've been photographing a family of RED FOXES for roughly two weeks, making myself as inconspicuous as possible, but still, not eluding their keen awareness entirely. 
Initially, any time I first entered the woods -- almost 100 yards from their den, if they were out, they spotted me almost immediately and disappeared. Otherwise, it was get behind a tree that offered a good shooting angle and shoot in bursts of 10 frames per second … and hope for at least one good shot out of every ten recorded.
But, in the last few days, although I know the foxes are aware of my presence, they seem to accept that presence with a sense that I'm not there to harm them -- as they go about their business, often staring at me directly. I CAN'T PROVE IT, but this seems to be the case.
Most often the family is around the outside of the den at 7:00 PM or later; the light being low at that hour, I shoot at ISO numbers that enable me to get the shot (this objective pertains above all else). A "grainy" image beats the hell out of no image!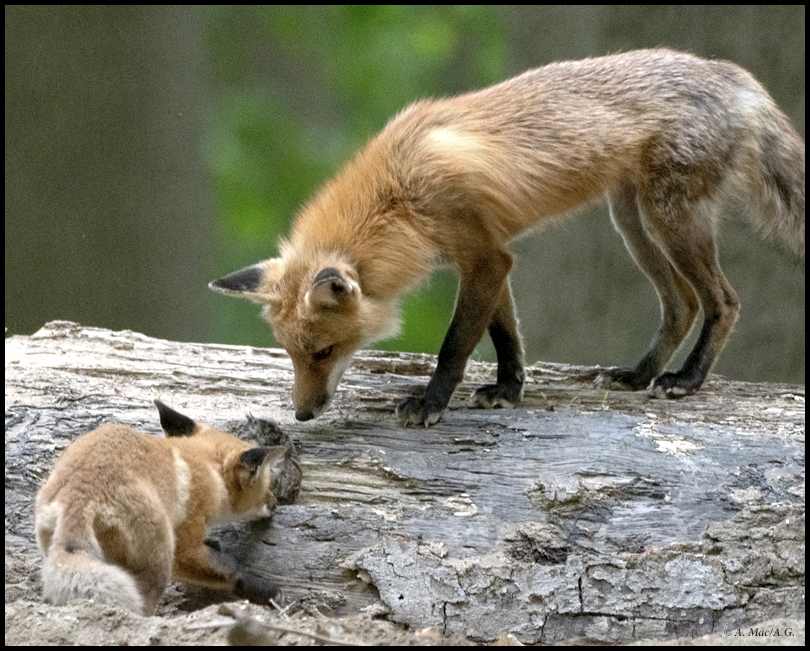 Last evening, the "dog" (male) came to the den with one of the kits and a squirrel dinner.
© A. Mac/A.G.