Art, Nature and the Panacea of Fantasy
"The gift of fantasy has meant more to me than my talent for absorbing positive knowledge." _ Albert Einstein
~
Like a lot of young boys, I indulged in certain fantasies, mostly, in my case, the fantasies that I might have a "real shot" at one day pitching in the Major Leagues of Baseball, and particularly, as a kid living in the city of Philadelphia, for the Philadelphia Phillies. In my estimation, I came closer to realizing that fantasy, than do the overwhelming number of American boys having similar ones.
In 1958 and 1960, as a kid pitching on a team, in what was, unlike today, a highly competitive, city-wide, sandlot baseball league, I was selected by opposing-team coaches, as a league ALL-STAR! By itself, that doesn't sound like much … except for the fact that those boys so selected, GOT TO PLAY AN ACTUAL GAME IN CONNIE MACK STADIUM (at the time, the Phillies home field)! 
And I got to do it TWICE! 
Not exactly "the fantasy lived," but for one kid with a dream, and most others, as close to "livin' it" as it gets.
As a grown man, with a grown man's responsibilities and fears, fantasies continued to exist, but became more about having (the illusion of) control over one's life … and, over the fears as well, not so much, if at all, with any belief in a realization.
For a time, I regularly bought lottery tickets … bought them just one-at-a-time and once-a-week, more indicative perhaps of "wishful thinking" than that of pure fantasy or the delusion of wishes and fantasies materializing. Nevertheless, in my fantasy, the "HUNDRED MILLION DOLLAR TICKET," would come with a "list," specifically, one with the names of family, neighbors and friends to whom I'd give a million dollars each! Of course, charities would get generous shares, and, I'd buy a big house on the edge of a mountain lake, a house for family … a retreat with touches like a coffee pot on a timer from which I could pour myself a cup first thing at sunrise … then sip it as I'd walk between sliding, glass back doors to my dock from which I'd fly fish for rainbow trout and smallmouth bass. And I'd now-and-then return from that house to the "old neighborhood" …doing so to prepare some of my former neighbors and a handful of friends, for a week or more in Disney World, with rooms at one of the very fine hotels "in the park" … and park passes to the Magic Kingdom, EPCOT … all at my expense and happiness to do so.
However, eventually, Corinthians 13:11  took hold (for the most part, although not entirely), and, I found from time-to-time, to fill a void, to distract from the frustrations and anxieties caused by a world of trouble, and to push aside fears … that by assimilating the various contents of "The Arts" … of paintings, theater, music, film and literature, through fantasizing in accord with their imagery and sounds and words, and/or, by creating my own art through photography, painting and writing … using them to build my own fantasies … I had a welcome, necessary panacea … if only an intermittent, fleeting one.
So it is, that I have made a literal, physical space for this phenomenon I regard as "the panacea of fantasy ," this, by recently assembling a few simple things on the porch of my tiny house on the slope of a mountain in Pennsylvania's Poconos … a perfect venue on nights when sweet air from the forested mountain rolls gently through the porch's screens and surrounds me like a caress from heaven … in which to slowly rock in a glider chair until I doze off from my meditating and fantasizing, subsequently awakening just long enough to go inside and fall asleep.
Simple, gently compelling … that space … it is this.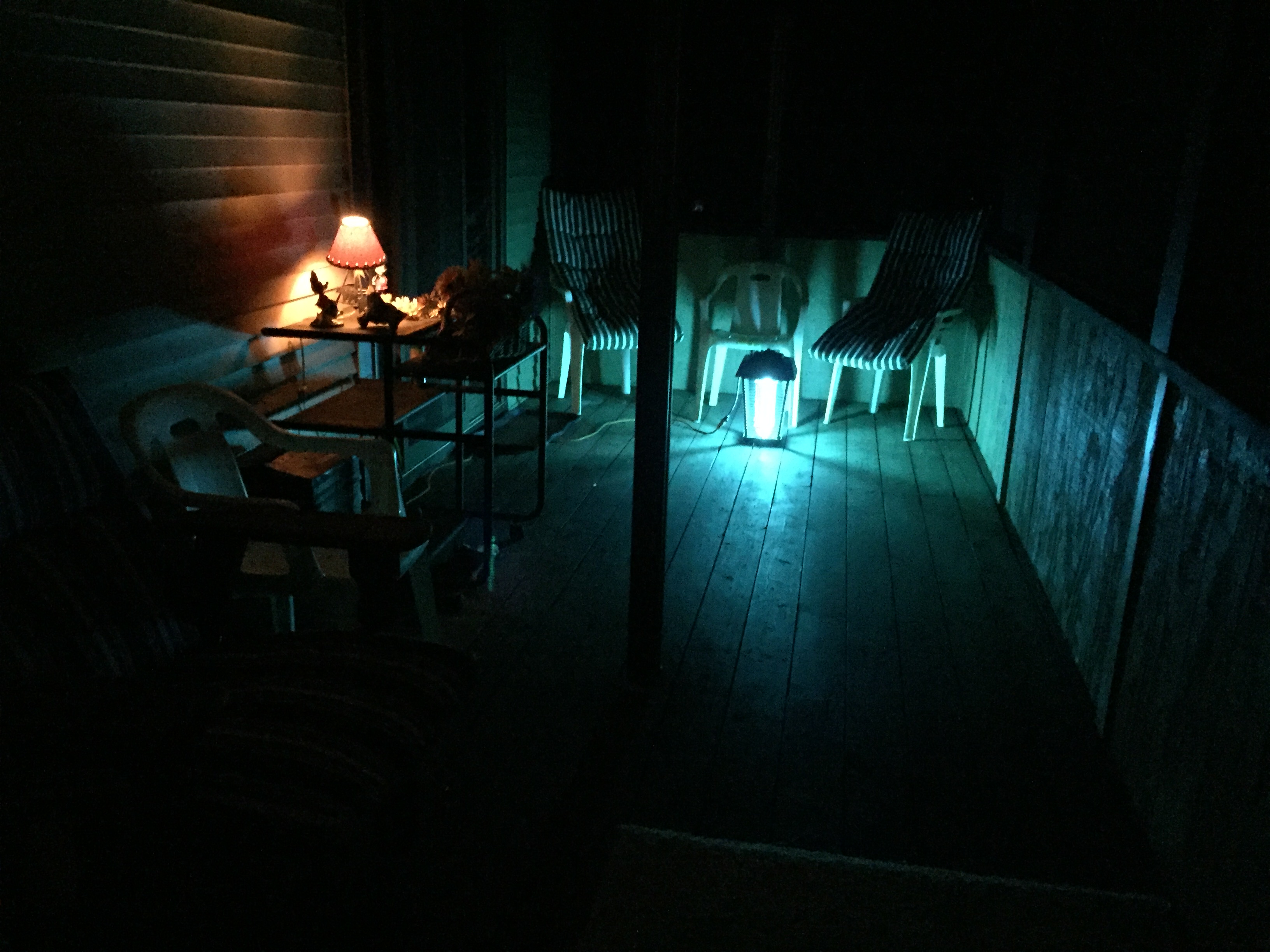 One additional fantasy, or, more a wish with some limited plausibility … that people I have known and care about, can sit here with me, listen to the sounds of the mountain night, feel the air … and fall into their own fantasies.