The 10 Best Foodie Movies About Chefs, Food, and Cooking
By:
BY GEORGIA MAY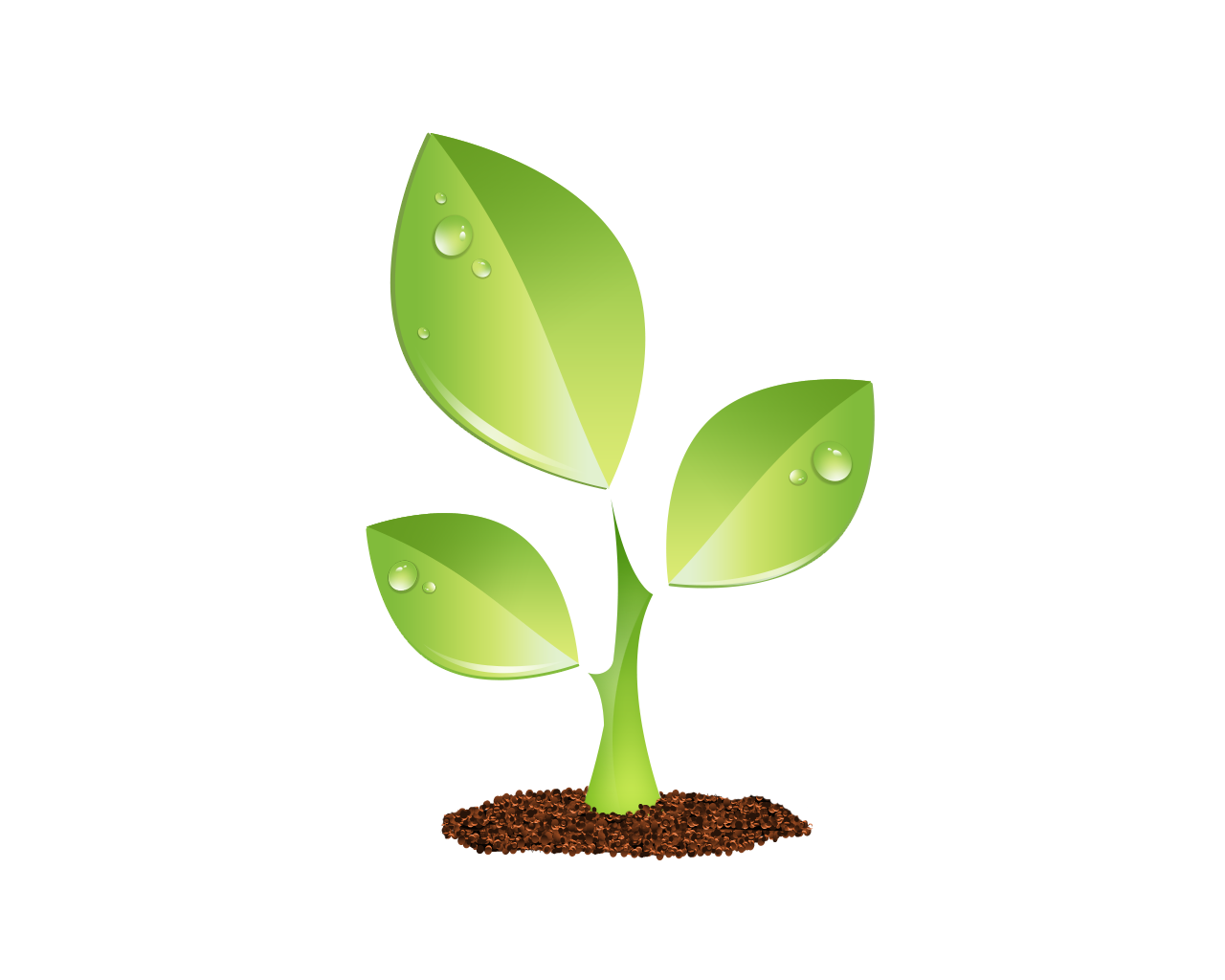 S E E D E D C O N T E N T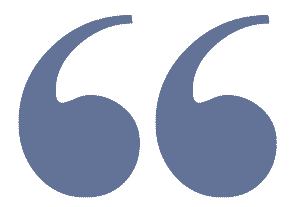 The 10 Best Foodie Movies About Chefs, Food, and Cooking
What to do when you're a foodie who's stuck at home? Maybe watch these incredible movies about foods and the ones who prepare them.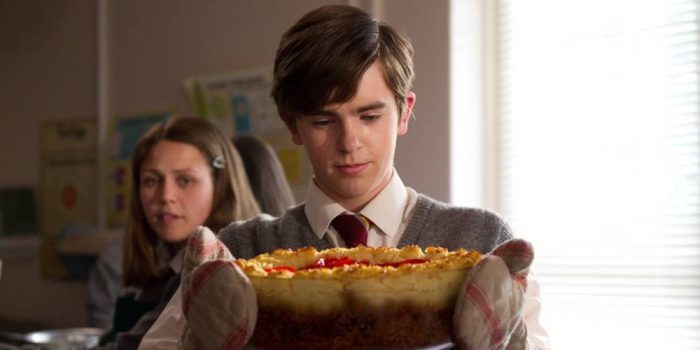 Throughout the year, there are so many great occasions to enjoy food—for holiday festivities, for birthday bashes, for anniversary celebrations, for workplace parties, the list could go on forever.
No other time-honored tradition is more effective at bringing people together than the sharing of delicious food. And if that food is homemade and infused with love, it's that much better.
Here are my picks for the greatest foodie movies that are must-watches for wannabe chefs, closet food critics, or viewers who crave opulence.
Dive into these incredible films that grant us peeks into the stressful, high-pressure world of angry chefs, luxury restaurants, and a range of unique palates from around the world.
10.  Burnt  (2015)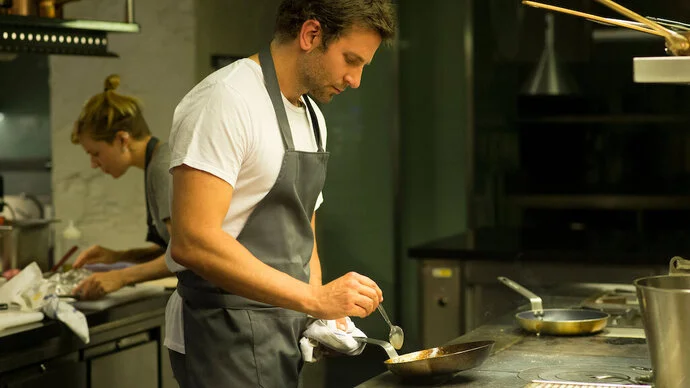 I won't sit here and pretend that critics didn't hate  Burnt . But for viewers like me, it was a worthwhile watch—so if you're a foodie in the presence of average joes, this one's a good crowd-pleaser.
Burnt  is formulaic, predictable, and Hollywoodized, but you know exactly what you're getting. It's perfect for casual late-night viewing, with Bradley Cooper and Sienna Miller being safe bets as headline actors.
John Wells directs this fiery comedy-drama, in which an arrogant chef falls from his pedestal at a fancy Parisian restaurant. After sobering up, Adam (Bradley Cooper) heads to London to chase his next Michelin star—while avoiding burnout.
Just like the cooking industry,  Burnt  is a harsh, sharp-edged, fast-paced drama with little room to breathe. The original title  Chef  was changed to avoid confusion with Jon Favreau's 2014 film (see below).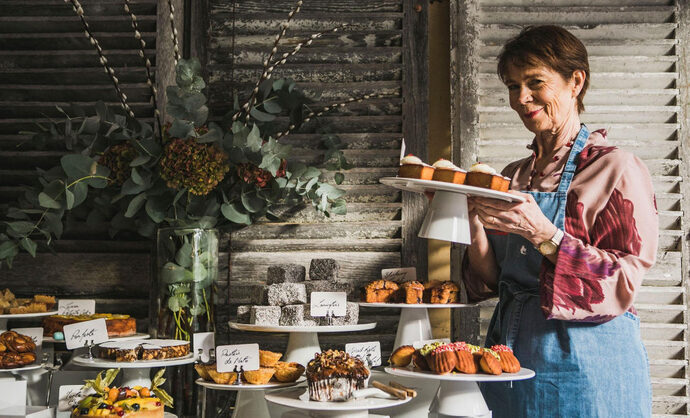 If you have a sweet tooth,  Love Sarah  is for you. It's a sweet film about sweet treats—like comfort food in movie form.
In  Love Sarah , the titular Sarah (Candice Brown) dreams of opening her own bakery in Notting Hill. When tragedy hits, her family and best friend decide to open it in her memory.
Sarah's daughter, Clarissa (Shannon Tarbet), loses direction in her life in the wake of her mother's passing, but she manages to reground herself with this wholesome business project.
Director Eliza Schroeder immediately sets  Love Sarah  off on a feminist trajectory, where only one male seems to bring anything to the table—a Michelin star chef (Rupert Penry-Jones) who helps boost their café.
Celia Imrie and Shelley Conn also star, managing to make another run-of-the-mill London bakery in a sea of artisanal cafés feel special.

Cuisine plays an important role in many cultures, but France and India are two notorious places that take their foods very seriously. For French and Indian alike, there's no such thing as a McDonald's breakfast.
However, despite sharing a similar passion for food, French cuisine and Indian cuisine couldn't be more unlike the other. Quaint macaroons and boozy bourguignonnes are no vindaloo with fragrant rice.
In  The Hundred Foot Journey , the Kadam family opens the Maison Mumbai a hundred feet opposite an upscale French restaurant—and as soon as they do, tensions immediately bubble.
However, when Madame Mallory (Helen Mirren) and Abbu (Om Puri) learn to put their differences aside, they learn that the harmony of all cultures works better than staying divided.
7.  Toast  (2010)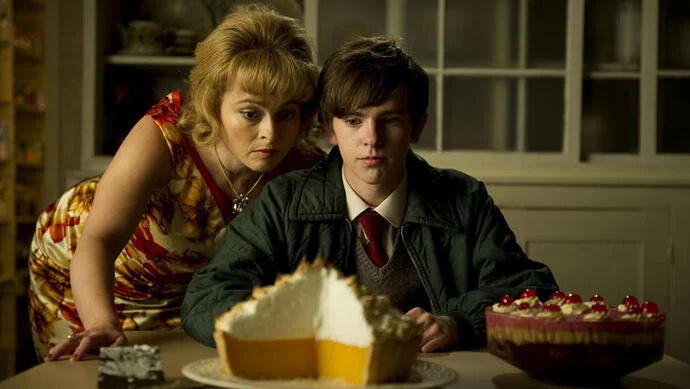 For some, there's nothing blander than the standard British breakfast: toast and a cup of tea. That's certainly true for Nigel Slater, who would rather bake a cake than play footy with the other kids.
Lonely as it can be as a child, being giftedly "different" can pay off as you get older, when talent provides passion and meaning to your life. For Nigel, that means cooking and baking his way into a professional kitchen.
Nigel Slater's 2003 autobiography was made into a television film called  Toast  by S. J. Clarkson and Lee Hall, who also wrote the screenplay for  Billy Elliot  (2000).  Toast  shares a similar starchy British tone about a black-sheep boy, portrayed by Freddie Highmore, pursuing what he loves.
Helena Bonham Carter also stars as a chain-smoking, working-class, evil stepmother who's jealous of this teen boy's skills.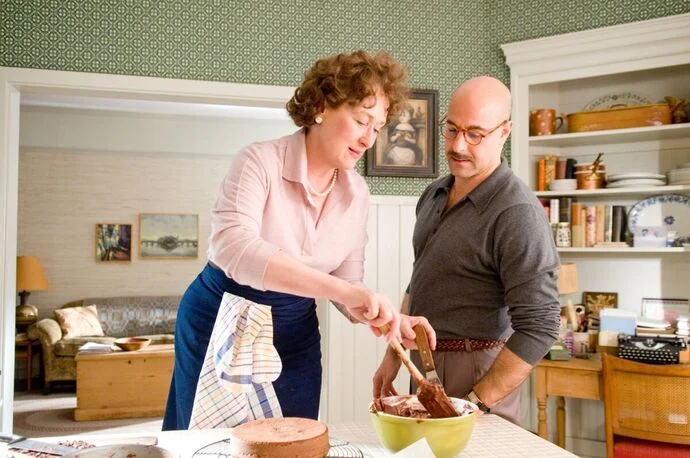 Julie & Julia  brings us not one but two true stories! Nora Ephron wrote and directed the dual biopic by intertwining two stories of women breaking into the culinary world.
First, there's Julia Child (Meryl Streep) who introduced America to French cuisine with her 1960s cooking show. Prior to that, Julie's cookbook was rejected and her teachers claimed she had no talent.
Fast-forward to modern-day America with Julie Powell (Amy Adams) who hates her cubicle job and only finds joy in the kitchen. Julie decides to challenge herself and make all 524 of Julia Child's recipes in one year.
She writes about her endeavors via blog, which eventually garners the attention of critics and literary agents—even if Julia herself (now in her 80s) isn't so impressed.
Nora Ephron based the film off both women's memoirs:  My Life in France  and  Julie & Julia: My Year of Cooking Dangerously .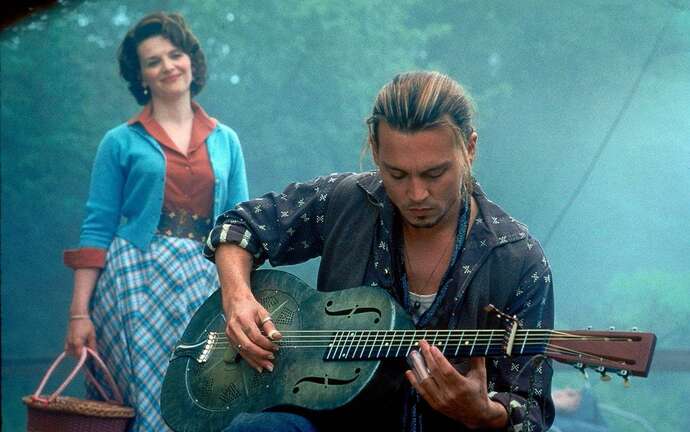 Johnny Depp has given us lots of notable performances, including ones far removed from his stint as a swashbuckling pirate.
In  Chocolat , Depp has no dreadlocks or white face paint; instead, we're treated with a tanned, guitar-playing Depp with caramel hair.
In fact, there's a lot of caramel in Lasse Hallström's whirlwind romance. Based on the 1999 novel by Joanne Harris,  Chocolat  tells the story of a drifter and her daughter, who both shock their new town's people with passion and laughter—chiefly through cocoa beans.
Who knew chocolate truffles could cause such an uproar? Vianne's (Juliette Binoche) chocolate shop brings life to the French village, which is otherwise strict on its peace.
The movie's trailer might seem a little cheesy, but  Chocolat  was nominated for multiple Academy Awards, with critics describing it as full of finesse, whimsy, and wisdom. Everything about this movie is scrumptious.
4.  Chef  (2014)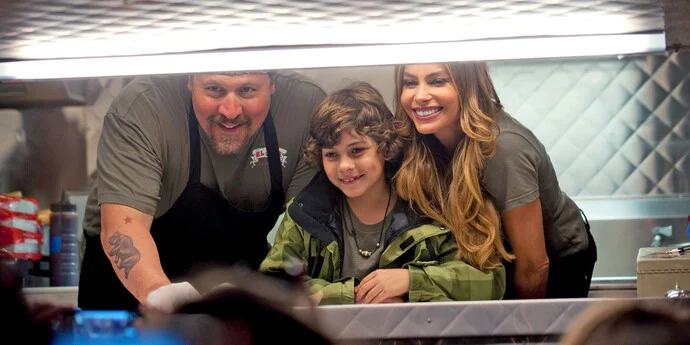 A lot of the movies on this list expose the nervy atmosphere behind the kitchen doors of fine dining establishments. But then there's  Chef , which doesn't just expose it—it chucks it out altogether.
Carl Casper (Jon Favreau) is an accomplished head chef in a neat LA spot, but the manager doesn't let him get creative—so Casper ditches it all to open his own food truck that goes cross country.
Street food is up around the world. All kinds of food stalls and cuisines cramp the sidewalks of major cities, where people would rather stand in the cold to chow down on greasy, exotic foods than sit in fancy booths for meager portions and extravagant checks.
Jon Favreau pays homage to this by directing, writing, producing, and starring in  Chef . In doing so, he adds spice to the feelgood genre, and it'll have you ravenous for tacos and fritters!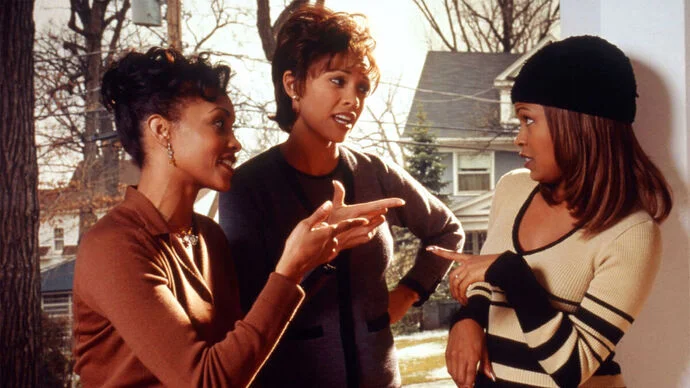 "Soul" is synonymous with African-American culture: the music, the religion, and the food. Known widely as crispy fried chicken, collard greens, yams, cornbread, and chitterlings, "soul food" is exactly how it sounds—hearty food for the soul.
Writer and director George Tillman Jr. brings together an all-star cast to celebrate this traditional cuisine that's more than just a meal. Sunday dinners are a big thing in many countries. But in  Soul Food , it's not just a British roast dinner in front of the TV.
Brandon Hammond, Vivica A. Fox, Vanessa L. Williams, and Nia Long work hard to keep their family together on Sunday every week, especially when the family breaks down following their mother's coma.
Soul Food  is a feast for the eyes and heart, showing us the power that a bowl of macaroni and cheese can have in bringing people together.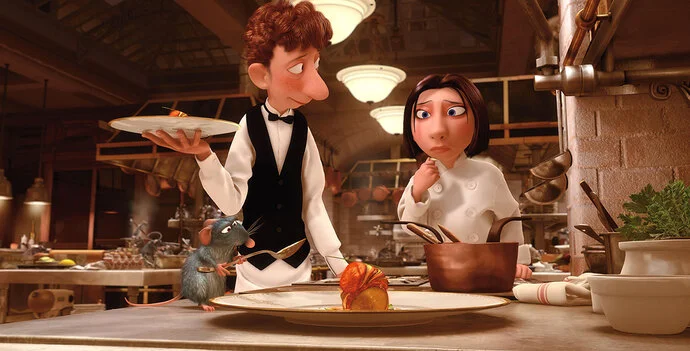 Animation gives filmmakers room to visually explore things live-action can't. For example, it can make us  see  what flavors  feel  like.
For Remy in  Ratatouille , it's colors dancing and singing in various melodies across the sky. When certain flavors join together, it's an explosive marriage of taste that the others don't understand. Remy yearns to be a chef, but he can't... because he's a rat.
Remy finds a way around this small obstacle, though. After realizing he can control a person's limbs by tugging on their hair, he turns a restaurant garbage boy into his esteemed chef puppet.
Pixar's dreamy comedy-drama has us pining for delicious food. Voiced by Patton Oswalt, Remy scurries through the skewers to land in a twinkly Parisian restaurant that we'd do anything to visit.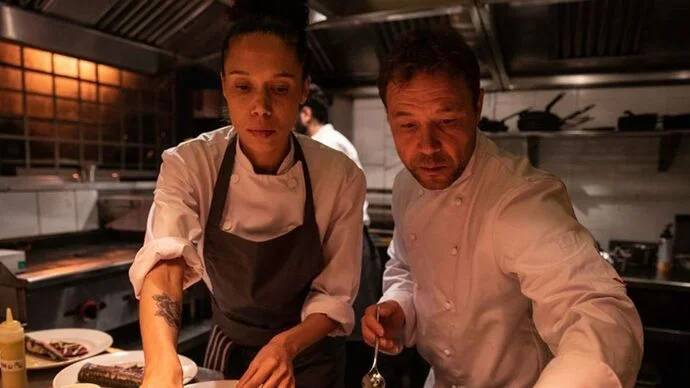 In  Boiling Point , Andy Jones (Stephen Graham) uses drugs to cope with the stress of being an expensive head chef—that, and life in general. Sadly, it's also what brings his life crashing down.
Stephen Graham gives a brilliantly tense performance as a man on the brink, serving both a celebrity chef and a food critic in one evening. It's all made even more stressful due to arguing staff members, allergic reactions, and annoying customers.
Aside from the stunning performances and taut storyline,  Boiling Point  is also a technical feat. Filmed entirely in one shot, the movie unfolds over one cataclysmic evening in London. (Continuous one-shots are notoriously difficult, let alone one that's 90 minutes long.)