Is there really an Israeli "Blockade" of Gaza?
By:
krishna
•
8 months ago
•
39 comments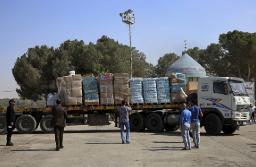 For years Arab propaganda has mislead many into believing that there is an Israel blockade of Gaza-- that Israel won't let in any food, fuel, etc. 
But it seems that the writer of this article slipped up, and inadvertently admitted that Israel has been indeed  allowing supplies into Gaza on a regular basis...
But then Arab "militants", truly worthy of the coveted Darwin Award,  decided to attack that Israel crossing into Gaza-- and at least for the present disrupt what had been the ongoing Israeli supply line into Gaza):
FILE - In this July 4, 2016 file photo, a truck loaded with aid supplies arrives through the Kerem Shalom border crossing with Israel to Rafah, Gaza Strip.
GAZA CITY, Gaza Strip (AP) May 13, 2018:
The Gaza Strip is rapidly running out of cooking gas and diesel fuel for hospital generators will only last another 7-10 days, officials said Sunday, after Palestinian protesters destroyed the fuel terminal at the territory's only cargo crossing.
Whoa-- wait a minute-- how could they be suddenly "running out of" these things-- if the so-called "Israeli Blockade" never allowed them in the first place?  (Link)