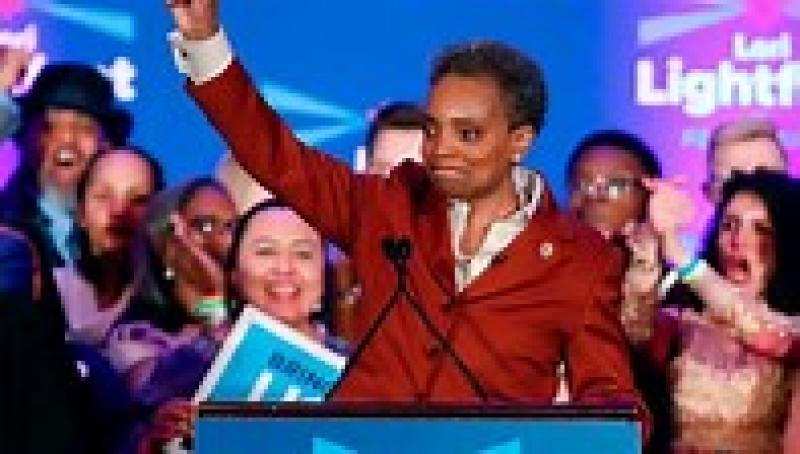 Well, we here in Chicago now have the city's first  black , female, gay mayor.  Richard J Daley's above ground tomb at Holy Sepulcher Cemetery was seen spinning in circles. 
It is not a surprise that a black woman won, since both of the two finalists who survived the February primary are black women. What was a surprise is that the winner , Lori Lightfoot, got 74% of the vote to Toni Preckwinkle's 26%. Quite a landslide. 
It is a little strange because their announced policies for the city are not very different. They are both liberal Democrats. Preckwinkle was more associated with the "machine" in that she has been president of the Cook County Board for the past several years, an elected position which had her in charge of one of the largest local governing bodies in the country. Cook County has a larger population than 28 states. 
So Preckwinkle became more associated , in the progressive voters minds, as connected with the "old school" pols around City Hall than Lightfoot, who was a federal prosecutor. That probably surprised Preckwinkle quite a bit, since prior to her election to the County Board she was a long time alderwoman from Hyde Park, one of the most liberal neighborhoods in the city and the area where the Obamas worked and lived. 
So here is what I think explains the Lori Lightfoot landslide. The progressive whites who live in the trendy neighborhoods of the north side lakefront , Lincoln Park, Wrigleyville, etc, and the tens of thousands of white liberals who live in downtown high rises, went overwhelmingly for Lightfoot,  black female, gay. This group of voters were her base over and above the "black" community. 
Out in the neighborhoods I think there was much more apathy. For many whites in white neighborhoods, this election was ruined from the git go. They are not interested in a black mayor period, let alone a black female gay mayor. A lot of these people just stayed home. But I also think a lot of blacks in the neighborhoods stayed home too. Why not? There was going to be a black mayor no matter which one of the candidates won. There was no urgency like 1983 when Harold Washington was elected the city's first black mayor and the turnout (for and against remember) reached 82%.
For different reasons both some whites and blacks had a motivation not to vote yesterday. Turnout is being called 32%,  one of the lowest ever for a mayoral election. (In Daley's day the turnout would be in the 60's and 70's percent even though everyone knew who was going to win.)
I sometimes go through an all white neighborhood adjacent to the neighborhood I live in. Usually during an election season there are lawn signs for the various candidates on many lawns. This time any signs at all were few and far between.