By:
mrfrost
•
4 months ago
•
73 comments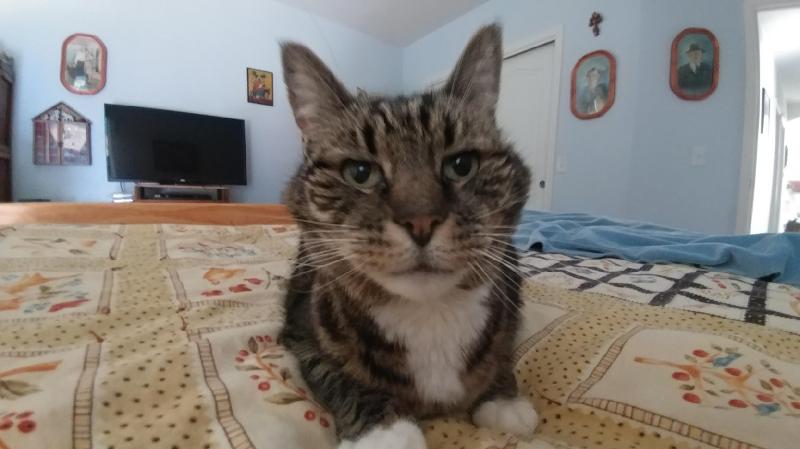 16 years ago, my wife and I were looking at property to buy. We spent months looking at different places but one place really struck us as almost perfect. It was heavily wooded, no power, no water, no cable, nothing. Just a 5 acre plot towards the end of a dead end gravel road. No one else had bought any land up there, (and honestly, the gravel road was encroached upon by vines and small birch trees). The asking price? $25,000.00. Almost bought 4 of the lots, but we settled on one. Hired a contractor, told him what we wanted and he gave us a time frame...start to finish, 4 months.
So a month into it, I decided to drive up and see if there was any progress. Power was in, land was leveled for the house, brush had been cleared, but that was about it. Then I heard a cat meowing. I looked around, couldn't see it. After an hour I gave up, (it was in the brush, which was very thick and I was in shorts and flip flops).
Two weeks later, the contractor called me and asked me to meet him at the property to go over positioning for the well, driveway, etc… While we were talking, I heard that cat again. This time I saw him. Little guy, with a short stubby tail. If I had to guess, he was 6-8 weeks old. How he had survived in the woods, crawling with coyotes and bobcats, I will never know. But, I picked him up and he immediately snuggled up to me, so, being the animal lover that I am, I took him home. I figured we would give him food and water and take him to the shelter so he could be adopted. On the way home, he was all over me, purring, sitting in my lap, etc..
So I get home and I told the wife, "look who I brought for dinner". She replied, "you're going to eat a kitten"? We both fell pretty hard for him, he was cute as can be and because of his "meow", we named him Squeaker. So, we decided to take him to the vet, get his shots, make sure he was healthy and get his boys cut off. He then became part of the family. Playful, full of energy, sprinting from one room to the next. At night, he had to sleep on my legs and when I moved my feet under the blankets? He pounced. Damn cat.
So time passed, we moved into the house and adopted a completely black female cat with green eyes. She took to playing mother to Squeaker since he was still fairly young. They would both go outside and disappear into the brush behind the house, but I was never far away because I knew what lived in those woods and a house cat would stand no chance at all.
One evening in the summer, I couldn't get Samantha to come in. It was almost midnight and I had the 350 watt magnesium light on in the back...Samantha was chasing moths. I tried to catch her but...yea, she was quick. So I sat down in my recliner to try to wait her out. Squeaker was sleeping on the floor and suddenly jumped into my lap. Then I heard Samantha yowling in pain. I put Squeaker in the bathroom and shut the door, last thing I needed was him getting out. I grabbed my 12 gauge and ran out the back door with the wife right behind me. I could hear something large in the brush moving around, and Samantha crying out. I ran into the bushes and there was a cougar, maybe 130 140 pounds. I aimed and shot more to scare it than kill it, and it ran off. I dropped the 12 gauge and looked for Samantha… I found her, she was still alive, but by the time I got her into the house and threw on a pair of jeans, she was gone. I have a tat of her on my leg and we had her cremated. She still to this day sits on the mantle above the wood stove. I noticed in the following days that Squeaker wasn't himself. He missed her, as we all did, she was a beautiful and loving cat. When I was sick and going through all of my surgeries, she never left my side, neither did Squeaker.
More time passed and we adopted another black female cat. Amy is small and very skittish. She isn't a lap cat and prefers to be left alone. Squeaker took her under his wing and played the father figure, to this day, she is her own cat, doing as she pleases. Then we adopted another cat.. Kit Kat… (He has an interesting story as well….but for another time). He's a big boy, 21 pounds...and not sure why, but he thinks he is a lap cat. Again, Squeaker played the roll of father and taught him how to hunt, how to smell the air before going outside and how to hide when trouble is near.
We have had these three for a long time. Kit Kat is the youngest at 7 years old, Amy is 11 and Squeaker is 15. Amy is still skittish, Kit Kat is still….rambunctious and eats like a fricking horse. Squeaker… Well… That's why I am writing this, dear reader.
Last Summer, I noticed that Squeaker wasn't as active as he had been. So I took him to the vet and she said he was in great health, could stand to lose a few pounds and he was getting older, slowing down was to be expected. I put him on a diet and I was shocked that he lost a whole pound over two months, (hey, for a 14 pound cat, that's a lot). He was a little more active but, he was still showing his age. The vet assured me there was nothing to worry about, that he was quite healthy.
You see, to me, pets are family, not just, "an animal that I allow to live with me". They mean a lot to me because they never act out in sheer petulance. They don't hate you because you had a shitty day, they don't get mad or complain because you are a [insert political party here]. All they do is love you no matter what. Squeaker has a habit of coming up to me and putting a paw on my leg when he needs something. Usually soft food, or a treat, or he just wants to be petted. If I go for a walk, he always goes with me. If I am mowing the lawn, he will watch me from the window. He loves to have his tummy rubbed and right under his chin.
About three months ago, I noticed Squeaker had lost some weight but I was trying to watch how much he ate. To be on the safe side, I took him to the vet and she said that he had lost 2 pounds. She told me to get him off the diet and let him eat. Well, he didn't. He lost more weight. So she gave me something to help his appetite and he did start to eat a little more, but still he lost weight. I took him back to the vet and she looked him over, poked and prodded and then she looked at me, (she has been the only vet Squeaker has seen for the last 15 years), and she said… "Squeaker has cancer, I can feel the lumps in his tummy, that's why he has been losing weight". "Is there anything we can do?" "I examined him a month ago, this cancer is very aggressive, I am so sorry."
She gave me some medications to keep him comfortable and told me to take him home. She said if I needed anything to call, day or night. I asked if I should just be merciful and put him to sleep. She said that he had lived in one home all his life, let him go on his terms. Over the last two weeks, I have watched him slowly deteriorate, lose so much weight that he is literally skin and bones. He is so weak I have to carry him to the litter box so he can do his business. He still eats, but it's very little, a few bites here and there but he still drinks lots of water. I have literally put everything on the back burner to make sure he is comfortable, and well loved. It's been incredibly hard for me and I post here on NT as more of a distraction. I try to be upbeat but the reality is that this has been difficult. As some of you know, I lost my wife at the end of last year, so I have had all the loss I can handle, now Squeaker is going to go as well? Who then will I have? Amy and Kit Kat. I don't talk to my family, my kids are grown and have their own lives. This just seems cruel to me, but at least I can make Squeakers journey to endless fields of grass, a beach and all the mice he can eat, a good one.
I get it, he is a cat, but has also been a best friend for 15 years. He has always been there. When a neighbor suggested I have him put to sleep, I said, "Why? He has given me 15 years of friendship, don't I owe it to be there for him in the last few weeks of his life? To let him know how much he means to me? To allow him to go on his own terms no matter what he needs"? So he has accidents...I can clean it up. He can't jump up or down on his favorite chair, or onto my lap...I can pick him up, look him in the eyes and let him know that I am there for him. After all he has given me? I owe him that.
So there it is. Today he had a hard time going number two, so I went to the vet and got something to help him out and….wow, it worked. I gave him his pain med, gave him his favorite soft food and fresh water. He is on his bed, not moving, looking out the window like he has done for so many years, at the birds. I know it's a matter of time...a week or two at the most, and I will be there for him at the end, I know he would do it for me.
Squeaker, I love you and this is for you my friend.
Article is Locked