"Hey, Hey Trump - How Many Kids Did You Lock Up, Today?"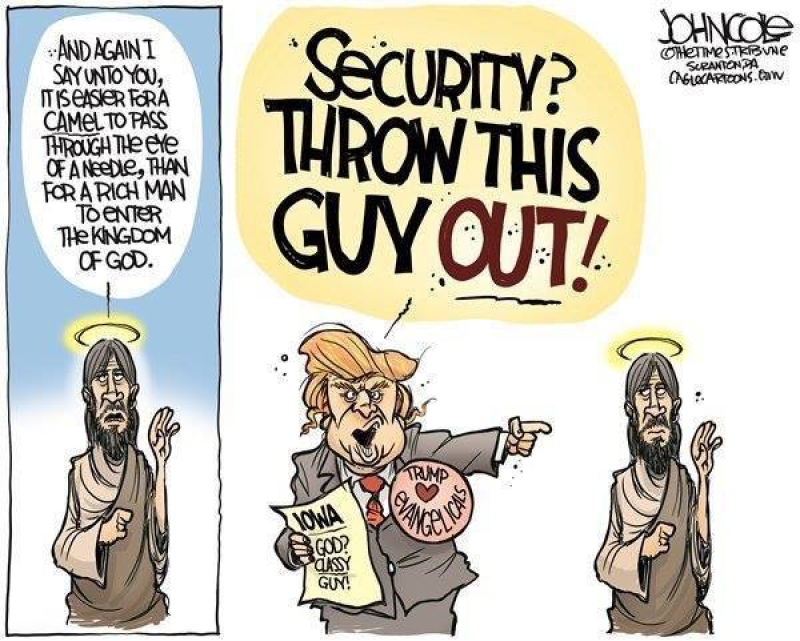 "I will lock up MS-13 on my first day in office". - Donald J. Trump

Trump separated three hundred children (300) [for those that can't read, but, know their numbers] as his Goosestepping ICE Troops rounded up suspected, undocumented parents working at a Mississippi food processing plant.

According to the new rules established by ICE'S newest director, Herr Heimller, who willfully and stupidly, confirmed to our star reprobate, and sometime reporter, Steve Bunions, that: "leaving the school-age children stranded and alone is a political statement that, obviously, pleases Trump's Neo-Nazis, KKK members, and, those pathic fake patriotists, the  Confederate Flag Waving hangers ons still fighting the Civil War, after all these years"!

Trump, aka, Mien Furor Dictator-In the Making, aka, a "cold, selfish, stupid idiot", and, a "certified fake" POTUS, real POS, added, "this policy is harsh, but, it is meant to deter illegals, and, any dark-skinned peoples from coming to America.

'Merica is for White Folks ONLY, Trump added, Steven Bunions stated, "unless one is a beautiful, big bosom, long-legged young, attractive female above the age of 14."

The above quote was recorded during a psychic reading that Mister "I am a Marxist" Bunions conducted with the fake president, while both men slept in the Lincoln Bedroom, locked in an "unmanly embrace".

Every word is well documented by someone.

Our political correspondence, Steve Bunions, of course, Horse, further asserted that the Commander-In-Cheetos "did not arrest or sanctioned the plant owners", (the real criminals) for "illegally hiring undocumented workers".

They are Republicans and Republicans protect Republicans at all cost, just like the Mafia.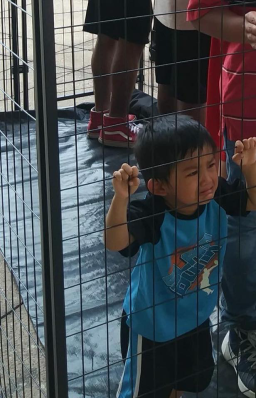 Bunions reporting from the basement of the Washington Monument, his home away from home, added, "the big fish got off scot-free, although they obviously violated several federal laws".

As is the custom of the Trump administration, "the lowest level workers", who were trying to feed and house their families on less than minimum wages, were hauled off to jail in handcuffs, as a show of American might.

(That is America's newest protocol for all visitors from Mexico and South America. - According to our "sauces", in Mexico.)

"In these tired times, one cannot be too careful", noted another Trump Whitehouse flunky.

"These cruel, dangerous drug dealers, prostitutes, pimps and, gang members will steal your tires off your car", screamed Kelly Ann Con Job, one a dozen highly paid presidential advisers to our Fake POTUS, real POS.

Ms. Con Job, not "Blow Job", as critics call her, spoke from her knees, while performing some type of service on the president, in the Oral Office of the Whitehouse, as the lecherous Commander-In-Lies, smiled, in-between lewd palpitations, and shouts of, "Yes, yes, yes"!

Our much-maligned, much-clubbed, cub reporter, Steve Bunions, reported that local residents, who are not illegals, will not work for "less than minimum wages" because the ten-hour workday, six-days per week work-schedule does not include benefits or even bathroom breaks. They are forced to use a tin can, or, the floor.

After all, it is a "canning food processing plant". The local residents refused to work there, because it is too punitive for them. Management call the locals "candy-ass Americans", who do not know how to work.

"They sign up for Welfare," said an angry plant spokesperson, with  a recently blacked eye.

"Hell," he added, "they can make a lot more money than working in this sh*thole business, thanks to the Democrat Liberals in Congress".

Or, words, not remotely similar to these.

Trump's new "stupid policies" for "stupid people" are, according to his "stupid appointees" aimed at his "stupid followers", according to the Main Stream Media! 

Bunions reported in a form of sign language face up on the barroom floor that "the low-functioning, poorly educated suckers" that the Con-Man, Trump, loves so dearly are "SUPER BACKWARDS and easily led".

This quote was verified by someone that Steve Bunions did not talk to, but, read his mind. 

Now, before anyone throws a "hissy fit", let me, Jonathan Livingston Pigeon-Poo, "Doctored", say this about that, in my best Nixon impersonation: 

"Those are the words of some of our competitors, and, therefore, do not represent the views of our unlicensed, poorly educated, substandard reporters of this infamously, "less than distinguished", Eat The Press - Do Not Wipe Your Bun With It - It Scratches! They are not ours words. Hell, we can barely spell them"!

We are real "Urinalists"!  Not "fake Journalists" that our fake Commander-In-Lies rail about. 

We distort, they, the Main Street Media, reports!

Idiots! We say.

We are "urinalists", not "journalists". We piss on the news.

Our fellow colleagues, within the Press Corp, prefer to "vet" their sources, before publishing. We "inoculate" ours!

Our peers in the "slander business" routinely stat that Trump's supporters are "so stupid that they do not know they are STUPID".

Man, if that is true, that is really, really stupid.

Of course, we here, at the "Less Than Prestigious", Eat The Press - Do Not Read It (The Content Is Worthless, the Value is in the Pulp in the Paper When One Eats It) would NEVER make a "Sweeping Generalization" about Trump Voters.

We know that they do not sweep their domiciles.

However, as "real Urinalists" (the French term) for "fake reporters", we are compelled by our Urinalistic Code to "tell the truth, the whole truth and nothing but the truth", unless, of course, a lie works better.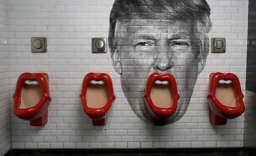 We would never refer to "folks", that believe a fake BILLIONAIRE CON-MAN like Trump, is really their "God-anointed POTUS" are not "right in the head". Although, we might think it. We would not print it.




No, siree, Horse, even that is, too, "sweeping" for us. Close, perhaps, true, but, too, sweeping. True, no doubt, but, we are not about the "truth." Our role to to make people cry. And, that assessment is much too "sweeping".

Don't you agree, Fellow News Yackers?

Communists, er, I mean, The News Talkers.com folks , of course, Horse, are all bound up in their "straight-laced" CoC, the mantra from God to fall for that crap!

So scream if you must, we do.  But, this is our story,, and we are sticking to it, unless, of course, Horse, someone bribes us not to cling to this lying piece of trash. After all, we are as corrupts as Re-puritans. We can be had for CASH!