The saga of the feral kitten
Category: Pets & Animals
By:
dulay
•
4 months ago
•
34 comments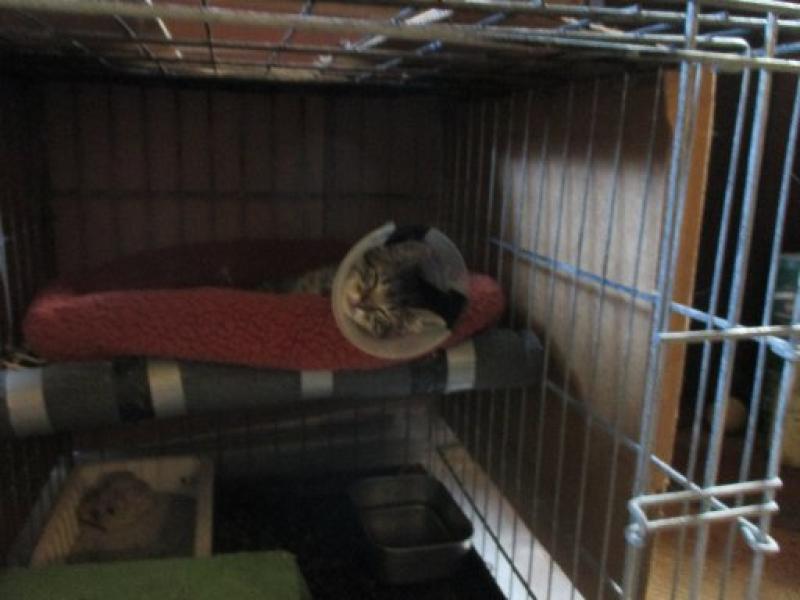 So I ran out in my undies to get some onions from the garden last week. When I hit the 'dog yard' I heard a cat, crying loudly and sounding injured. Since we live on a fairly heavily used rural highway, I prepared myself for finding a cat hit by a car in my bushes out front. 
I scrambled all over and couldn't see anything but the cat was still screaming bloody murder. After a couple of minutes, I thought it best to go inside, get the wife and at least put some shorts on. 
So out we got, cat carrier in hand, trying to find the cat. It's over here, it's over there, it's going this way and that way. Yet neither of us has SEEN a thing. 
Then I see the vinca ground cover move ever so slightly. Were tilting out heads from side to side, listening for the cats next cry. It took both of us to corner the beast! All 1 pound of it. A teeny tiny little kitten, screaming it's head off and trying to bit me while I held it by the nap of the neck. It's a girl and she is scruffy and scared shit less. 
We feed it, give it water and a binky and put it in the garage. After much debate, we decided not to keep her and called the Small Animal shelter and took here in the next morning. 
Oh course the wife checked in on her the next day and they said she was feral and they would probably euthanize her. This was unacceptable as far as we were concerned and we told them that we would take her. They told us the shelter vet would see her on Wednesday and we could pick her up after noon. 
Wednesday at 10, we get a call from the shelter and they tell us that the end of the kitten's tail fell off and that she needed surgery. Did you still want to take her. 
Well of COURSE we still want her, stumpy tail or not. Sheesh!
So we go in at 3, after her surgery and pick her up and her tail is taped up and she's doped up. 
We have her in a cage in my office. She's eating well and doing fine UNTIL on Saturday I followed the vet's instructions and took off the bandage.
BIG MISTAKE. 
Screaming and biting ensued and her tail started to bleed. YIKES!
 Off to our vet we go, which in this world of COVID is a totally 'curbside' experience. 
$150 later, kitten has her shots, no more bandage, pain meds and a cone on her head. 
Her name is Blue.