The Transformation of Lori Lightfoot
Category: Op/Ed
By:
vic-eldred
•
6 months ago
•
8 comments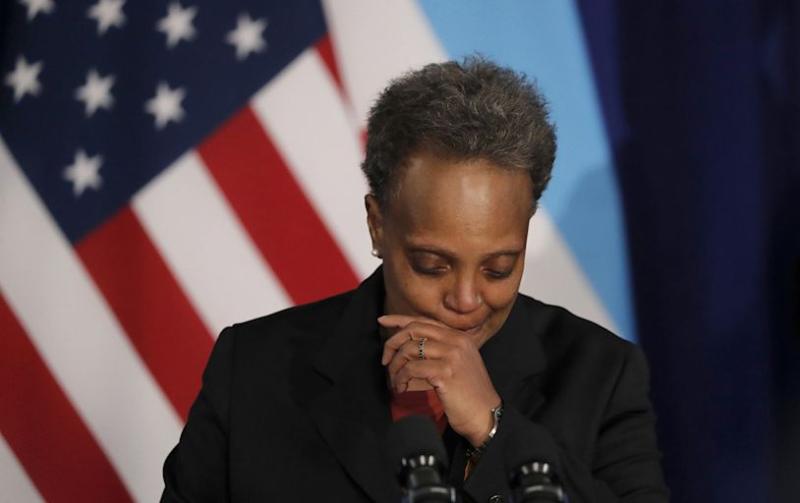 "I want to assure you that I am doing everything in my power to keep our students in school, where they belong, learning," Lightfoot said.
Lori Lightfoot became mayor of the once great city of Chicago on May 20, 2019. She was never a light weight. I'll give her that. She graduated from the University of Chicago with a Juris Doctor degree in 1989. She served as Assistant U.S. Attorney (1996–2002).  She also served on the boards of the Illinois chapters of NAPRAL and the ACLU. One week before her inauguration, Lightfoot named lawyer and activist Candace Moore as Chicago's first-ever chief equity officer, a job in which Moore will focus on countering racial inequality in the city. During the 2020 BLM riots, she made it a point to say that "police unions have continued to be one of the main obstacles to reform of the department." The democrat alderman from the 15th ward, Raymond Lopez got into a heated debate with her over her tepid response to the looting and violence. The city became noteworthy for homicides. Things were so bad that then President Trump's offered to send in the military and she rejected it out of hand.  We all recall this past May, when Lightfoot said that she would only choose people of color for interviews.  That was the old Lightfoot.

What a difference a few months can make.

It was only last year that she proposed cutting $80 million from her city's police budget. Last month she publicly pleaded with the feds to bolster the ranks of her city's cops amid a surge in shootings and homicides. Lightfoot called on US Attorney General Merrick Garland to send agents from the Bureau of Alcohol, Tobacco, Firearms and Explosives to her besieged city for a six-month crackdown on illegal guns.

"We cannot continue to endure the level of violence that we are now experiencing." "I feel the urgency every day" ...Lightfoot's new mantra.
If that wasn't enough of a conversion, along came Omicron and the all powerful Chicago Teachers Union, who voted last night to keep schools closed until Jan 18th. They'll let everyone know what they intend to do then. The same Teacher's Union that got a special place in line for vaccinations when Biden took office and got $130 Billion through the American Rescue Plan (to furnish schools for covid protection).  Where did that money go, anyway?  CRT maybe?


What did the Mayor do about it?  Mayor Lightfoot has gone where even the president dare not go. She took on the Teacher's Union:


"Chicago  Mayor Lori Lightfoot warned that she will take action against teachers who refuse to show up to school today after a union voted against in-person learning.
The mayor was quick to respond after Tuesday's vote, in which 73% of the Chicago Teachers Union said they wanted to go back to remote classes until the current spike in  COVID-19  cases "substantially subsides." The vote resulted in classes being canceled on Wednesday. In response, Lightfoot said teachers who do not show up at school Wednesday will lose pay, the  Chicago  Tribune  reported."

https://news.yahoo.com/chicago-mayor-threatens-withhold-pay-145037179.html?fr=sycsrp_catchall



I never thought I'd see it. She's acting like a responsible mayor who cares about the people in her city.

There used to be a local radio personality in Boston, (Pat Whitley) who used to say "a Conservative is a liberal who just got mugged."