If you want to know what us Adults should be teaching our kids.......
Watch the Movie "Coach Carter" !
There ARE folks out there....that actually "CARE" for kids, unlike those that just find giving "Free" stuff to kids as a "Reverent" cause (Sanders and Warren types)
https://en.wikipedia.org/wiki/Coach_Carter
Coach Carter is a 2005 American biographical teen sports drama film starring Samuel L. Jackson and directed by Thomas Carter. The film is based on the true story of Richmond High School basketball coach Ken Carter (played by Samuel L. Jackson), who made headlines in 1999 for suspending his undefeated high school basketball team due to poor academic results.
"ADULTS"....should be wanting, and " INSISTING " the SAME from their "OWN KIDS" !
These days....."Lazy" is easier for "Adults" ! Lets the "Adults" spend more time on "THEMSELVES" !
Pretty Sad for sure !
Time for "ADULTS" to "Learn" again !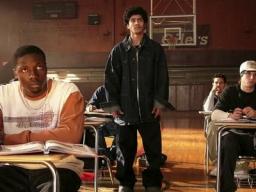 "ur deepest fear is not that we are inadequate. Our deepest fear is that we are powerful beyond measure. It is our light, not our darkness, that most frightens us. We ask ourselves, who am I to be brilliant, gorgeous, talented and fabulous? Actually, who are you not to be? You are a child of God. Your playing small doesn't serve the world. We were born to make manifest the glory of God that is within us. It's not just in some of us; it's in everyone. And as we let our own light shine, we unconsciously give other people permission to do the same. As we are liberated from our own fear, our presence automatically liberates others."
Try Teaching your kids WELL...… and not teaching them they "Deserve" a "Participation Trophy"..... for just "Being" !