Culture Insider: Huazhao Festival
By:
No Author Indicated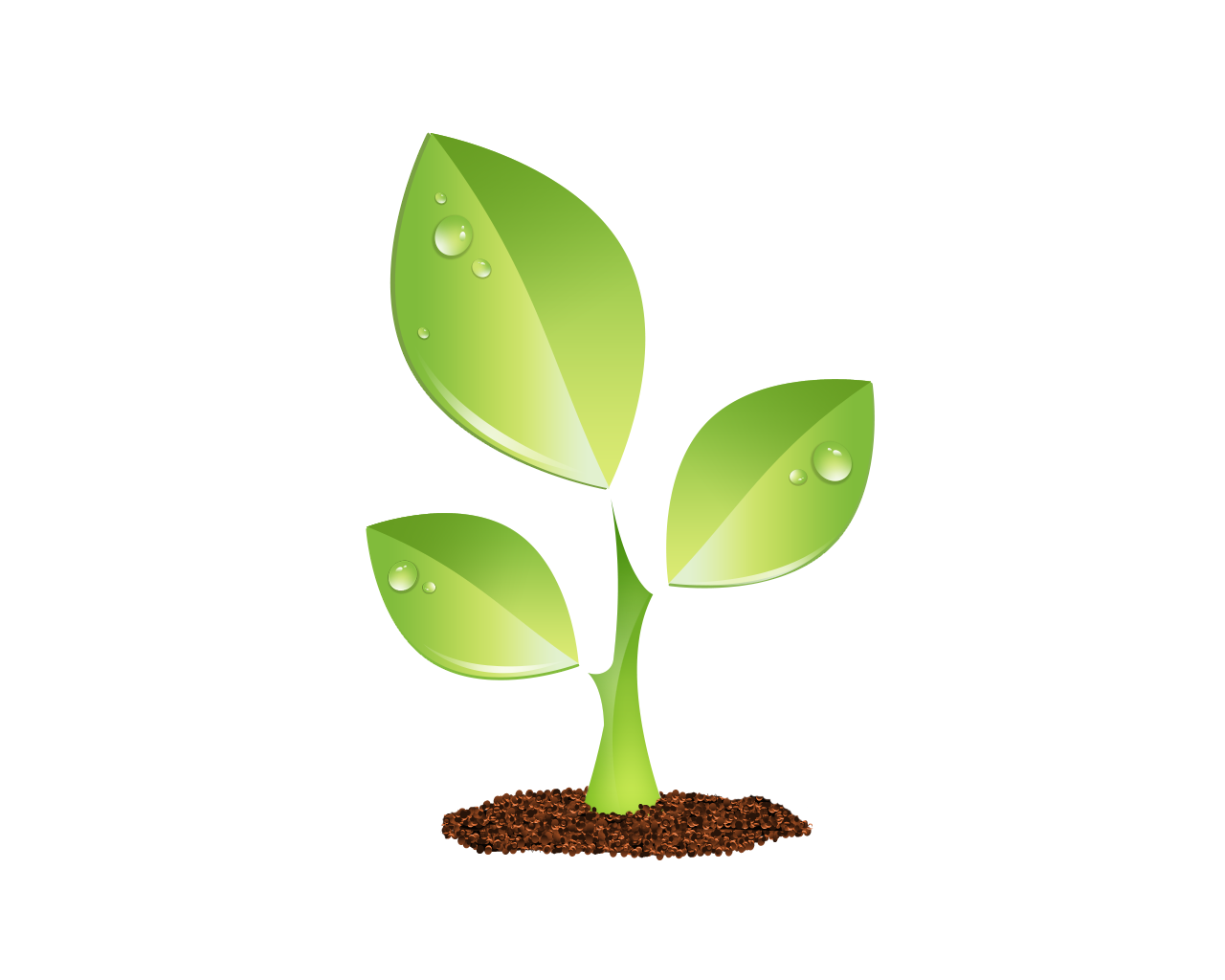 S E E D E D C O N T E N T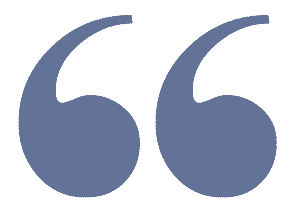 Culture Insider: Huazhao Festival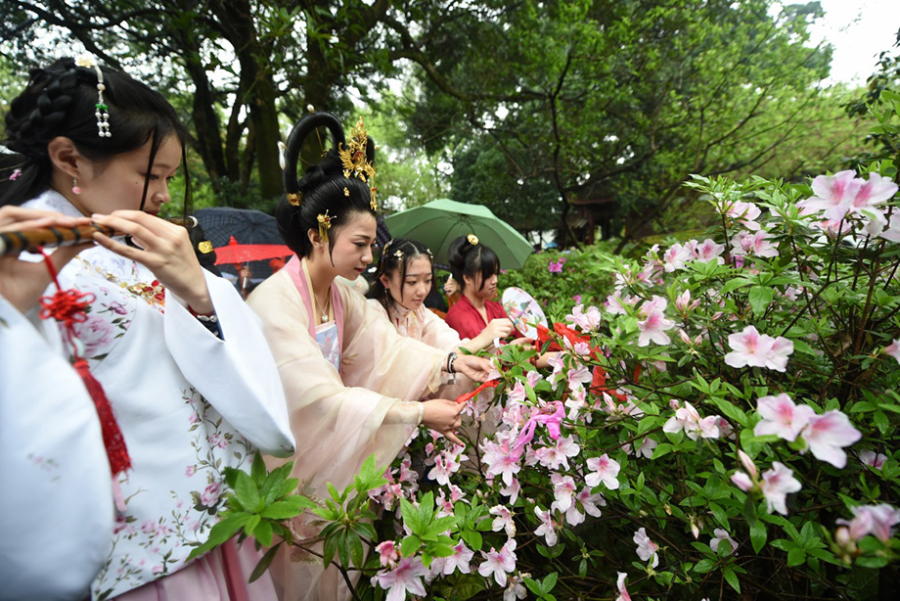 Photo/wenming.cn]
After the Lantern Festival, the following joyous celebration in China's traditional festival calendar is the Huazhao Festival, a traditional flower festival.
With a history of over 2,000 years, the Huazhao Festival is held in celebration of the flower goddess' birthday. Since the climate varies in different parts of China, people hold celebrations on the second, 12th, or 15th day of February in the Chinese lunar calendar.
According to ancient beliefs, the flower goddess controlled the reproduction of mankind. Due to the primitive lifestyle and agriculture-dominated economy, people held that the more members a family has, the merrier. Thus, it later became a custom to celebrate the birthday of the flower goddess for prosperity.
.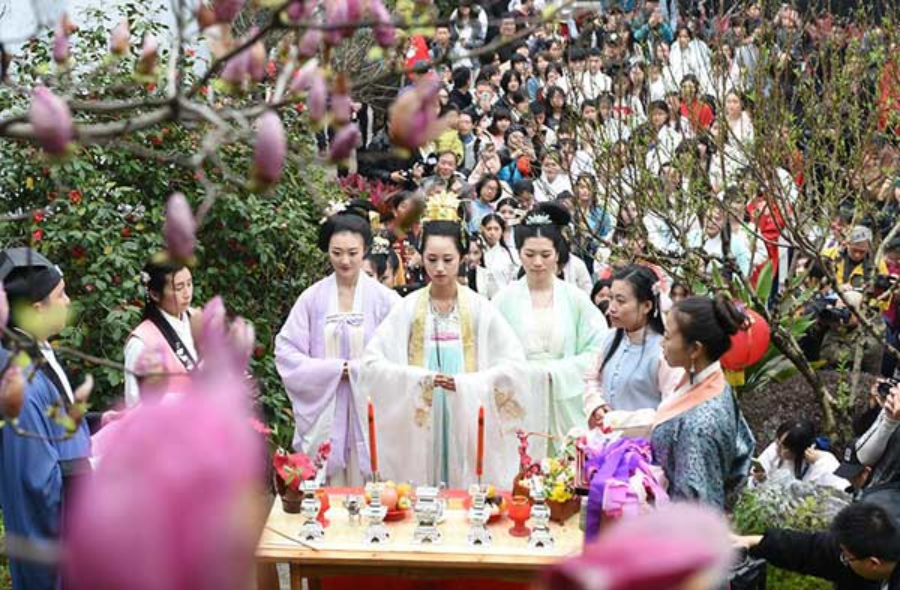 [File photo]
Once as significant as the Lantern Festival and Mid-autumn Festival, the Huazhao Festival has undergone stages of thriving, declining and restoring. Nowadays an increasing number of people in various parts of China have begun to celebrate this flower festival again. Some of them, clad in hanfu, a type of traditional Chinese clothing, perform a series of rites. Here is a list of relevant customs as inspiration for you to spend the Huazhao Festival.
Praying to the flower goddess
Offering sacrifices, including incense, flowers, wine or fruits, to flower goddess for good luck was a great event for people in many places. Flower growers dedicated sacrifices to the flower goddess to beg their protection.
.
Visitors take photos of cherry blossoms at Donghu Lake Park in Wuhan, Hubei province. [Photo provided to chinadaily.com.cn]
Having a spring outing
Spring outings during the Huazhao Festival were popular in ancient China. Since the festival is in early spring, it is exactly the time to have an outing to enjoy springtime's floral finery.
.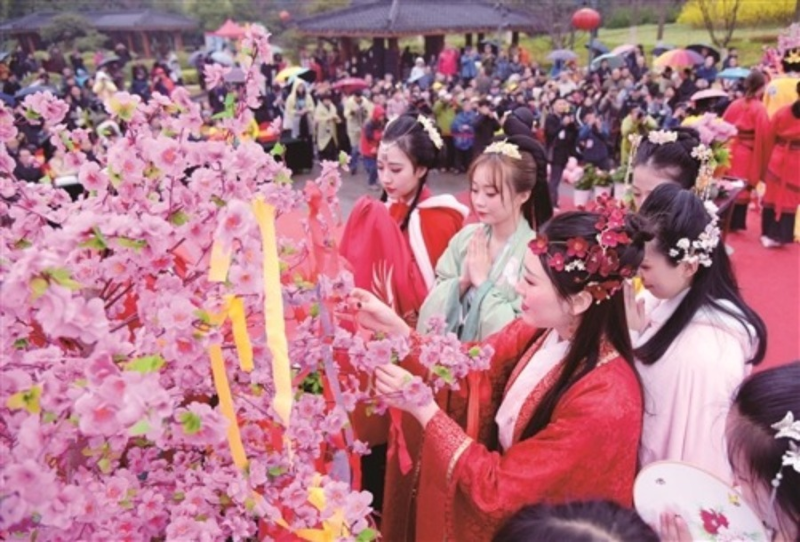 [Photo/jstour.com]
Fastening strips of red cloth to flower stems
People cut colorful cloth into pieces and tied them to the stems of flowers as streamers, which is called "Shang Hong", as a protection of flowers. If the stems of certain flowers were too thin to stand a piece of red cloth, people would plug a thin bamboo stick in the flower pot and tie a piece of red cloth to the stick.
.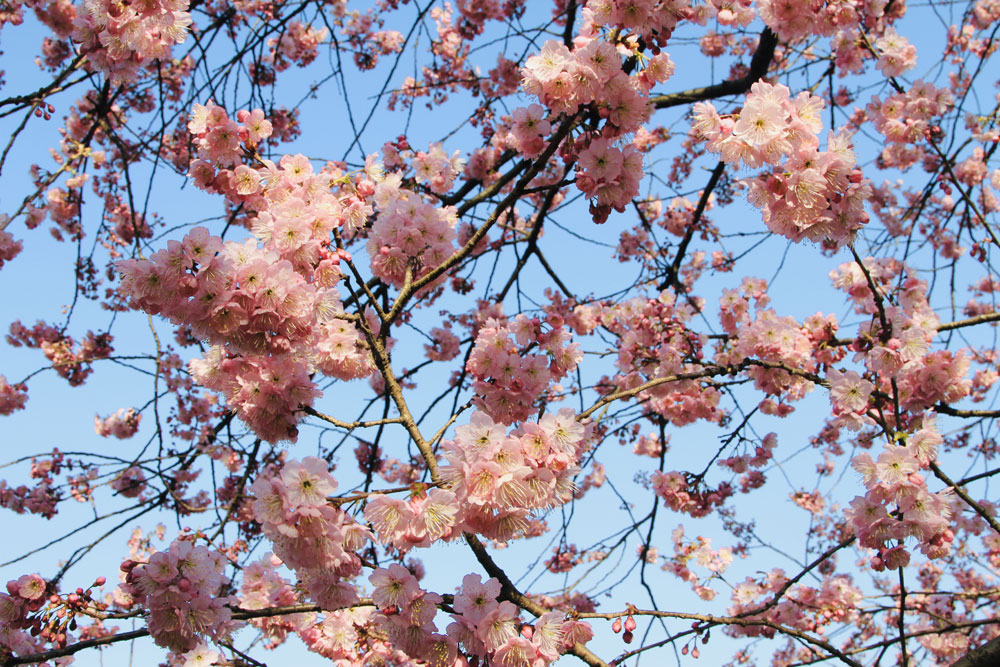 [Photo provided to chinadaily.com.cn]
Planting flowers and vegetables
At the Huazhao Festival, people in various places in China planted flowers and vegetables. It was believed that flowers and vegetables planted on that day would survive easily.
.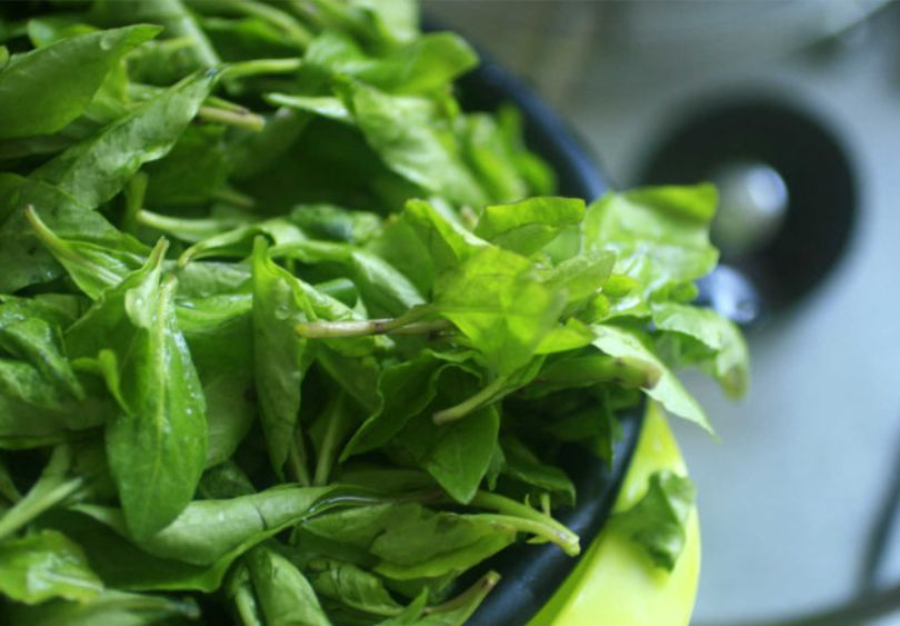 [Photo/xinhuanet.com]
Picking wild vegetables
Around the festival, wild vegetables such as artemisia stelleriana and shepherd's purse are fresh and nutritious. Wild vegetables in early spring were believed to have the function of promoting health and warding off illness.
.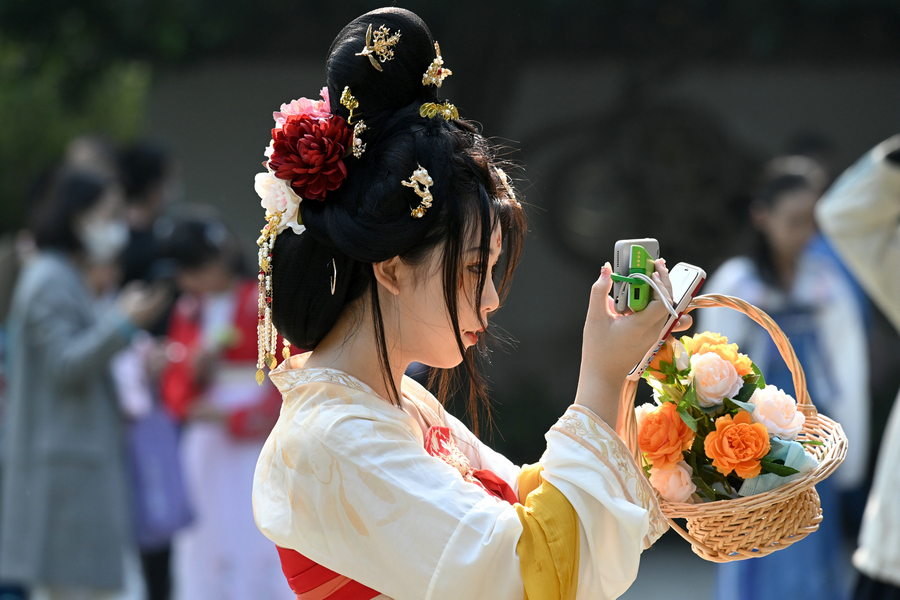 A woman carries a basket of flowers during the Huazhao Festival ceremony in Fuzhou, Fujian province on March 14, 2021. [Photo/Xinhua]
Inserting flowers in hair
Women inserted flowers in their hair to complement their beauty. This custom prevailed in the Tang Dynasty (618-907), when peonies were employed as the major material. Afterwards, people used common flowers to correspond with the atmosphere of the Huazhao Festival.
.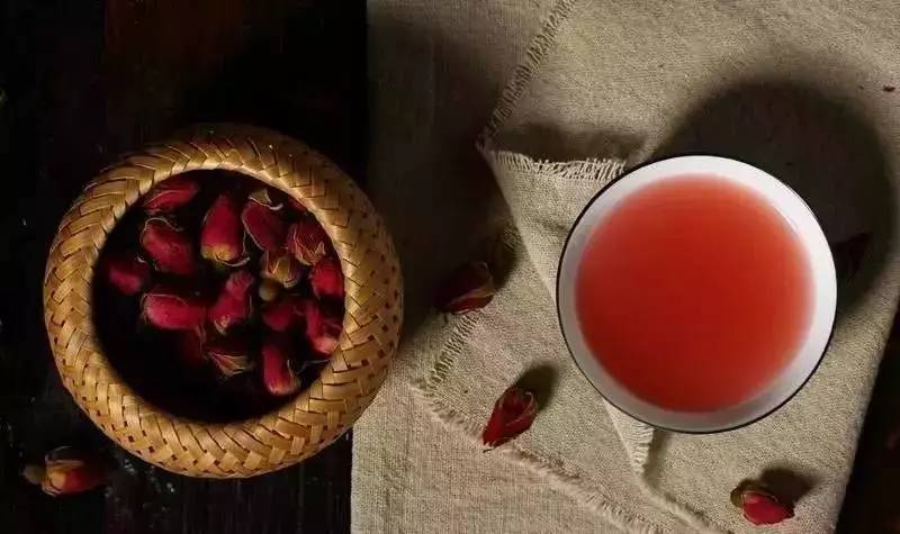 Photo/.sohu.com
Hosting and attending banquets
At Huazhao Festival, officials and civilians hosted or attended banquets, where flower wine made from various flower petals was served. There was a song praising such wine, "the fragrance of flower wine is stronger than that of flowers; all families raise up their wine glass to propose toasts. The aroma of this wine is like that of the dew on flowers; its color resembles that of spring."
.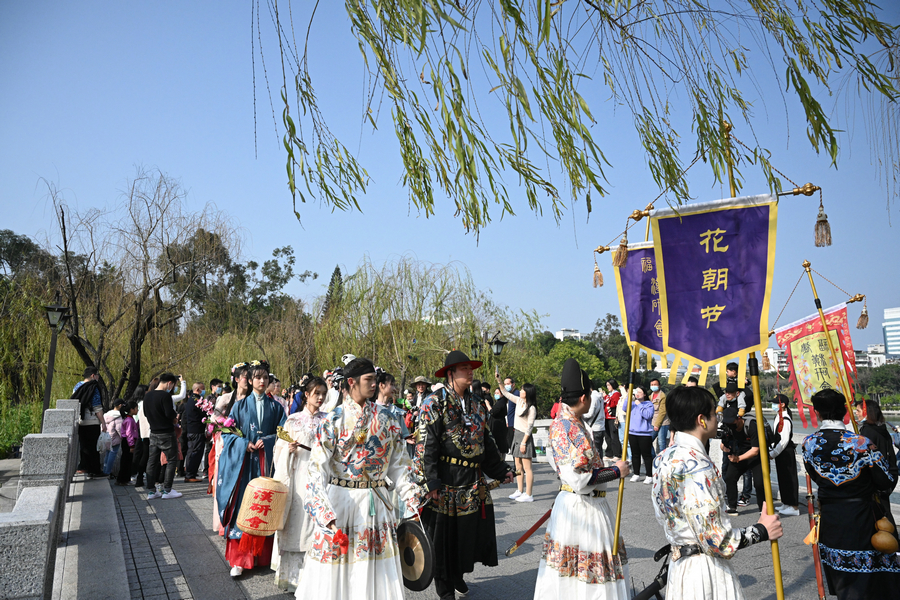 People in costume celebrate Huazhao Festival, a traditional flower festival, in Fuzhou, Fujian province on March 14, 2021. [Photo/Xinhua]
Going to fairs
At the Huazhao Festival, crowded fairs were often formed since people went out on that day. The flower fair was the most popular. Apart from making deals on goods, there were a series of entertainment activities, such as dancing, playing music, and playing games.