America Bans Stuffed Panda Bear Dolls
America Bans Stuffed Panda Bear Dolls
SATIRE:  The National Security Agency has determined that panda bears, whether live in zoos or beloved children's companion dolls must be banned and removed from America due to their being a security risk to the American people and government.   This announcement caught the Smithsonian's National Zoo in Washington D.C. by surprise, requiring it to return to China its popular pandas.  All other American Zoos that may possess those most popular animals must comply with that requirement, the chief officers of such establishments that fail to comply face imposition of fines and/or jail terms.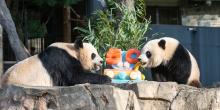 The announcement was withheld until after the midterm elections to prevent this new imposition from affecting the voting and result therefrom, which would possibly have caused the "Red Wave" to be a tsunami, although Tom Cotton indicated that the Republicans agree entirely with the new requirement.
The ban on pandas was imposed "because they pose "an  unacceptable risk" to US national security ."  according to the National Security Agency.  The risk is based on the belief that the children in America could develop through them a love of China which as they grow older could cause a reversal of America's intent to contain China by any means possible, due to the American government's fears that China is spreading its influence world wide and could possibly cause the greatest disaster that America has ever known, i.e. China surpassing the US as the number one nation in the world. 
It should not be considered a great loss, because the pandas can easily be replaced by stuffed fuzzy grizzly and black bear dolls.  After all, in America nobody discriminates because of colour.  Right?  Hey, if they do, there are always polar bears in Alaska, aren't there?