Sea turns fluorescent in Dalian, Northeast China
Category: Fields and Streams
Via:
buzz-of-the-orient
•
7 years ago
•
3 comments

Sea turns fluorescent in Dalian, Northeast China
China Daily, May 5, 2016/5/4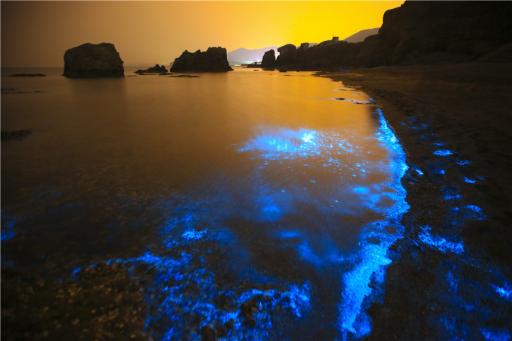 The Heishizi outdoor bathing place in Dalian, Northeast China's Liaoning province, saw its seaside turning fluorescent after a heavy rain on Wednesday. [May 4, 2016] (Photo/VCG)
Glowing with the shimmering blue light, the shore looked exactly like the starry galaxy.
According to experts, the light comes by a kind of plankton called flagellate, it gives out the light when its living environment changes, for example, in times of tides or storms. Usually, the stronger the tides are, the shinier the glow would be.
For a powerpoint series of photos of this phenomenon click this link:
http://www.chinadaily.com.cn/travel/2016-05/05/content_25087269.htm