Scientific study on Trump voters confirms what people of color have been saying all along
Category: News & Politics
Via:
arkansashermit-too
•
4 years ago
•
169 comments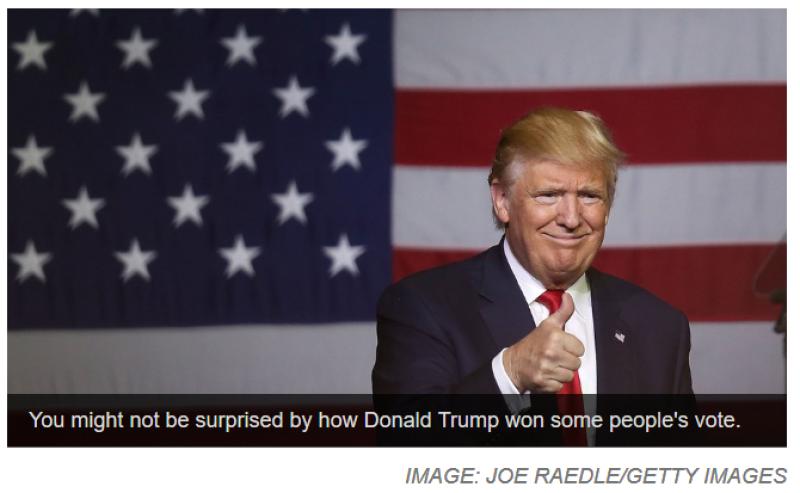 Scientific study on Trump voters confirms what people of color have been saying all along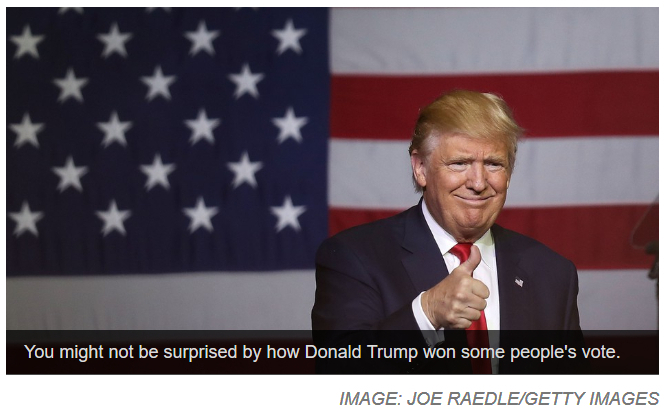 By Rebecca Ruiz

The Trump voter is often portrayed in media and pop culture as a working-class white person, down on their luck and desperate for change. These voters were — and remain — willing to look past Trump's erratic and unorthodox behavior and "politically incorrect" commentary if his presidency brings better jobs. These voters, the narrative goes, are in pursuit of a noble life, even if the man they chose to be commander-in-chief is neither generous or honorable.

But a new study , published Monday in Proceedings of the National Academy of Sciences, argues that a segment of these voters was motivated partly by a far less righteous cause: to protect their own dominant status in American culture and politics.

The study looks at a nationally representative group of the same voters who cast ballots in 2012 and 2016. In particular, it focuses on those who voted for Barack Obama and then, four years later, supported Trump. Instead of finding voters nervous about their family's finances, it uncovered deep concern related to America's declining global power and the projected demographic changes that will put people of color and ethnic minorities in the majority by 2045.


" What we find is this sense of threat," says Diana C. Mutz, the study's author and professor of political science and communication at the University of Pennsylvania.

Mutz found no evidence that personal economic anxiety, represented by indicators like worry about retirement savings, medical bills, and education expenses, predicted greater support for Trump. She also asked about the state of voters' personal finances and whether their community had high unemployment and a concentration of manufacturing jobs. Meanwhile, Trump's supporters favored a smaller safety net, which suggests they're less concerned about how people will fare when they face dire financial straits.

One particularly telling factor did increase the likelihood of support for Trump: believing that white people are more discriminated against than people of color, and believing that Christians and men experience more discrimination than Muslims and women.

Mutz also found that the people who switched their vote from Democrat to Republican between 2012 and 2016 were more aligned with Trump's aggressive stance on free trade and China's ascendance as a global superpower. And they expressed a desire for group hierarchy instead of equality, with their group on top.

Other studies since the election found that racial attitudes played a role in Trump's election. Mutz says her analysis, which uses high-quality panel data as opposed to cross-section survey data, suggests that people are more threatened by the accelerating achievements of black people rather than the negative stereotypes they may hold.

Her findings should provoke uncomfortable conversations about the complicated ideas and beliefs that motivated people to vote for Trump. In fact, these are debates many people of color, including those in the media, have engaged in since well before Trump was elected.

But for the past year-and-a-half, many reporters and pundits have crafted the prevailing narrative, which is rooted in sympathy for Trump voters. Roseanne Barr, for example, has taken this campaign into people's living rooms with the reboot of her show, which tacitly defends its support of Trump based on the economic salvation he represents for white working-class Americans. This idea was front-and-center in Sen. Ted Cruz's recent tribute to the president in Time: "President Trump is a flash-bang grenade thrown into Washington by the forgotten men and women of America."

Imagine instead, though, a media narrative that took seriously the notion that voters chose Trump as a way to protect their own dominant status — not as an act of noble rebellion. It might help explain, for instance, the shockingly high approval rating the president still has with evangelical Christians . And yet, that debate is fraught because it points to deep-seated bias and prejudice.

"It's a really difficult conversation for people to have. Most people don't want to perceive themselves as racist."

"It causes people to confront things that are uncomfortable and unflattering," says Andra Gillespie, an associate professor of political science at Emory University who was not involved in Mutz's research. "It's a really difficult conversation for people to have. Most people don't want to perceive themselves as racist."

It is indeed easier to point to just about any other thesis for Trump's victory, including Hillary Clinton's various weaknesses as a candidate and her campaign's mistakes. And while Mutz's findings represent one aspect of Clinton's loss, they are arguably the hardest to face.

They also present a daunting challenge for liberal activists hoping to mobilize support for Democrats in this year's midterm elections. There are certainly ways Democrats could strategically tailor their message to address people's concerns about China and globalization, but there's no realistic way for the party to reassure voters interested in protecting their status without betraying its base: black people and progressive allies, who believe that nothing short of full equality and equity will suffice in the 21st century.

Even if the Democrats nominate a flawless presidential candidate in 2020 — as if such a thing exists — it's entirely possible certain voters will still be eager to march to the polls, ready to defend their place on top. No matter how easy it is to pretend that fight is about pocketbook anxieties, it's increasingly clear it's instead over who gets to wield the most power in America. That is a battle we simply cannot ignore.