Canada's Governor-General Mary Simon's Father - A Reason Why She Is Exceptional
Category: History & Sociology
By:
buzz-of-the-orient
•
5 months ago
•
5 comments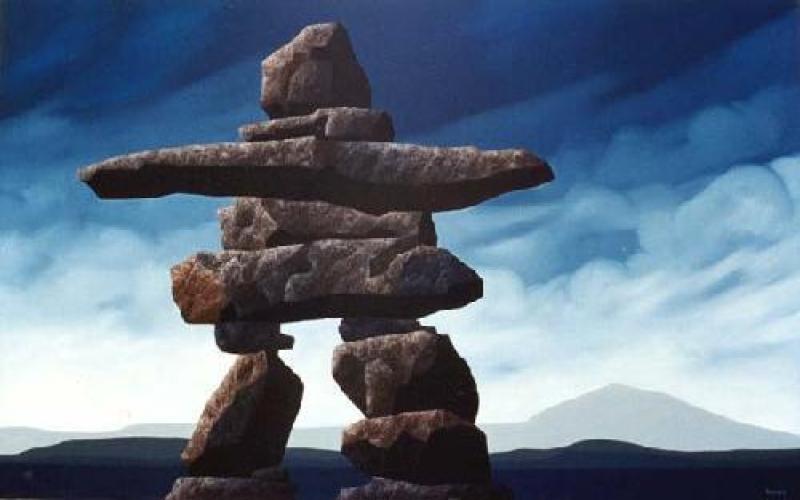 This was an email sent to me by my brother - A long read, but worth it. 
Governor General Mary Simon's Father: Bob May; legend of the Eastern Arctic as Hudson Bay post manager --born  in Kangirsualujuak (George River) in northern Quebec in 1947, Mary Simon spent much of her first 15 years moving with her family from camp to camp by dog ​​team or canoe. Her Manitoba-born father,  Bob May, went north as a Hudson Bay manager.    
Simon is an Inuk from Kuujjuaq, a small hamlet on the coast of Ungava Bay in northeastern Quebec. She was born to a local Inuk woman and an Englishman fur trader father who worked at Hudson's Bay.      
Bob May, Father of Mary Simon 
Bob May; legend of the Eastern Arctic as Hudson Bay post manager  Jan 8, 2009, to BOB MAY: FUR TRADER, TRAPPER AND OUTFITTER, Hudson's Bay Company post manager was a legend of the Eastern Arctic
One of the last HBC apprentices, he went North at 17 and stayed there all his life, becoming a heroic figure among
Inuit elders. He later founded a successful hunting and fishing camp - WHIT FRASER January 8, 2009 
KUUJJUAQ, QUE. - Bob May was one of the last Hudson's Bay Co. boy apprentices. At 17, he left the comforts of the South to become, in the original wording of the company's 1670 royal charter, a "gentleman adventurer." He remained in the North for the rest of his life and is considered a hero among many Inuit elders in the Quebec Arctic. 
After leaving the HBC, he became an outfitter and was widely recognized for his contribution to tourism in northern Quebec. Visitors to Kuujjuaq, Que., formerly known as Fort Chimo, often stopped by hoping to hear adventures or view the huge trophy caribou antlers hanging on his walls. He was hospitable, but would remain first and foremost modest. For a man who once saved a community from starvation, he shared his good deeds and generosity only in the intimacy of his diaries – and sparse details, even then. 
The son of a park ranger, he was born in Manitoba's Riding Mountain National Park, where, as a boy, he so disliked his given name of Robert that he insisted on always being called Bob. He came by his wilderness interest willingly, however.  His parents were both committed naturalists. His father, John May, was an entomologist who put together one of the world's most impressive collections of insects and butterflies. About 1930, he accompanied his parents on a long drive across the Prairies to spend a summer exploring the back country of Banff National Park on horseback and collecting mountain invertebrates. 
While he embraced his parents' values ​​on nature, he was mesmerized by notions of the Arctic and the visions of
adventure, mystery and exploration its vastness then suggested. No one was surprised when, at 17, he joined the
Hudson's Bay Co. After spending 1935 training in northern Saskatchewan, he found himself on a ship bound for the
company's mostly northerly outpost: Arctic Bay on northern Baffin Island. He arrived three months short of his 19th birthday. 
The HBC post contained the only permanent buildings in the community, as the Inuit lived a traditional hunting life in tents and igloos. Despite his age and being the only Qallunaq (white man) in the region, he accepted the responsibilities of trader, teacher, doctor and nurse. 
Mr. May quickly adapted to Inuit life, becoming fluent in Inuktitut and developing the skills necessary for Arctic survival and success. He hunted, trapped, handled dog teams, learned igloo building and, above all, embraced Inuit values ​​and traditions. 
He became so skilled and dependable that the company once lent him out as a guide and interpreter for a McGill University research party. The team leader, Duncan Hodgson, later wrote to HBC officers (in the terminology of the day) to declare that "Bob May can out-Eskimo the Eskimo." 
For all that, disaster can occur at any time in the Arctic and he experienced a number of narrow escapes. In early winter, 1939, he and three Inuit hunters nearly perished when their small schooner was battered and tossed for 12 hours in a violent storm about 30 kilometres off the east coast of Hudson Bay. They lashed themselves to the deck and prayed the engine would continue running, as Bob later wrote in the Hudson's Bay Co. publication The Beaver. 
"The small engine room was constantly awash, and the bilge pump barely big enough to pump out the seawater that was
constantly breaking across the deck," he said. "At one moment the craft was half submerged, but a moment later it
was at the crest of wave where the wind would catch her and tilt us on a precarious angle." 
Almost miraculously, they saw the snow-covered cliffs of an island not 50 metres away, and were able to steer the ship to an anchorage on the lee side. 
Two months later, Mr. May was hunting caribou with two Inuit friends and 10 dogs some distance inland from the settlement of Puvirnituq on Hudson Bay. They had provisions for 14 days, but surprisingly, found no caribou. They ran out of food and were soon close to starvation. Also, Mr. May was not well. His skin had broken out in painful boils and, fearing infection, it was decided that he would stay with the exhausted dogs while the others continued the hunt on foot. 
Left alone, his prospects seemed poor. The starving dogs had to be untied because they were eating their walrus-hide harness traces. Later, he spent half a day chopping through more than a metre of ice with a butcher knife in a desperate effort to hook a fish. The yield was one small trout. It was the "best meal he had ever had," he wrote. 
Three days later, four caribou came within range. Meat, at last. However, the dogs, hungry and loose, immediately tore after them. The caribou scattered and ran, and Mr. May managed to get off four shots. He brought down two , but had to fight off the ravenous dogs. Eventually, he prevailed and fed both himself and the huskies, storing the remainder of the meat under hefty snow blocks. 
The next day, one of his Inuit companions returned after walking about 15 kilometres with meat and the news that they had shot seven caribou. With new provisions, and revived by food, they were able to undertake the return journey to Puvirnituq. Not once in his account did Mr. May mention the cold, which must have been about -35 Celsius with constant winds. 
Besides writing for The Beaver, he also kept a series of notebooks. His handwritten ledgers provide more than one
account of long trips by canoe or dog team in severe conditions with the sick or injured. A number of times, he
travelled hundreds of kilometres across Ungava Bay to get help at the old Fort Chimo airbase in what is now Kuujjuaq.  In the early 1950s, he took an Inuit child suffering from appendicitis 230 kilometres by dog ​​team across the Ungava Peninsula in bitter cold and heavy snow to rendezvous with a Royal Canadian Air Force crew. Reaching Fort Chimo, they were put aboard and flown to Halifax, where surgeons saved the boy's life. 
In Kangirsualujjuaq and Inukjuaq on the eastern shores of Hudson Bay, he is credited with saving entire communities.  Elders there still recall how more than a half century ago, Mr. May provided rations when the population was facing starvation and illness. As manager of the company post, he had broken open the store's inventories of food. 
He also served as part of the military. As an original member of the Canadian Rangers, the Arctic militia unit established during the Second World War, he helped provide information on air or sea movements as well as weather observations. Northern weather information was vital for transatlantic military flights and he was officially rated as essential to the war effort. 
Around that time, Mr. May fell in love with a beautiful young Inuit woman named Nancy . Their first encounter had occurred years earlier, on one his first Arctic voyages, when his ship had stopped at Port Burwell on the northern tip of Quebec. Among the youngsters who greeted the visitors was a young girl whom he thought very striking. He offered what would have been a big treat in that time and place – a stick of gum. 
Several years later, he moved to the post at Kangirsualujjuaq, where he asked around for a reliable cook.  Arrangements were made to hire Jeannie Annanak, and she arrived with her daughter. It was the same beautiful girl he had given the gum to so many years before. It was love at second sight. 
At the time, HBC rules for bade employees from marrying Inuit, but he was defiant. Mr. May stood his ground and said he would marry Nancy or quit. He got his way and, over the years, they lived at a series of HBC posts in the Eastern Arctic, all the while raising eight children. 
Life could be dangerous, even for the family of an HBC manager. Twice, Mr. May had to cross Ungava Bay by boat to save the lives of his own children. 
In 1950, four-year-old Johnny developed a severe infection from a dislocated shoulder. The crossing took two days,
through early winter ice, in a small fishing boat with a single-cylinder engine. Reaching the other side, they found a US Air Force plane that rushed the boy first to Goose Bay, Labrador, and then to Montreal for surgery. 
In 1959, his oldest daughter, Mary, was hit in the jaw by ricocheting shotgun pellets. Mr. May bundled her in blankets, placed her in the bow of a canoe powered by a small outboard motor and again set off across Ungava Bay in rough water and stiff winds. The trip to the hospital at Kuujjuaq took 11 hours. Mary was given immediate attention and soon fully recovered.
All the while, Mr. May hunted and trapped to supplement the family larder. His diaries concentrate mostly on insights
into daily life and record such events as the freeze and breakup of the George River each season between 1943 and
1953. He also jotted down the number and species of animals trapped or shot to feed the family and his sled dogs: "153 seals; 96 caribou and more than 5,000 ptarmigan." He paid careful attention to weather, and noted whether the children played outdoors. Generally, they did – even at -30. 
Most of his accounts were brief: "Shot three seals – three foxes in the traps ... new addition to the family – a girl. Nancy is fine." 
Eventually, however, the HBC sought to transfer the family south into what Mr. May called "Indian country," which he
knew would not be the life for Nancy. He decided to leave the company, although the parting was on excellent terms. 
All at once, he had to find some other way to support his family. By then it was the early 1960s, and demand had
developed for tourist outfitters and facilities. The Mays built Pyramid Mountain Fishing and Hunting Camp about 150
kilometres upstream from Ungava Bay on the spectacular George River. 
Beginning in the spring of 1960, the family spent a year in the bush living on their land and preparing the lodge. Mr. May built a small log cabin for Nancy, himself and the younger children. The older children and their grandmother lived alongside in a tent. 
It was a lonely Christmas that year, "so far away from civilization that even Santa couldn't find us," daughter Mary recalled. Christmas morning arrived without presents, but her father strangely insisted on going out about once an hour to walk in a big circle on the frozen river. 
Finally around noon, he said: "Listen, do you hear it?" They rushed outside in the cold and looked skyward to see a small single-engine bush plane. It circled and then landed. To the children's joy and surprise, the pilot was Phil LaRiviere, an old family friend. He stepped out of the plane laden with presents, fresh oranges and candy for all. Mr. May had made the arrangements months earlier; his hourly treks in the snow were to show his friend where to land . 
In the 1950s and 1960s, schooling presented unique northern challenges for the Mays. At one point, they moved the family to Kuujjuaq so that the children could attend primary school. Beyond Grade 7, however, there were only boarding schools and, because he was white, the government excluded his children from the education system of the day – the now-controversial residential schools. 
Instead, the Mays relied on home schooling and correspondence courses. Although money was tight, Mr. May
managed to send each child to high school in Colorado for one or two years. His parents had relocated there with their insect collection in the 1940s and opened the May Natural History Museum, which is still a major attraction in Colorado Springs. 
Through the years, the Mays instilled both Inuit and Qallunaq cultures into the children. He always spoke English to them; Nancy spoke only Inuktitut. Occasions were always observed in the proper cultural context. Thanksgiving and Christmas were turkey dinners, with all proper etiquette honoured . Inuit traditions, such as eating a seal – correct only when done sitting on the floor – were equally respected. 
The children all became successful in their own fields. Johnny and Billy are well-known bush pilots. Peter is a biological technician, guide and businessman. Bobby is a video producer and director. Madge Pomerleau is the executive director of the regional hospital in Kuujjuaq . Sarah Tagoona is executive director of the women's shelter in Kuujjuaq. Annie Probert is a consultant and former executive director of the regional school board in northern Quebec. And oldest daughter Mary Simon is a former Canadian ambassador to Denmark and current president of Inuit Tapiiriit Kanatami , the national organization representing Inuit people. 
By 2002, Pyramid Mountain had become a thriving concern  and the Mays decided to turn it over to Peter. They retired to Kuujjuaq where Nancy became ill and died the following year. 
Characteristically, Mr. May carried on alone. Until he was hospitalized a year ago after losing the use of his legs, he
was still working on his woodpile – if only with the aid of a walker. 
In Inuit terminology, he was a Qallunaq, yet the preachers who said his deathbed prayer and presided over his funeral spoke only in Inuktitut, the language of the Inuit.  
BOB MAY 
Robert Mardon May was born Sept. 7, 1918, in Sandy Lake, Man. He died Nov. 11, 2008, in Kuujjuaq, Que. He was 90. He is survived by daughters Madge, Sarah, Annie and Mary, and by sons Johnny, Billy, Bobby and Peter. He also leaves 94 grandchildren, 49 great-grandchildren and four great-great-grandchildren. He was predeceased by his wife, Nancy, who died in March, 2003.