California pipeline shut down after 'worst case' scenario oil spill
Category: News & Politics
Via:
perrie-halpern
•
3 weeks ago
•
12 comments
By:
David Douglas and Tim Stelloh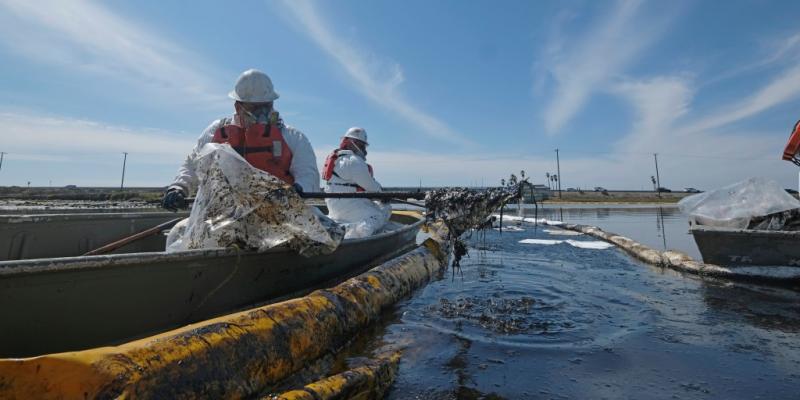 A 2012 plan prepared by the operator of an offshore oil pipeline that may have dumped thousands of barrels of oil off Southern California described such a spill as a "worst case" scenario.
S E E D E D C O N T E N T
A 2012 plan prepared by the operator of an offshore oil pipeline that may have dumped thousands of barrels of oil off Southern California described such a spill as a "worst case" scenario that could cause "substantial harm."
The plan, produced by Beta Offshore and obtained by NBC News, said that a full cut in the pipeline three miles from shore could release roughly 3,000 barrels, or 126,000 gallons, of oil.
Such a leak could cause "significant and substantial harm to the environment" because "of its proximity to navigable waters and adjoining shoreline areas designated as environmentally sensitive."
Officials said that roughly 126,000 gallons of oil appeared to have spilled off the coast of Orange County over the weekend, creating a 13-square-mile slick near the cities of Huntington Beach and Newport Beach. The chief executive of Beta Offshore's parent company, Amplify Energy, said divers were investigating a potential source of the leak roughly four miles from shore.
Amplify Energy did not immediately respond to a request for comment on the 2012 plan.
Cleanup contractors deploy skimmers and floating barriers known as booms to try to stop further oil crude incursion into the Wetlands Talbert Marsh in Huntington Beach, Calif., on Sunday.Ringo H.W. Chiu / AP
The company's chief executive, Martyn Willsher, said at a news conference Sunday that the pipeline had been shut down and suctioned. But local officials said the damage may have already been done.
"We've started to find dead birds & fish washing up on the shore," Orange County Supervisor Katrina Foley tweeted.
Yet only one animal was officially confirmed to have been injured in the spill, a duck found covered in oil, said a spokesman for the California Department of Fish and Wildlife. Other reports of dead and injured wildlife were being investigated, he said.
Late Sunday, the department declared a fishery closure roughly 35 miles along the coast and out to six miles offshore.
Foley said she visited the area Sunday and felt the sting of vapor in the air.
"My throat hurt," she said at a news conference.
Foley described seeing small clusters of oil along the shoreline that she compared to egg yolk. She pleaded with residents to stay away from the area and not disturb the oil clumps.
County health officials warned residents to be aware of dizziness, headaches and other side effects that exposure to an oil spill can cause. Some sections of the coastline in Huntington Beach were closed Sunday, and the city said in a statement that the spill had "substantial ecological impacts" on the shoreline and wetlands.
The spill forced the city to cancel the final day of its Pacific Airshow because, and skimming equipment and booms were deployed to prevent the flow of oil into ecologically sensitive areas, it said in a statement. Rep. Michelle Steel, whose district includes Huntington Beach and Newport Beach, asked President Joe Biden to declare a major disaster to help with recovery efforts.
Miyoko Sakashita, director of the Center for Biological Diversity's oceans program, said the spill was a tragic reminder of the devastating threat offshore drilling can pose.
"I've seen the aging oil platforms off Huntington Beach up close, and I know it's past time to decommission these time bombs," she said. "Even after fines and criminal charges, the oil industry is still spilling and leaking into California's coastal waters because these companies just aren't capable of operating safely."
Californians have been particularly wary of offshore oil spills since the disastrous leak off the coast of Santa Barbara in 1969, when images of birds and other wildlife covered in heavy black gunk helped spark the modern environmental movement.
Willsher said the pipeline is connected to a processing platform — one of three in the area owned by Houston-based Amplify Energy — is 17.5 miles off the coast. They were built in the 1970s and '80s and the company has owned them for nine years, he said.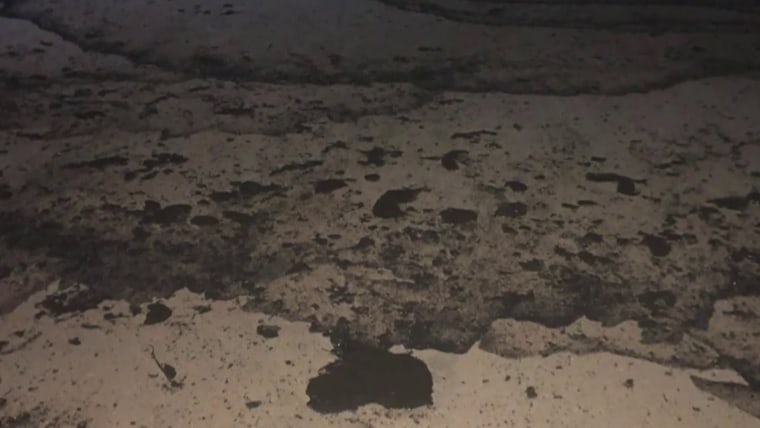 Coast Guard, wildlife rescue respond to oil spill off Newport Beach, California
The pipeline is inspected every other year and has been "meticulously maintained," he said, adding that the most recent inspection occurred last week. The pipeline's capacity is 126,000 gallons, and Willsher said he did not expect anymore leakage.