Roller coaster of technology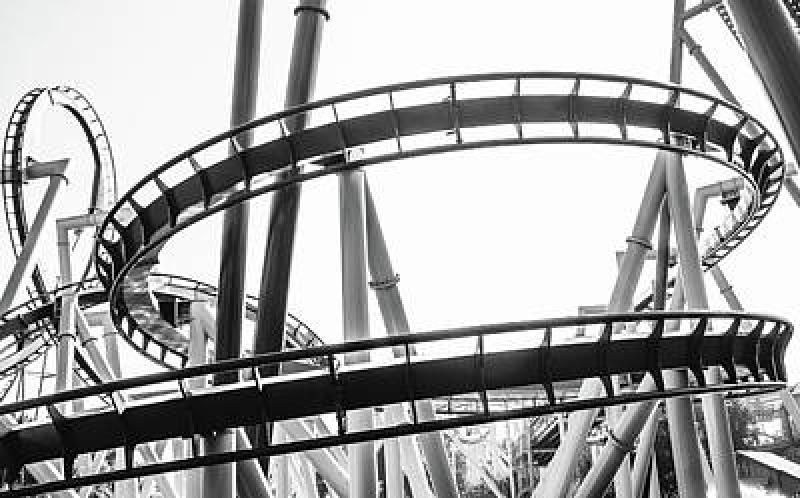 My thoughts for today have to do with technological advancements. There's good and bad in technology. People disconnect from reality, not usually a good thing. People can productively work from home, which is usually a good thing. 
Yesterday, my city's internet service went down at about 11 am and didn't return for roughly 24 hours. People in my city threw a fit in many instances. I had to request a 1/2 day personal, because I couldn't leave the house; I had two roof estimates yesterday, assuming I would be home working. I had to go to my mom and dad's this morning, just to find out that the Windows updates that happened yesterday morning [before the internet went out], made it so I could NOT connect to any WiFi signal. So... I connected my personal phone to all of my work things; Microsoft Teams, Outlook, Authenticator, etc. and joined a meeting from my phone. Then... I had to take my laptop to my boss's house [good thing he lives close] so we could fix the issues with help from one of the local IT managers [my boss, my team, and I deal with engineering computer tools, not regular IT stuff]. We finally got it up and running again. I went back to my mom's for my next two meetings and needed to come back home to let my dog out... we're back online now. I can't complain too much, because this is the first medium to long term outage of internet service I've had in the 18 years living in this city.
There were people that said to just go to McDs or a cafe somewhere and use public internet service... well, my work-supplied computer won't allow me to connect to a public domain very easily and because COVID, I chose not to go that route. I had to take my 12 year old with me too, because the "adopted one" went with my husband this morning to work, my daughter is in school, and I'm not leaving my 12 year old home alone for potentially 8 hours. 
In the end, I'm very grateful for having an understanding boss, the company I work for that provides the means for working from home, and the technology to do so. 
Despite my gratefulness, there's definitely downsides to technological advancements. I personally don't see it as a good thing to have instant and global media constantly available in most instances. It causes stress and division over matters that don't affect the people that it's dividing in many instances. It brings attention to more negativity than positivity. Positivity doesn't get the ratings. Today, more than ever, it's clear that everyone has an opinion, but that doesn't mean everyone wants/need to hear it... just like a fart. As someone here has put it... "the urination Olympics" is frequently underway, but it's not a contest that I want or enjoy being a part of, but maybe that's just me. I suppose I'm a good mix of my mother and father that way. My dad doesn't want confrontation at any time; he'll cave just to avoid it. My mother loves to fight and will even look for one sometimes. Me... if something will affect myself or my family [that includes my friends], I will fight, but otherwise I see no need. I usually try to make light of things when it isn't something that will affect those around me. That I think comes from my uncle. I don't know that anything really stresses him out.
Another downfall of technology... in automotive; some is good, but the shit they have coming out now... which yes, it pays my bills [working for an automotive electronics tier 1 supplier], it has made people dumber behind the wheel. Parallel parking? Nah... no need to learn that, the car has auto parallel parking. Manual trans? Nah... no need to learn that, everything in the US market comes with an automatic, even foreign automakers make automatics available to the US public. Glancing in your mirrors? Nah... no need for that, there's an idiot light to tell me whether I can change lanes or not. Glancing over your shoulder for blind spot? Nah... no need... see previous statement. Knowing when you should brake? Nah... cars have auto-braking features now. 
First of all, parallel parking for those that cannot afford a new vehicle, is a must still; same goes for the auto-braking, mirrors and blind spot. Next, manual trans... better learn before traveling overseas! And don't even get me started on the idiots that think that a Tesla will do all of their driving for them. A fully autonomous vehicle is not available for the public yet! I don't know if that will ever be available to the public, because how does a catastrophic failure get covered [insurance-wise]? Personal insurance will cover if someone is behind the wheel, but there isn't any policy existing yet regarding driverless vehicles and I'm not sure how they'd go about writing such a policy either. What happens when it's a component failure that causes the crash? You think that an automaker is prepared to take on that responsibility? Me neither. Especially having been a person that was in charge of documenting global recalls in the past and seeing the results from them.
Those are just a few of my thoughts for today. If you made it this far... thanks for reading!
NO POLITICS! NO PRESIDENTS PAST OR PRESENT!