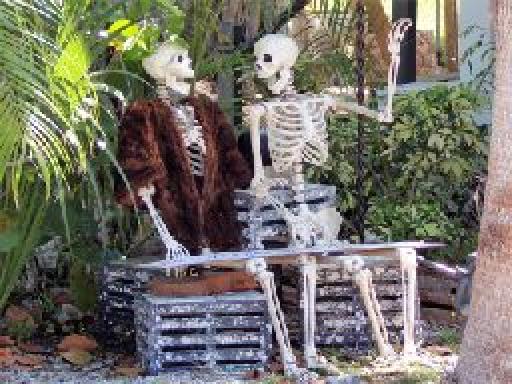 I have an earworm, and now so do you!
 First, you know what an earworm is? It's that damn commercial jingle, or segment of a song, quotes. Things like that just rolls around and around in your head seemingly forever.
My mother who I was pretty close to had them all the time but she would just sing it or say it and all the time in the kitchen. Which is where she was most of the time anyway. On any given day I would hear the same tunes or sayings..."Balls! Cried the queen, if I had two I'd be king!" She was a depression kid and would sing from all these genre's except the same songs..."If I had the wings of an angelllll, over these prison walls I would Flyyyy" " I'm a ding-dong daddy from Dumas"
 I of course was born in the late 50's and was an avid fat little Saturday morning cartoon addict.
Ugh! I'm in the kitchen and making some pie (And yes, at times I think of those songs and quotes as you can tell. But she also passed on to me an incredible amount of cooking expertise.) when my wife said "when will the pie be ready?"
 I said "Wait!" and I waved my hands over the pie and said "Eeanie meanie, chili beanie, the spirits are about to speak"
 She looked all crazy at me and then like a lightbulb went off she vaguely remembered and began to rattle off names of shows and movies it came from. Here I am waiting for the right answer, which never came, remembering stupid lines or jingles...Once she was told, it got worse. I'm reaching for my knife and it was the wrong one..."Ooooh, I must have grabbed the wrong hat." Also from Rocky and Bullwinkle. After going through Boris Badanoff and Natasha, with a smattering of Dudley Doorite and Nel.
 The tangents started coming like an avalanche. Jetson's, Flintstone's, And the most quotable of all Bugs Bunny and Daffy Duck "That'sss Disssspicable" Sylvester? Tweety? "I taut I taw...." Yeah, you can finish it can't you?
 When I signed in, I said "Hello" to Perrie and told her about this, she wasn't familiar with the "earworm" term and I proceeded to give her examples which just further drove me nuts..."When it says Libby's, Libby's, Libby's on the label, label, label......" Sing along kids!
Movies! Stupid movies at that! "Space pirates...scurge of the universe!" "Hi, I'm Barf, 1/2 man....."Dammit Jim, I'm a doctor not a.....
  "I could while away the hours, conversin' with the flowers....." If I had a nickle for everytime I saw someone do something really stupid and started quietly singing that song.
What endless things roll in your head for hours?
 "his boy Elroy...Jane, his wife"
"If I could be an Oscar...." You started singing that as soon as you saw it didn't you??
 "Two all beef patties, special sauce, lett....."
"It take two hands...."
"Weeeee're off..."
Tell me...have you spent the better part of a day saying "Wooob woob wooob" and waving your hand in your partners face?
Thinking about your childhood yet? Remember ......? 
Heh, heh, my job is done here......Lemme know what's spinning around there now?