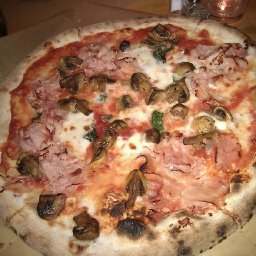 | | |
| --- | --- |
| By: | gordy327 |
| Created: | 2 weeks ago |
| Comments: | 144 |
Pizza may not be an American invention, but it is certainly an American favorite and one of the most popular foods in America. According to statistics, 3 billion pizzas are sold every year (28 million slices on Superbowl Sunday alone). That's a lot of pizza. Of course, the options for pizza, from choice of toppings to pizza locations is seemingly endless. If there's a food you like, chances are it can (and does) go on a pizza. It is the ultimate comfort food and good anytime of the day. Seriously, who hasn't had a leftover cold slice of pizza for breakfast? It's almost as good as when it first comes out of the oven. Some might argue it's even better. Pizza is also good for any occasion: parties, sports events, family meals, and even general get together with friends. You just can't go wrong with pizza.
So what is your favorite pizza and/or pizza joint? Personally, being a passionate carnivore myself, I like a loaded meat lovers (with extra bacon) pizza from a real pizzeria, and not from fast food pizza places like Dominos or frozen pizzas. Although, I have been known to change things up and take a veggie turn in my pizza with a margherita pizza (fresh basil is a must) or a veggie pizza with peppers, onions, mushrooms, olives. But, to each is own. On occasion, I also make my own homemade pizza: thick crust with stuffed cheese in the crust around the edge. It resembles a giant crater which can hold the mountain of cheese and toppings in the middle without overflowing the side. All washed down with an ice cold beer. Such decadence. So please share your own pizza faves and stories. Now, if you'll excuse me, I think there's a leftover slice of pizza in the fridge calling my name.