An Expat Thanksgiving Dinner Experience
An Expat Thanksgiving Dinner Experience
A Chinese doctor friend invited me to accompany him to a special Thanksgiving Dinner for expatriates living here that he had attended previously at the exclusive 5-star Intercontinental Hotel in downtown Chongqinq. I decided to go for a few reasons, notwithstanding the fact that I had to buy my own ticket.  Firstly, I thought it would be an opportunity to meet other expats and maybe even one from Canada or even Toronto.  Secondly, I had stayed at that hotel a few times around a decade ago, having flown from Zhengzhou to meet and court my wife so I knew that the food they served was fantastic, besides the fact that I had not eaten turkey since I've been here.  Whenever I've with or without my wife been invited to a dinner or banquet here I never had to pay for myself, because the tab was always picked up by my host.  Anyway, the cost was the equivalent of about US$40 which is pretty expensive here but I figured it was worth it. I declined buying the ticket for twice that amount that would have entitled me to unlimited beer and wine because I've developed a propensity to suffer from gout, which can be caused by booze, and anyone who has experienced gout will give up anything to prevent it.  
He picked me up and because it was Friday rush hour it took two hours to get there.  The whole way there and back he played a CD he had of C&W and hits of the 50s, like Ring of Fire, Only You, Stand by Me, The Great Pretender, Twilight Time, etc. which he explained to me helped him with his English pronunciation.  For a while I didn't mind listening to that music that I have not heard for many years but after about the third or fourth time it did get a little irritating.  As we finally approached downtown we passed by a lit up building I had photographed about 10 years ago from a boat in the river (and posted on NT as part of a photo-essay on Chongqing at night) so I took this photo as we drove by.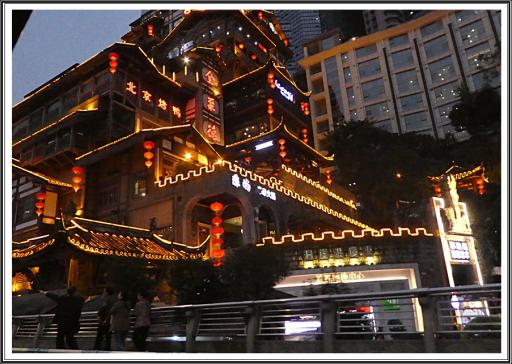 We finally arrived at the hotel, parked the car underneath and went out the wrong door so we had to walk back through the pedestrian mall, where I took these photos.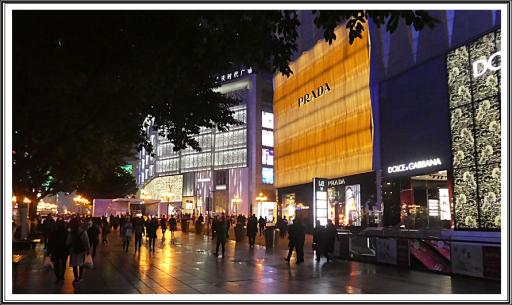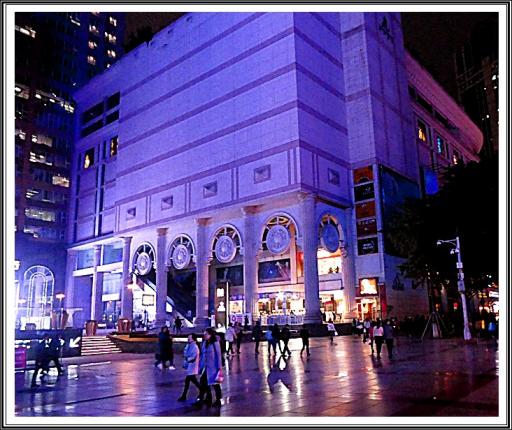 Finally we reached the front door of the Hotel. We went up to the 11th floor to the banquet room where we got our table number, and sat and waited for the banquet doors to open while the imbibers were happily getting drunk.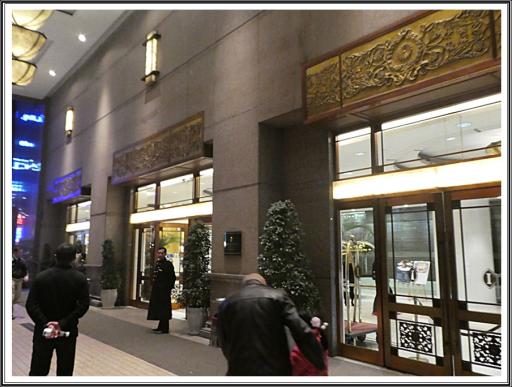 While I was sitting there this guy was walking around taking a video of the attendees, and aimed his camera at me which prompted me to take my camera out of my pocket and aim it at him, and that made him go away.
The doors finally open and we're among the first to walk in to our table.  We then went to the buffet with our plates. I asked the chef to cut me some dark meat.  He had no idea what I was talking about so I had to settle with white meat doused in turkey gravy, bread stuffing with mushroom and herbs, a thick incredible cranberry sauce, and then took some roasted potato chunks and carrots, penne in molten cheese which when picked it up I could have used a scissors to cut the stretchy cheese. (One of my clients in Toronto had a pretty famous French restaurant and he served his French onion soup with molten cheese and a pair of scissors.)  brussels sprouts, roasted button mushrooms and green beans all of which filled my plate.  As it happens, the turkey breast meat was so tender it could be cut with a fork.  The room was still a bit empty although eventualy there were about 160 guests.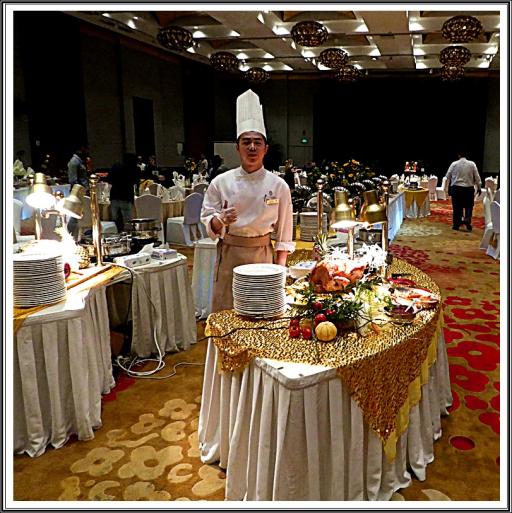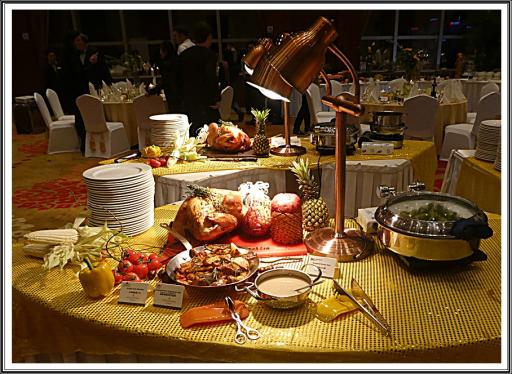 I was so anxious to eat some turkey I totally forgot the appetizer table at the side, so on my second trip with a fresh plate I took some smoked salmon and a mixed salad.  The appetizers were in the middle of the side tables that had desserts on the ends.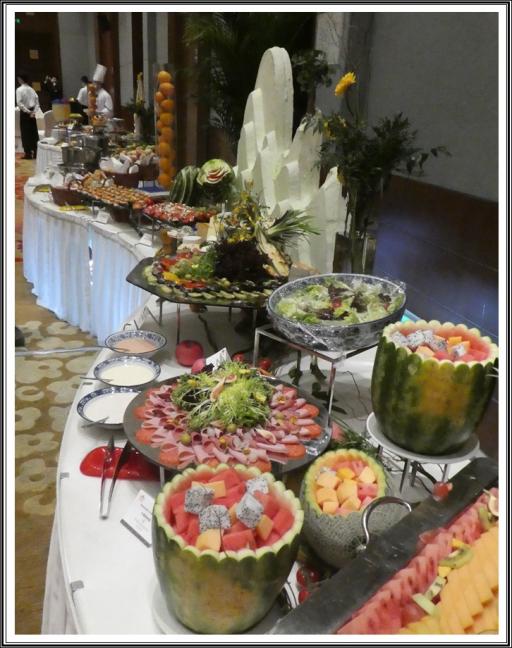 Having finished the appetizers I went back to look for my desired dark meat at the other end of the main course table where the chef still didn't understand, shoved a couple of slices of white on my plate and tried to put some ham slices on as well, but I waved off the ham because I had made myself a ham and cheese omelette for breakfast (a double sin - mixing dairy with forbidden meat - forgive me, Enoch).  So when I pointed to the turkey leg he finally got the point and I got my dark meat. This time I added to my plate mashed potatoes that I soaked in turkey gravy and some kind of pasta balls in cream sauce that was really a treat.  Having then starting to feel kind of full, but wanting to get to the desserts, I wandered over to the other dessert table and filled my plate with apple pie, small decorated cakes with strawberries, and from the ice cream wagon a scoop each of pistachio and chocolate walnut.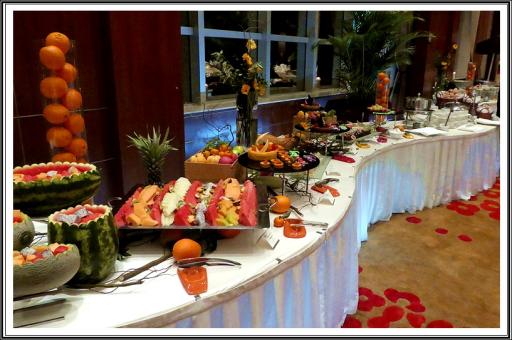 The tables sat 10, and at our table was a guy from Idaho with a gorgeous Chinese wife who sat next to me, A Brit whose wife was a Russian Israeli, and the other 4 were a Russian guy with his Chinese wife and kids. Everyone spoke English except the gorgeous Chinese woman next to me...
There seemed to be a lot of Russians there.  Eventually I left the table and found two beautiful young Russian women who were left alone at their table so I joined them - they spoke perfect English - and I really enjoyed our conversation. They were working as kindergarten teachers while studying Chinese part time.  All the Russians were friendly with me, maybe because I told them (truthfully) that my father was from Russia and my mother from Kiev in the Ukraine.  They said that made me half-Russian even though I was born in Canada.  
As we finally left at about 10 p.m. we walked past this incredible wall on the way out of the hotel.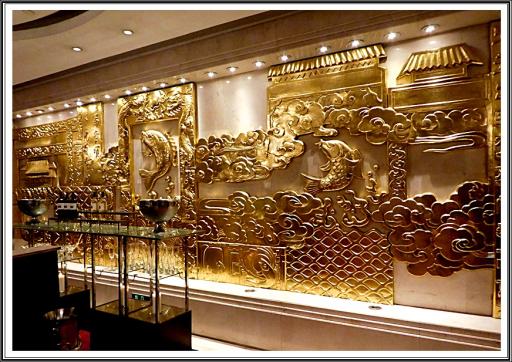 Thank heaven it only took an hour to get home.  I couldn't listen to that music much longer - even with a full stomach.