Category: Wine & Food
By:
buzz-of-the-orient
•
7 months ago
•
38 comments
By:
Buzz of the Orient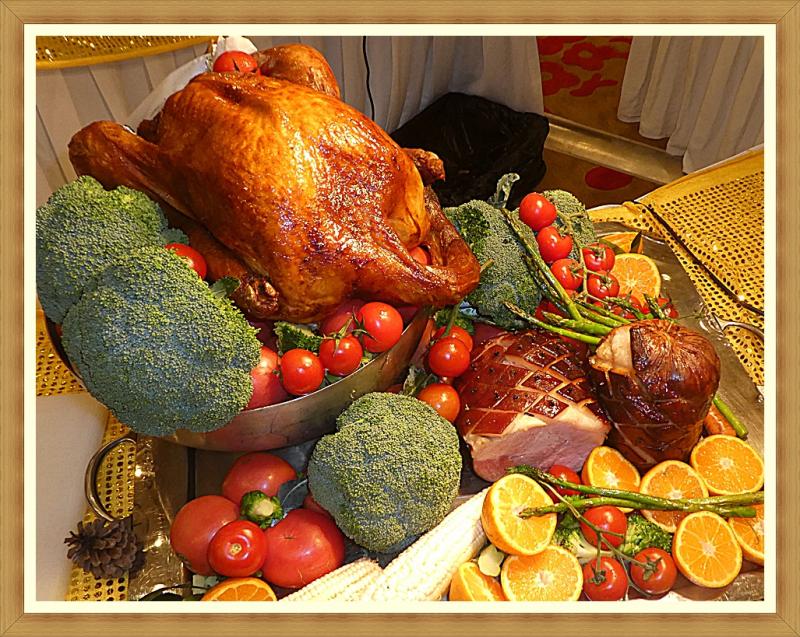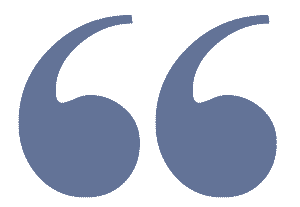 I hope that you all enjoyed your Thanksgiving dinner as much as I did.
Last night I attended the annual Expats' Thanksgiving Dinner at the Crowne Plaza Hotel (formerly InterContinental Hotel) in downtown Chongqing.  I ate so much, and things I'm not used to (have not had turkey since that dinner last year) that I could hardly walk after.  It took two and a half hours by car to get there because of the traffic (during which the driver, my Chinese Doctor friend, played 1950s country and popular songs, such as The Great Pretender, Its Twilight Time, Johnny Cash singing Ring of Fire, etc. etc. which he listens to in order to improve his English pronunciation) but only an hour to get home.  It was pretty well the same buffet presentation as last year, but the turkey was not quite as juicy as last year.  I only took a few photos, because last year I posted a more comprehensive photo essay of pretty much the same thing. 
Anyway, here's the turkey and the most delicious ham I've ever tasted (Sorry Enoch, but I'm assimilated).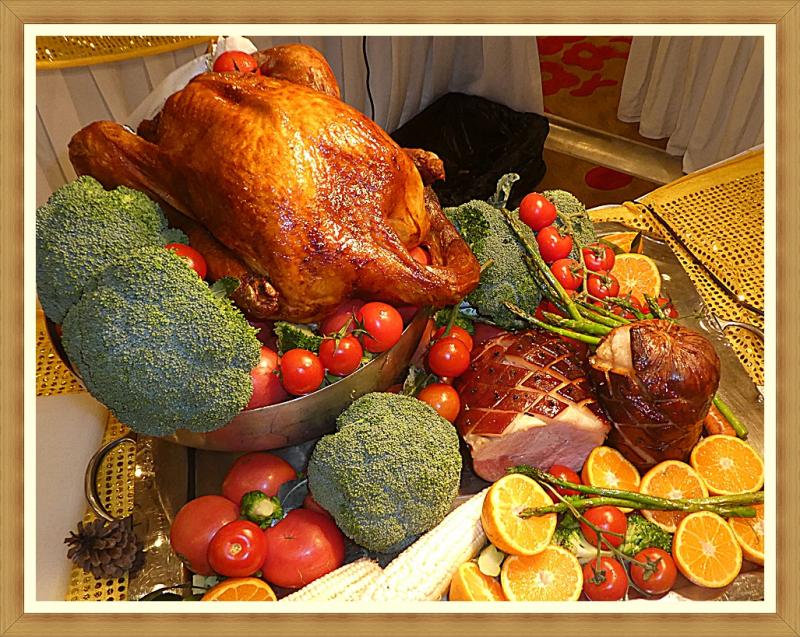 Appetizers included the smoked salmon rolled around cream cheese and the chopped veggie salad, along with tons of other things, many of which I could not identify.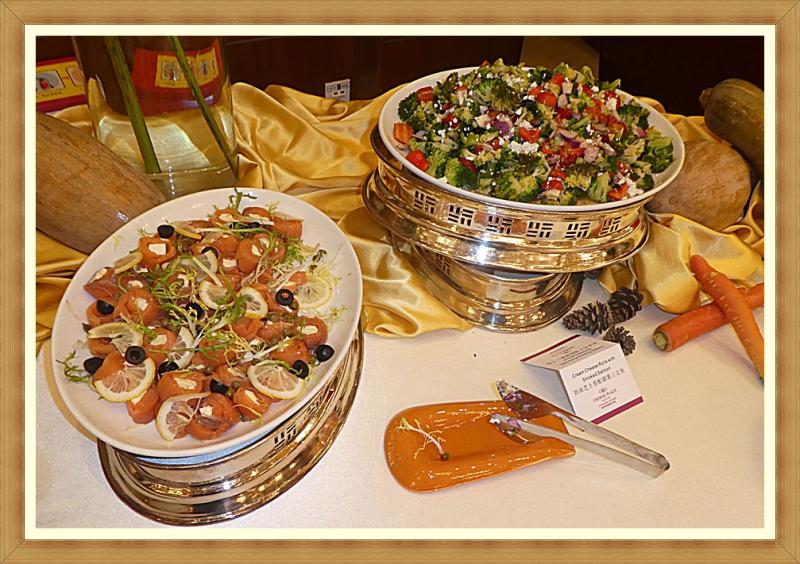 I thought that the variety of cheese should have been at the dessert table but, the Chinese people rarely eat cheese, and I think only know about the cheese that's in a McDonald's cheeseburger, and on a pizza.
After I first had a plate of appetizers (mostly the smoked salmon) I filled my plate with a main course.  Starting at top left and going clockwise, the delicious ham slices, green beans, sweet potato fries, roasted button mushrooms, excellent stuffing buried under the mushrooms and penne in cream sauce, and finally turkey soaked in cranberry sauce.  I followed that up with a bowl of fabulous cream of mushroom soup (I got used to drinking soup after the main course, which is what they do here). I passed on the mashed potatoes even though they're a traditional side dish because I make them often enough at home.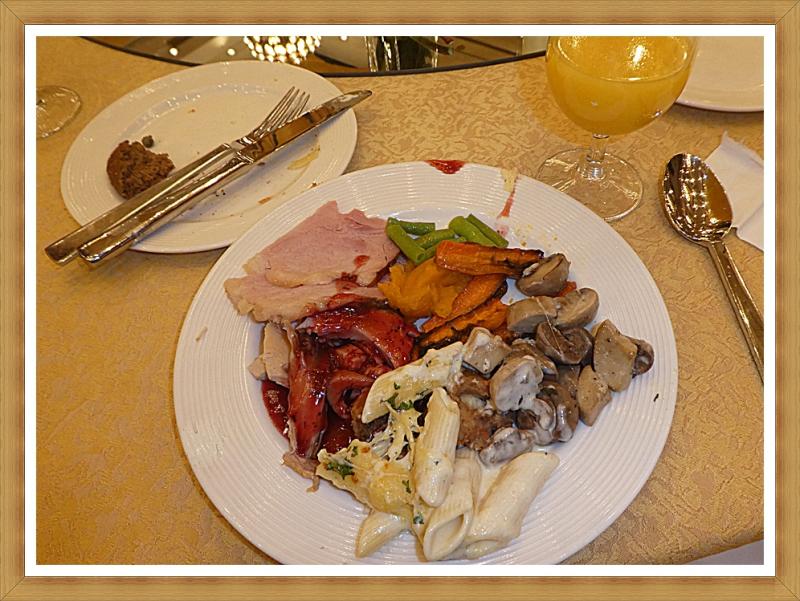 Finally the fruit. I forgot to photo the pastries - gateau, cheesecake, apple or pumpkin pie, petite fours, tarts, etc., I ate too big an assortment of them, but I filled a bowl with three flavours of ice cream.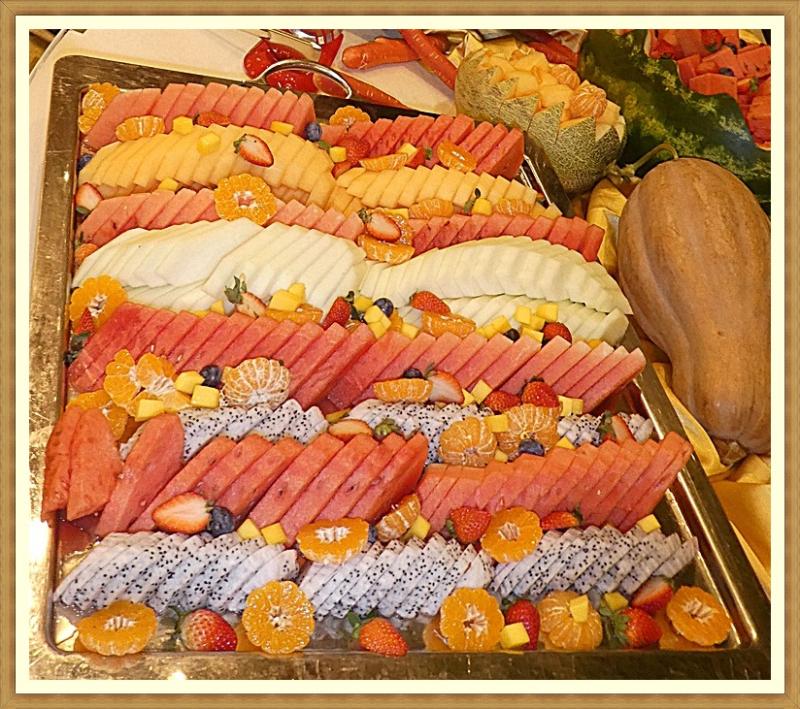 I hope that you all enjoyed your Thanksgiving dinner as much as I did.