"Here we come a-wassailing
Among the leaves so green;
Here we come a-wand'ring
So fair to be seen.
Chorus:
Love and joy come to you,
And to you your wassail too;
And God bless you and send you
A Happy New Year
And God send you a Happy New Year.
Our wassail cup is made
Of the rosemary tree,
And so is your beer
Of the best barley.
(Chorus)
We are not daily beggars
That beg from door to door;
But we are neighbours' children,
Whom you have seen before.
(Chorus)
Good master and good mistress,
While you're sitting by the fire,
Pray think of us poor children
Who are wandering in the mire.
(Chorus)

We have a little purse
Made of ratching leather skin;
We want some of your small change
To line it well within.
(Chorus)
Call up the butler of this house,
Put on his golden ring.
Let him bring us up a glass of beer,
And better we shall sing.
(Chorus)
Bring us out a table
And spread it with a cloth;
Bring us out a mouldy cheese,
And some of your Christmas loaf.
(Chorus)
God bless the master of this house
Likewise the mistress too,
And all the little children
That round the table go
(Chorus)
And all your kin and kinsfolk,
That dwell both far and near;
We wish you a Merry Christmas
And a Happy New year
(Chorus)"
Yule was very festive.  The food was perfection, baked glazed ham, scalloped potatoes, beets, and rolls.  The company was outstanding - the conversation was festive and happy.  The Yule Log was tasty.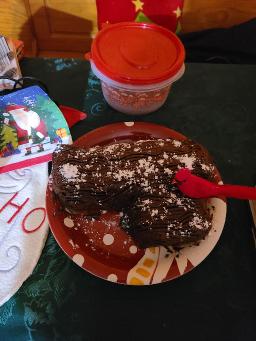 May all of you have a blessed New Year!