Donald Trump Is a "Sore Winner" Too
We all know that Trump is a sore loser.  Donald Trump is also a sore winner.  Despite his 2016 win over Hillary Clinton, he fired a lawsuit claiming that Hillary cheated in 2016.  In fact, Trump named 31 people and organizations that formed a huge conspiracy against him in his lawsuit.
When Trump LOST the 2020 election (he still won't concede) he filed tons of lawsuits in a lame attempt to overturn the election.  He even attempted a coup.  And he has been a big crybaby ever since.
.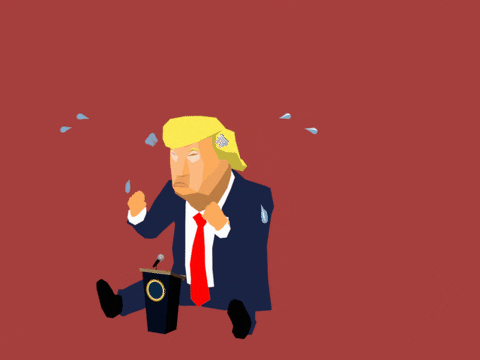 Butt Trump won the 2016 election (in the Electoral College) so why is he filing a frivolous lawsuit about that election?  WTF?  Is he crying because Hillary won the popular vote?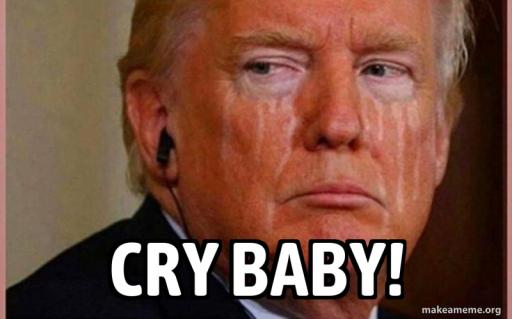 Here's an article from last November about Trump's frivolous lawsuit:
Judge Fines Trump Lawyers in Clinton Conspiracy Suit Tossed in September
The sanctions ruling comes as a range of lawyers working for former President Donald J. Trump are under scrutiny.
WASHINGTON — A federal judge in Florida imposed sanctions on Thursday against a group of lawyers for former President Donald J. Trump who handled a sprawling lawsuit that accused Hillary Clinton and a range of Mr. Trump's perceived enemies of a vast conspiracy against him.
The judge, Donald M. Middlebrooks of the Southern District of Florida, had thrown out the case in September, and in a scathing 19-page ruling , he accused Mr. Trump's lawyers of abusing the legal system by suing for political purposes in a case that he portrayed as full of misinformation. "Every claim was frivolous, most barred by settled, well-established existing law," he said.
______________________
In the racketeering case, Judge Middlebrooks, who was appointed by President Bill Clinton, wrote, Mr. Trump put forward "political grievances masquerading as legal claims." He added, "The courts are not intended for performative litigation for purposes of fund-raising and political statements."
______________________
In filing the lawsuit in March, Mr. Trump named 31 people and organizations as defendants. The case amounted to yet another venue for Mr. Trump to air his grievances and conspiracy theories about the Russia investigation.
Mr. Dolan was the subject of pro-Trump conspiracy theories after John Durham, the Trump-era special counsel investigating the Russia investigation, mentioned him in an indictment of Igor Danchenko, a Russia analyst who gathered many of the claims in the so-called Steele dossier. (Mr. Danchenko was acquitted last month.)
_______________________
But Mr. Trump pressed on. After Judge Middlebrooks dismissed the lawsuit and Mr. Dolan asked for sanctions, the Trump team claimed that "nearly all" of the allegations the lawsuit had made against him came from the Danchenko indictment.
That, Judge Middlebrooks wrote, "is simply not so," saying Mr. Trump had instead "cherry-picked portions which supported his narrative while ignoring those that undermined or contradicted it."
Luke Broadwater contributed reporting.
https://www.nytimes.com/2022/11/10/us/judge-trump-clinton.html
And here's a new article from about two hours ago:
Trump, Lawyer Hit With $937,989 Sanctions in Clinton Case
Florida judge says Trump suit was blatant abuse of the courts




Ex-president argued Clinton, Democrats conspired against him



By
January 19, 2023, 9:24 PM EST
Updated on

January 19, 2023, 10:51 PM EST
Former President Donald Trump and one of his top lawyers were ordered by a judge to pay a total of almost $1 million in legal fees and costs to Hillary Clinton, her 2016 campaign and more than a dozen political operatives who he alleged ran a vast conspiracy to damage his reputation.
The suit is part of a long pattern of abuse of the courts by Trump and his lawyers and "should never have been brought," US District Judge Donald M. Middlebrooks said in a ruling Thursday in West Palm Beach, Florida.
" Its inadequacy as a legal claim was evident from the start," the judge said. "No reasonable lawyer would have filed it. Intended for a political purpose, none of the counts of the amended complaint stated a cognizable legal claim."
Trump, his lead attorney, Alina Habba, and her law firm were held jointly liable for $937,989. The sanctions were issued on behalf of 18 defendants who submitted a joint motion accusing Trump of knowingly filing a suit with bogus and unbelievable claims to dishonestly advance a political narrative.
The ruling is the latest legal setback for Trump, who was not deterred by his failed lawsuits challenging the result of the 2020 presidential election. Earlier this month, his lawyers barely escaped sanctions over their failed arguments against New York Attorney General Letitia James's civil fraud suit against him and his company, which goes to trial in October. And a suit Trump filed against James in Florida was dismissed last month by Middlebrooks, who said that case had "all the telltale signs of being both vexatious and frivolous."
Habba didn't immediately respond to a message seeking comment.
The ruling came hours after Habba appeared in New York state court to argue against dismissal of a $100 million lawsuit Trump filed against his niece Mary Trump and the New York Times over its award-winning 2018 story on the former president's taxes. The judge overseeing that case Thursday repeatedly suggested the damages sought by Trump could be viewed as intimidation.
Middlebrooks, an appointee of former President Bill Clinton, said in his ruling in Trump's Florida suit against Clinton that filing such lawsuits "undermines the rule of law, portrays judges as partisans, and diverts resources from those who have suffered actual legal harm."
The judge rejected any notion that Trump's lawyers were the only ones at fault.
" Mr. Trump is a prolific and sophisticated litigant who is repeatedly using the courts to seek revenge on political adversaries," the judge said. "He is the mastermind of strategic abuse of the judicial process, and h e cannot be seen as a litigant blindly following the advice of a lawyer."
Trump's suit repeated many of his grievances over the FBI's 2016 investigation into whether his presidential campaign was colluding with Russia to influence the election that year, alleging the entire probe was the result of a Democratic-led conspiracy to undermine his presidency and tarnish his reputation. Along with Clinton, he named former Federal Bureau of Investigation Director James Comey, Clinton Campaign Chair John Podesta, British intelligence ex-agent Christopher Steele and many others.
The judge blasted Trump's lawyers for stacking the lawsuit with details from criminal complaints against former Clinton campaign lawyer Michael Sussmann and Russian business analyst Igor Danchenko, who were charged by the US Justice Department special counsel investigating the FBI's handling of the Trump-Russia probe. The allegations against both men were seized upon by Trump and his allies as evidence that Democrats and their Justice Department allies conspired to undermine Trump starting in 2015. While many faults in the FBI probe were uncovered, both cases ended in acquittal.
"A criminal indictment should be no more than the starting point for a lawyer's good faith pre-filing investigation," the judge wrote. "The danger of overreliance has been demonstrated here, in light of the acquittals of Mr. Sussmann and Mr. Danchenko."
Middlebrooks dismissed Trump's suit in September, calling it a "manifesto." The judge in November ordered Habba and another lawyer to pay $50,000 to the court and $16,274 in legal fees and costs to one of the defendants, Democratic political operative Charles Dolan, who was involved in Clinton's 2016 presidential campaign and filed his own motion for sanctions.
The case is Trump v. Clinton, 22-cv-14102, US District Court, Southern District of Florida.
https://www.bloomberg.com/news/articles/2023-01-20/trump-lawyers-ordered-to-pay-almost-1-million-court-sanctions
Trump will likely continue to be litigious.  He fucking loves lawsuits that he usually loses.  He also often fails to pay his lawyers.  In the case cited his attorneys will have to pay the court almost a million dollars.  I wonder if he will have to rely on Public Defenders to handle his upcoming criminal cases?  Or maybe lawyers will demand payment in advance to represent him.
Remember when he sued a comedian for five million dollars over a fucking joke?
Here was the meme I posted when Trump dropped the lawsuit: