The man who shot Ashley Babbitt
Category: Op/Ed
By:
vic-eldred
•
2 weeks ago
•
156 comments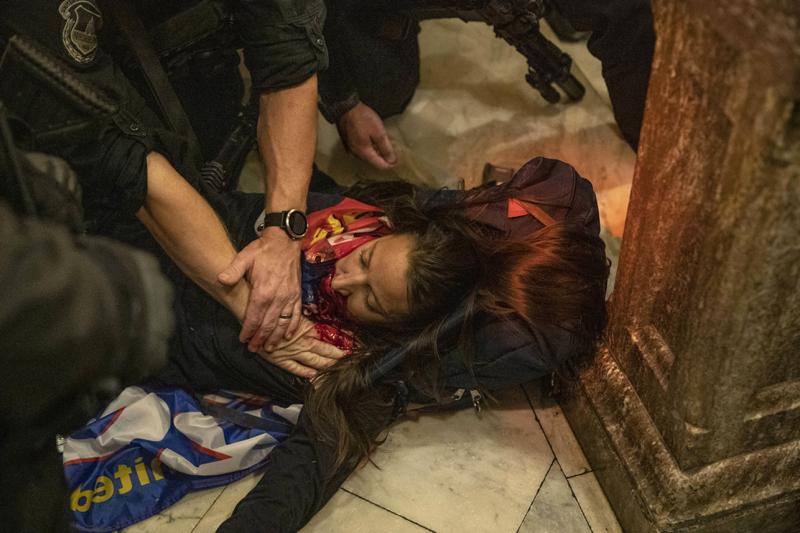 "I tried to wait as long as I could. I hoped and prayed no one tried to enter through those doors. But their failure to comply required me to take the appropriate action to save the lives of members of Congress and myself and my fellow officers."



His name is Michael Byrd. NBC recently interviewed him:




We may recall that Ashley Babbitt was a 35 year old Air Force veteran and Trump supporter, who came to Washington to protest the certification of the presidential Electoral College results and stormed into the Capitol when security lines collapsed. She had no criminal record but clearly she was tresspassing and ignoring police instructions on January 6th.

The question remains, why did an unarmed trespasser deserve to die?

There are rules & procedures governing the use of police force in such situations. Those rules seemed to be ignored in orther to clear Byrd. The law says that lethal force must be used only against someone who is "an immediate threat to the safety of the officers or others, and ... is actively resisting arrest or attempting to evade arrest by flight."  Here is what Byrd said: "I could not fully see her hands or what was in the backpack or what the intentions are."

Clearly, Byrd admitted he did not see a weapon or an immediate threat from Babbitt beyond her trying to enter through the window.  None of the other police officers in the room shot anyone. As a matter of fact, none of the officers at the Capitol that day shot anyone. Under the standard Byrd is using they could have. Under the standard Byrd is using police officers in cities such as Seattle or Portland, Ore., Chicago, and New York City could have killed hundreds of violent protesters who tried to burn courthouses, took over city halls or occupied police stations during last summer's widespread rioting.

The NBC interview has confirmed, for many, our worst suspicions about the shooting and raised serious questions the integrity of the investigations/reviews by the Department of Justice.


Not many Police officers would have done what Lt Michael Byrd did.

A man wouldn't do it!