Larry Elder's false and misleading claims in California recall race - The Washington Post
Category: News & Politics
Via:
jbb
•
one month ago
•
9 comments
By:
Joe Biden, and Donald Trump (Washington Post)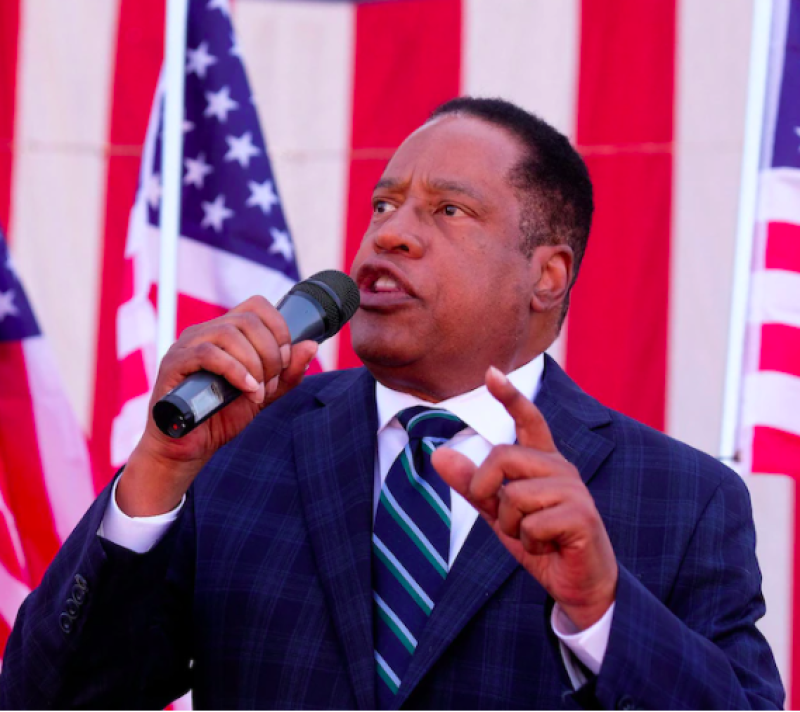 Elder has a Trumpian knack for delivering false and misleading claims on the 2020 election, the coronavirus pandemic and the economy.
S E E D E D C O N T E N T
Californians on Tuesday will vote on whether to recall Gov. Gavin Newsom (D). The Republican front-runner in the recall election is Larry Elder,a longtime talk-radio host who has been emulating former president Donald Trump on the campaign trail.
One way in which Elder, 69, is following Trump's playbook is by repeating false and misleading claims. We rounded up several, on California's economy and wildfires, on coronavirus vaccinations for children and on the 2020 election.
"They asked me about the way this governor has shut down this state … only half the jobs have been recovered as opposed to two-thirds the national average."("Media Buzz" on Fox News, Sept. 5)
The United States experienced a two-month recession in the spring of 2020, and a sharp rise in unemployment, as states entered lockdown mode to contain the spread of covid-19.
But Elder's figures were somewhat outdated by the time of this interview. At the end of July, California had recovered around 58 percent of the jobs it lost during the coronavirus recession, as his campaign acknowledged when we sent questions. The United States had recovered three-quarters, not two-thirds.
U.S. employers added 235,000 jobs in August, according to Bureau of Labor Statistics preliminary estimates. The August figures for California are not yet available. The state contributed 12 percent of the country's job growth for the year ended July 31. If a similar rate kept up in August, the state would be around 60 percent jobs regained from the 2020 low point.
"He can't explain why people are leaving California for the first time in our state's 170-year history."("Media Buzz" on Fox News, Sept. 5)
The 2020 census found that California had 10.4 million more residents than Texas, the next largest state. California's population grew by 2.3 million, or 6 percent, in the decade since 2010.
The Elder campaign noted that the state is losing one of 53 congressional seats (its rate of growth slowed) and that its population shrank last year for the first time on record.
That was due tolong-term demographics, which lie beyond any one governor's control. Moreover, Elder on Fox News said people "are leaving," and he blamed Newsom, which sounded more like he was talking about out-migration.
For the 12-month period through June 2020, "135,600 more people left the state than moved here," the Associated Press reported. But this was no new phenomenon. "It's only the 12th time since 1900 the state has had a net migration loss, and the third largest ever recorded," thereport added.
Nonpartisan policy analysts in the state legislature reviewed data from the American Community Survey andfoundthat "from 2007 to 2016, about 5 million people moved to California from other states, while about 6 million left California."
"On net, the state lost 1 million residents to domestic migration — about 2.5 percent of its total population," this 2018 study found. "These population losses are low in historical terms."
"I've been vaccinated because I'm in a high-risk category. And I urge people who are in categories that are high-risk to be vaccinated. But I don't believe the science does compel children to be vaccinated. They're not likely to contract the coronavirus. They're not likely to get really sick. They're not likely to go to hospital. And they're not likely to die. I believe that's consistent with the science of people like Dr. Marty Makary from Johns Hopkins, and Scott Atlas from Hoover."("Media Buzz" on Fox News, Sept. 5)
Without naming any opponents, a Newsomtelevision adclaims that voting yes on the recall question "elects an anti-vaccine Trump Republican." Elder has stated repeatedly that he is vaccinated.
However, Elder's comments about covid-19 and children drew criticism from medical experts, who said he was spreading misinformation.
The Centers for Disease Control and Prevention says that "since March 2020, approximately one in four hospitalized children and adolescents with covid-19 has required intensive care." The CDC's covid-19data, a lagging indicator based on death certificates, showed 486 covid deaths of people under 18 from the start of the pandemic through the week of Sept. 4.
"Infants and children can get very ill with covid-19, in contrast to what Mr. Elder is saying. And children can die from covid-19 — over 530 deaths," saidTina Q. Tan, a pediatrician and infectious-disease specialist at the Ann and Robert H. Lurie Children's Hospital of Chicago and professor at the Northwestern University Feinberg School of Medicine.
In its most recent "Morbidity and Mortality Weekly Report," the CDC found a "nearly five-fold" increase in the rate of covid-19 hospitalizations during the summer for people under 18.
"Although COVID-19-associated hospitalizations and deaths have occurred more frequently in adults, COVID-19 can also lead to severe outcomes in children and adolescents," the CDC report said, adding later: "Among adolescents aged 12-17 years, the only pediatric age group for whom a COVID-19 vaccine is currently approved, hospitalization rates were approximately 10 times higher in unvaccinated compared with fully vaccinated adolescents, indicating that vaccines were highly effective at preventing serious COVID-19 illness in this age group during a period when the Delta variant predominated."
Tan said: "Science shows that persons of any age, including infants and children, get infected with COVID-19 — there have been over 5 million children that have been infected with COVID-19 since the start of the pandemic and with the surge in the Delta variant over the last several months there has been a significant increase in the number of children that have been infected — 252,000 in the last week. This has also resulted in a significant increase in the number of children that have required hospitalization for their infection."
Makary, the Johns Hopkins University doctor Elder referenced, often gets quoted by vaccine skeptics such as Sen. Ron Johnson (R-Wis.). But Makary in every op-ed or interview states that the vaccine may prove safe and effective, arguing that more study is needed. For example, in a Wall Street Journalopinion articlein July, Makary questioned the CDC's methodology for counting covid-19 cases and deaths involving children, before adding near the end that "the vaccine's benefits may outweigh its risks for healthy kids."
Atlas, the other figure Elder cited, is a radiologist by training. He sat on President Donald Trump's coronavirus task force in 2020 and peddled false claims, such as saying that 85 percent of mask-wearers catch the coronavirus. Eighty-five percent of the Stanford University Faculty Senatevotedto condemn his actions, including "showing disdain for established medical knowledge." (The Hoover Institution, where Atlas is a senior fellow, is affiliated with Stanford.)
We asked what threshold of child deaths Elder was using to conclude these cases were unlikely. Elder spokeswoman Cindy Northon pointed to state-level reports compiled by the American Academy of Pediatrics and Children's Hospital Association.
"Among states reporting, children ranged from 1.6%-4.1% of their total cumulated hospitalizations, and 0.1%-1.9% of all their child COVID-19 cases resulted in hospitalization," the groupreportedas of Sept. 2, including data from 24 states and New York City.
Northon also pointed to the CDC'sguidance on childrenand covid-19: "Children can be infected with the virus that causes COVID-19 and can get sick with COVID-19. Most children with COVID-19 have mild symptoms or they may have no symptoms at all ('asymptomatic'). Fewer children have been sick with COVID-19 compared to adults. Babies younger than 1 and children with certain underlying medical conditions may be more likely to have serious illness from COVID-19. Some children have developed a rare but serious disease that is linked to COVID-19 called multisystem inflammatory syndrome (MIS-C)."
Howard Kurtz, Fox News:"All right. You told the Sacramento Bee that you believe Joe Biden won the election fairly and squarely. But then in a radio interview you said, I want to take a mulligan on that. And you don't believe that. So what's your position?"