Category: News & Politics
By:
vic-eldred
•
2 weeks ago
•
24 comments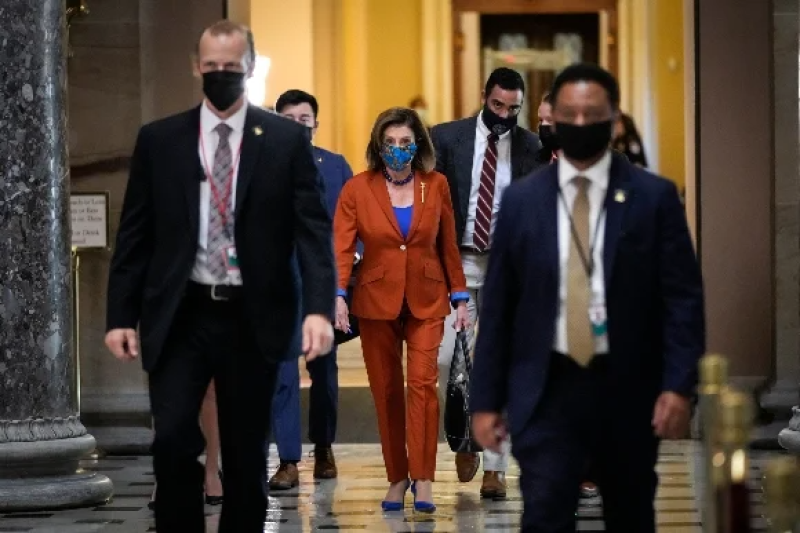 "We're obviously at a precarious and important time in these discussions," White House press secretary Jen Psaki said. "Members of Congress are not wallflowers. They have a range of viewpoints. We listen, we engage, we negotiate."
Pelosi has vowed to hold the "infrastructure bill" vote today (Thursday Sep 30), having already delayed it once, but as she told George Stephanopolous Sunday, she does not take votes if she doesn't have the required votes to pass a bill. Today she will have to see how many democrats are willing to put their careers on the line for an infrastucture bill that is now at the center of a war of words between democrats. The Speaker has stuck to her plan to bring the infrastructure bill up for a vote today, saying she was taking it "one hour at a time."  The split between "moderates" and progressives in the democratic party has Pelosi going back and forth like a Tennis ball. Pelosi had tied the two bills together, then reversed course earlier this week and said that the infrastructure bill would come to the floor Thursday independent of the status of the other legislation. She changed tack again Wednesday, appearing to condition consideration of the infrastructure bill on an agreement on "the social-policy and climate effort."  AOC and other hard leftists have put her in this position.

The possibility of the bipartisan bill (the one democrats can easily have) not passing or even being voted on today has some moderate democrats concerned. 

"If the vote were to fail tomorrow or be delayed there would be a significant breach in trust that would slow the momentum in moving forward in delivering the Biden agenda," said Rep. Stephanie Murphy (D., Fla.), a co-chairwoman of the centrist Blue Dog Coalition.

On the other hand, AOC has vowed to blow the whole thing up if the bipartisan bill is not connected to the massive spending bill. Sen Sinema wants the bipartisan bill voted on. Also tied up in this are federal transportation programs. Failing to pass the infrastructure bill, which reauthorizes the federal transportation programs, before Friday at 12:01 a.m. would put several thousand federal employees on furlough, according to the Transportation Department. Interesting, isn't it?


Let's face it, it took a lot of audacity to try and pass a massive far left spending package that will cost over $5.5 Trillion with the two bills. It was crazy, but then again, democrats do tend to try and get away with anything they can. If Pelosi is forced to back down again today, the Republic shall live for another day.