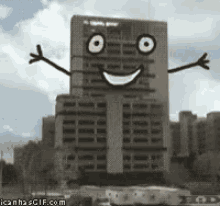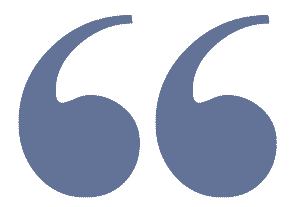 How do you make a small fortune in social media? Start out with a large one. - Elon Musk
The Twitter implosion is shaking social media.  
Elon Musk (the most intelligent person in history) laid off a bunch of Twitter employees and promised to abuse any employees who decided to stay.  Since Musk has instituted his new "hardcore" policy, all employees are required to work naked.  The Twitter building is locked and the only people who can unlock the building are gone.  Employee card keys have been disabled.  Poor Elon is locked inside with both of the Twitter employees who haven't quit (yet).
Elon "Free Speech" Musk used his free speech police to comb through the emails and messages of Twitter employees and he fired anyone who was critical of him.  Twitter users who criticized Musk were permanently suspended.  Apparently, to Elon Musk, using the "N-word" is free speech, butt anything negative about him is strictly prohibited.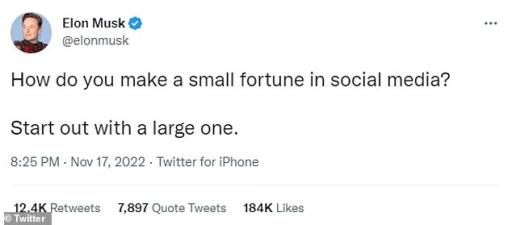 Elon Musk, the Chief Twit, has a new plan to revive Twitter.  First, he will welcome Donald Trump back to Twitter.   White supremacist extremist groups, like the Republican Party, will be welcome to spread their lies and propaganda on Twitter.  Idiots like Fucker Carlson, Mike Lindell, Marjorie Taylor Greene, Lauren Boebert, and Louie Gohmert will be encouraged to tweet their stupidity.
Musk will even invite members of fringe groups like QAnon, the KKK, Nazis, the Proud Boys, the Oath Keepers and various White-wing "militias" to spew hate and conspiracy theories on Twitter.
Since Twitter lost its current advertisers, like General Motors, it will feature lots of My Pillow ads.   Musk will sell advertising to the NRA (and, of course, gun and ammunition manufacturers and retailers). 
Musk plans to have a plethora of political advertising.   Twitter is also experimenting with "classified ads".  This section will be for prostitution, pornography, guns, and almost anything else.