Democrat Alexandria Ocasio-Cortez fights back after articles wrongly claimed to show nude selfie
Via:
johnrussell
•
7 months ago
•
66 comments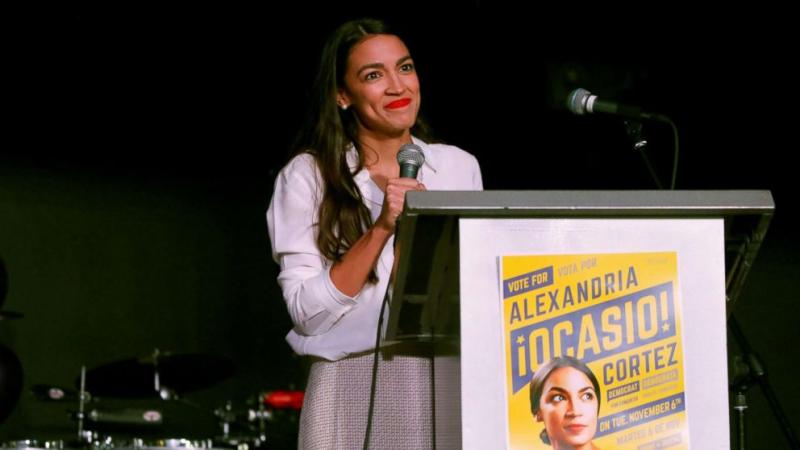 S E E D E D C O N T E N T
As freshman Rep. Alexandria Ocasio-Cortez adjusts to the limelight of Capitol Hill, theNew York Democrat's affinity for sharing the experience on social media has generated overwhelming interest, not just from her fans but her critics as well.
Her interview Sunday on the highly-rated CBS program "60 Minutes" apparently didn't provide enough content for an internet troll who generated a false narrative featuring a purported nude photo of the self-described "radical," progressive superstar.
Since bursting onto the political scene with a major primary upset of a veteran Democrat, Ocasio-Cortez, 29, the youngest woman ever elected to Congress has become a prime target for her detractors, mainly conservatives, on the internet.
Her latest high-profile moment came Wednesday evening, as Ocasio-Cortez slammed the conservative media website The Daily Caller for spreading a story in a tweet that stated: "Here's The Photo Some Described As A Nude Selfie Of Alexandria Ocasio-Cortez."
The photo is not of Ocasio-Cortez.



Alexandria Ocasio-Cortez

✔

@AOC





GOP have been losing their mind + frothing at the mouth all week, so this was just a matter of time.

There is also a Daily Mail reporter (Ruth Styles) going to my boyfriend's relative's homes+offering them cash for "stories."

Women in leadership face more scrutiny. Period.







For those out of the loop, Republicans began to circulate a fake nude photo of me. The @DailyCaller reposted it (!) and refused to indicate it was fake in the title as well.

Completely disgusting behavior from Conservative outlets.

No wonder they defended Kavanaugh so fiercely.

The Daily Caller responded by not only deleting the tweet, but also removing the full story from its website -- excusing itself as the third media outlet to publish stories about a post on Reddit and 4chan, where the photo first appeared and falsely charged that in 2016 Ocasio-Cortez shared the photo to her Instagram account, where a woman's breasts reflected off a bathtub faucet.

As soon as editors noticed the twitter headline, we rapidly had it deleted and fixed. The story itself is otherwise no different than what HuffPo and Vice published.

We regret the error, as the intent was to inform our audience that a fake image was circulating online.

Alexandria Ocasio-Cortez

✔

@AOC

GOP have been losing their mind + frothing at the mouth all week, so this was just a matter of time.

There is also a Daily Mail reporter (Ruth Styles) going to my boyfriend's relative's homes+offering them cash for "stories."

Women in leadership face more scrutiny. Period. https://twitter.com/asteadwesley/status/1083082924524744704 …






a) this is not an apology
b) you've been posting hysteric, misrepresentative articles about me nonstop - many within 24h.

The @DailyCaller, funded by @TuckerCarlson (at @FoxNews), has a well-documented relationship with white supremacy.

Unsurprising they're targeting me.

The Daily Caller

✔

@DailyCaller

As soon as editors noticed the twitter headline, we rapidly had it deleted and fixed. The story itself is otherwise no different than what HuffPo and Vice published.

We regret the error, as the intent was to inform our audience that a fake image was circulating online. https://twitter.com/aoc/status/1083178169044213761 …

The photo is not of Ocasio-Cortez, but rather another woman who was once caught in political controversy – Sydney Leathers, who suffered 30 minutes of inside-the-beltway fame as a sexting partner of disgraced New York Democratic Rep. Anthony Weiner.

Leathers blogged an apology to Ocasio-Cortez, writing she was "deeply sorry," admitting the photo was "an old picture of mine where I'm soaking in the tub, feet up, candle lit, weed vape in hand."