Without a QUARTER BACK, we have an Orange, Unqualified MASCOT leading this nation!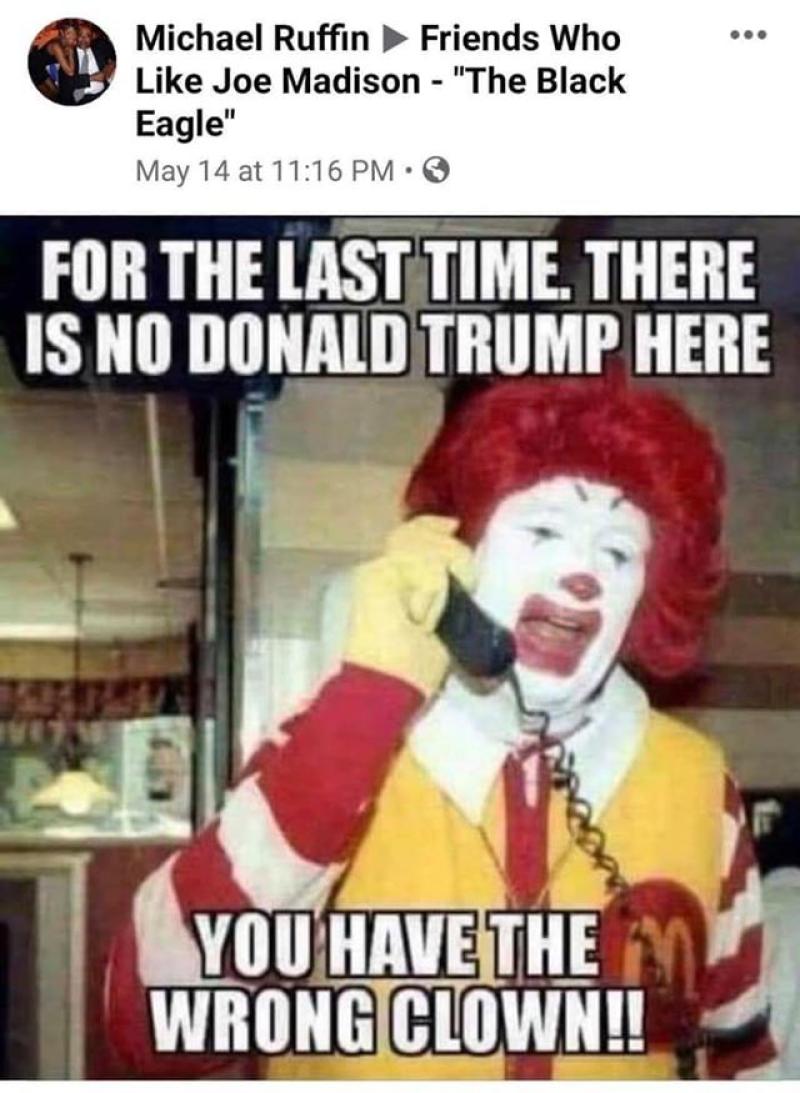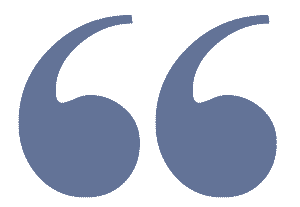 A mascot brings "good luck" to an event. Nothing more! - Jonathan Livingston Pigeon-Poo, "Doctored"
WARNING:  If the "Truth" hurts, please, do not read this tome. Skip it! We are presenting facts, photos, and proof as we collect it for readers' consideration!

If you prefer "idolization of a " False Prophet", then, perhaps you might want to "Slither" over to one of those Right-Wing, Looney Tune, "Trump Was Appointed By God" sites that litter Social Media with its dangerous, unvetted bull shat, as deadly as the COVID19 is, now, galloping unfretted throughout the impoverished, poorly educated South, SW, even Mexico, and South America.

Republicans in the Senate, Congress, and within the Administration are asking Americans NOT to engage in "Arm Chair Quarterbacking" when it comes to Donald J. Trump, the Fake POTUS, real POS in the Whitehouse, as the nation unravels.

There is a difference between a leader and a mascot. "A mascot," (noun), "is a person or thing" (in our case it is a thing) "that is supposed to bring good luck or is used to symbolize a particular event or organization." (Definition from Oxford Languages, per Google search).

A leader is "a person who leads or commands a group, organization, or country." (Definition: Oxford Languages.")

Trump is not a "Leader," he is a self-promoting Con Artist, a Reality TV Personality, Failed Businessman, a known International Crook, currently under multiple investigations in several states in the US, and in multiple countries.

I know that many Americans have fallen for his constant Bull Chips, and may see them as a "new direction for the United States" driven by a Billionaire Successful Businessman.

That is Trump's claim, and that is how he has presented himself to the world for 50 years or more. Way more than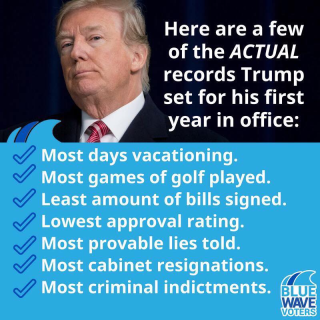 what he is!

Most people, perhaps, all, are not what we perceive them to be. Our knowledge of others is often faulty, based on little information, inferences, so-called resumes, impressions, etc., and little real background checks, or, extensive research.

That certainly is the case with "the Donald," the nickname his third wife, Melania, the Communist raised and bred, Russian speaking former PORN STAR, calls him. Trump likes Porn Stars, e.g., "Stormy Daniels," Melania, and, has ties to many, many more.




The facts have been published by nearly all reputable newspapers, national magazines, cable, and national broadcasters. The evidence is not hidden. 

Here are a few, of the well-known facts about Trump:

1. He is not a billionaire, never was, when one factors his debt ratio to assets.

2. For decades NO bank in America would loan him money because he does not pay his bills, his attorneys, his contractors, his architects, suppliers, even, the banks.

3. Trump's son, Eric, has repeatedly announced to the World that the Trump Organization doesn't need American Banks, they get more money than they need from RUSSIA. (Eric Trump bragged on May 9, 2017, Vanity Fair article, about "Access to $100 Million in Russian Money. We see a lot of MONEY pouring in from Russia.")

4. In 2008, Donald Trump, Jr. said that "Russians make up a  pretty disproportionate cross-section of a lot of our assets"

5. More recently, Reuters reported that "63 Russian Billionaires have invested in Trump properties in Florida."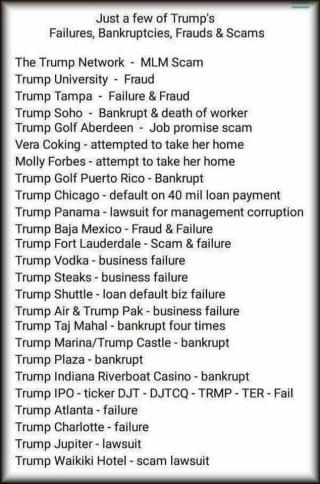 6. Do you still think TRUMP is a successful businessman?

7. Trump has been sued over 3500 times for a variety of false claims, lack of payment, discrimination, using foreign workers, violating code requirements, etc. And charged with raping a 12 year and 13-year-old in his best friend, Epstein's Penthouse. Not only is Trump a crook he is also a child rapist.  23 women have come forward with charges that he sexually assaulted them. Of Course, Evangelicals do not believe the "Main Stream Media," they are all the Devil's playground.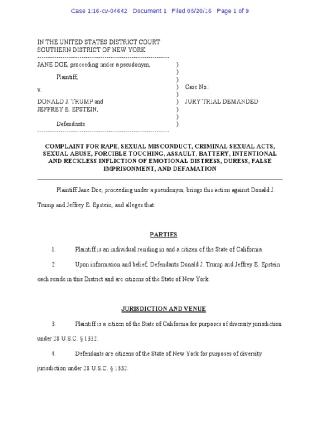 What kind of a businessman has a financial track record like that and still calls himself "Successful?"

A CAREER CROOK, that's who!


Deleted, ToS  ( no nude pics ) SP


Why is this important?

It speaks to morals, competence, truthfulness, and corruption. It may be hurtful to realize you may have been "conned" by a corrupted Con Man, a "wannabe Hitler", but, now you can do something about it!