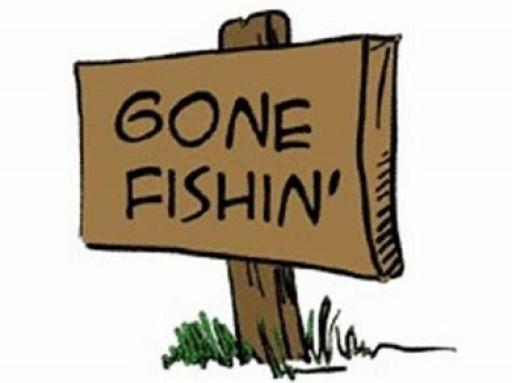 A Jay's Diner Thanksgiving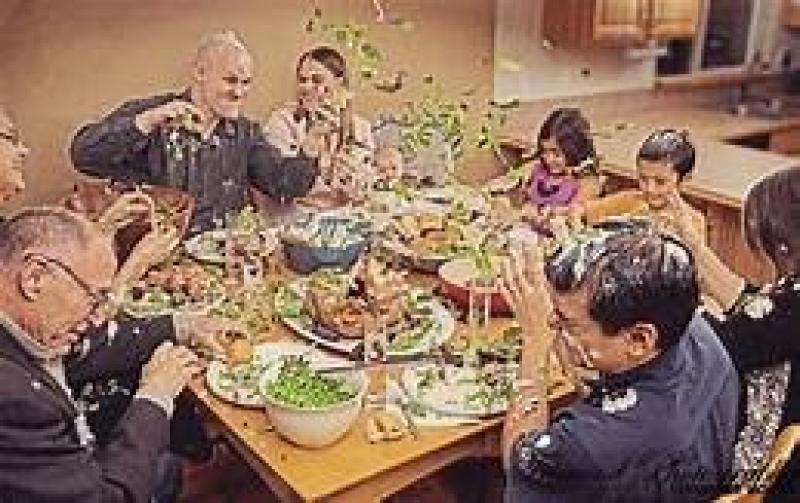 "Come to the June Cleaver Ranch. We give you the bird for Thanksgiving".
A Jay's Diner Thanksgiving
By Trout Giggles and Enoch
Prequel: Pilgrimage to June Cleaver's Ranch
Trout Giggles, Enoch, Chef Boiling Water Goldstein and Lucas Braze prepared for the annual pilgrimage to the June Cleaver Turkey Farm. 
Each year prior to Thanksgiving they drive to the ranch to select the perfect bird for the holiday. 
"Come to the June Cleaver Ranch. We give you the bird for Thanksgiving".
Trout Giggles drove the Chevro-Buick buck wagon.
Enoch called and rode shotgun. 
The feet and legs of Chef Boiling Water Goldstein and Lucas Braze hung over the back end of the hay covered flat bed.
Boiling Water Goldstein is the head Chef at Jay's. 
He is credited with inventing the Winnebagel.  
It is a recreational vehicle shaped breakfast bread. 
Scholars claim it was Kavika who originated the baked good. 
Shakespeare, Francis Bacon. Potaytoe, Potahtoh!
Lucas Braze is the Shochet (Kosher butcher) at Jays. His business card reads, 
"I chop it clean with my guillotine". 
As the Chef and Lucas got into the back of the Hamish Amish series wagon, Lucas blessed the Chef by reciting, "And may the turkey you choose be a Tom Turkey". (Book of Cook. Chapter 8: 360 degrees Fahrenheit for one hour per pound, with frequent basting).
The buckboard sports a one horse power under the hood engine. It goes from 0 to 4 MPH in less than a week. Economical, it has a café standard of 18 miles highway and 12 miles city driving on just one bag of oats.  
Lucas used the loud speaker to play mood music for the occasion. Such tunes as Adagio for Strings (Samuel Barber) and Adagio in G Minus (Tomaso Albinoni) could be heard.  
The route to June Cleaver's Ranch for Inorganic Poultry in Motion is an easy and direct one. 
Sections of the road are maintained by such good and welfare organizations as the Rotarians – General Mills Chapter, the Circular Reasonings – General Motor Chapter; and the Chasing Your Tails – General Signals Chapter. 
Take Western East State Highway 15A to the Anytown USA exit (6 and 7/8). Off the ramp, hang a Louie at Rural City. Drive past the ranch on the right. Turn around and make a very sharp left into the entrance.
As they approached the corral Lucas played the theme to Greensleeves (Incognito Anonymous-Unknown) to relax the birds. 
The fearless foursome disembarked from the funny little surrey with the fringe on the top. 
Lucas visually displayed his carving knife, and put on a CD of The Godfather's Waltz (Nino Rota). 
If the birds charged the party, saying "forgetabouitit" and were ready to do battle, they were rebuttably presumed to be too tough to be served, even at Jays. 
If the turkeys sat about a campfire clucking Kumbaya, they were deemed fair foul.
Some of the birds were now talking Apocalypse. Actually, it sounded more like Apoca-loca-lypse. Most bystanders just chanted Gobble. A few of German origin kept saying Goebbels.     
Chef Boiling Water Goldstein and Lucas Braze selected their bird of choice.
Trout Giggles and Enoch negotiated with June. They made her an offer she couldn't refuse. 
Then the culinary crowd and their Tom reversed direction and headed back to Jays.  
Entrée: The Feastival at Jays
Trout Giggles, Raven Wing, Kavika and Enoch arrived at Jay's Diner in their Ford (fix or replace daily) Pumpkin Limousine (Hybrid Gourd) promptly for dinner at 3:00 PM. 
At Jays a reservation is more thought of as a suggestion than an instruction. 
The clock on the wall tells not in dog years, but instead in geologic time. 
Not only was their table not set, it had not yet been made. 
Carpenters were constructing a special five-legged Thanksgiving table. 
Each leg is a different size.
It is known as the wobble wobble for your gobble gobble model. 
As they waited, the foursome bellied up to the bar for a shrimp cocktail.
No, that isn't a shellfish appetizer in a spicy tomato-based sauce. 
Rather, it is an alcoholic libation served by a vertically challenged mixologist. 
The bar keep was voted the 2019 Small Business Person of the Year. 
At 4' 13" he is that. 
The server, Robespierre Isadore Ponzi advised their table was now prepared. 
R.I. P. is known for boasting he never met a hairnet he liked. 
His resume features special skills in salads whose lettuce is more Rogaine than Romaine. As well, coffee that is both bland and blonde. 
Speaking of salad, the meal commenced with the traditional Jays More Fiber than a Sweater Salad. Prominent are the locally grown, seasonal and organic thorns, thistles and weeds. On the side is Oil (10W30) and Vinegar (It used to be wine).
Next is the Fishy Soup Course. It is a cephalopod tentacled aquatic based soup. Liquified nitrous oxide the main seasoning. Portion control should be used here. Overindulging can result in what Gastroenterologists refer to Squid Pro Coma.     
Finally came the main course. The traditional Turkey based meal. 
The turkey was slaughtered by Lucas Braze and a pair of computer scientists with state-of-the-art cyber hacks. It was hacked as often as necessary until the poultry was taken out of this life. 
Side dishes were as follows.
Cranned Berries Delight. A small dish was over filled with as many cran, straw, blue, lignin, and Chuck Berry's as the dish could hold. The only way to pry them loose was with a jack hammer. Fortunately, Jack and the whole Arm and Hammer family was at the next table. 
Vegetable and Fruit Remnant Medley. A savory collation of pineapple and watermelon rinds, apricot and pomegranate pits and chewed seeds, coconut and corn husks. A choice of diet 500 Island or split-level ranch dressings on the side was offered.  
I Yam What I Yam Sweet and Sour Potato and Spinach. This is whipped until a blended goo. Then it was re-shaped in a mold to look like Popeye. This is coated in more than extra virgin Olive Oyl. There is no possibility of Baby Oyl at this time. 
Fiber Glass Insulated Stuffing with a Toe Knee Chest Nut Gravy. The gravy comes out of a can, just as nature intended it should. 
Fresh Butter Milk Biscuit Rolls. These are aged to tooth breaking perfection over an eleven-month time frame in Jays parking lot in four distinct seasons of weather.
Server Robes Pierre brought a bottom less pitcher of Love Canal – Hooker Chemical Sparking Water. The untreated beverage boasts all the colors of the Kool Aid rainbow with all the elements on the periodic table and no additives of any kind. Extra Bibs are available, as the pitcher is bottomless. Talk about Wet and Wild! 
Dessert is Pie Goeth Before the Fall. It is wheeled out on a cart with every sort of pie known to human kind during the fall hyper-glycemic season. 
Pumpkin, Mince, Apple, Sweet Potato, Pizza, and 3.14159265 pies were served.  
Fresh brewed pots of Vicks Medicated Coughy, Calloway Golf Teas, and No-Go Cocoa with Swampy Marsh Mellows are all available at room temperature. 
In a post Monarchical Period this is a meal fit for deposed Kings and Queens.                
The prequel sequel: End of Gratitude as We Know It. (Jays diner and taxidermy) 
Thanksgiving Day is a time for giving thanks. 
To adopt the attitude of gratitude for all we have.
The operative word at Jays is "day". 
Effective 12:01 AM November 29th that day ended.
This section will address those things at Jays for which we are ungrateful.
These are matters that downright bother us.  
Trout Giggles, Kavika, Raven Wing and Enoch want to tell you about the décor of Jays Diner. In the classic Nuveau Antigua style the walls are literally littered with the critter carcasses credited with the creations of Chef Boiling Water Goldstein. 
Tamar and Thomas the Uber Taxidermists have preserved animals who gave their very lives for your Jay's entrees. 
To the right of the Benny Goodman swinging front door is the very first stuffed and mounted body that Lucas Braze guillotine garroted. A Possum on the half shell, it is also known as Arnold the Armadillo. 
Hysterians of slaughtered food are quick to point out that the life form was not actually garroted. It was run over by Lucas Braze when the Chevro-Buick brakes failed. The Reluctant Repairs Garage stood by their guarantee for knock offs of Mr. Gut Wrench Parts. "Ask about our No Cost Replacement Policy". When you inquire. The advice that the policy doesn't exist, but thank you for asking. 
Mr. Braze made a round tri to the Godfathers Pizzeria without first notifying Mr. Gut Wrench five weeks in advance in writing, and securing a document saying they would stand behind their inventory. "The large print giveth, and the small print taketh away." (Flim Flam Act of 1937, as amended). 
In any event. The Armadillo was missing a head, which voided the contract. The skull was found in the satchel of a headless horseman on All Hallows Eve. 
The far wall of the lobby displayed Tom's craniums. There were those of the ones caught sitting around the camp fire singing Kumbaya. This is a lesson not lost on the more Apoca-Loaca-Lypse birds. 
Turning left as you enter the swinging wooden doors are two squirrels mounted on tree branches that Trout Giggles ran over with a horseless (Orson) Buggy. 
True, that Buggy is only one horse power. Where there is a will, there is a way.
Or as Chef Boiling Water Goldstein is known to proclaim, "Where there is swill, there is weigh".                                       
In the quarterly edition of "Driver's License Monthly" the lead article on this is titled, "Driver's License, We Don't Need No Stinking Driver's License". It has a full page fold out photo of Trout Giggles with a staple in her navel. 
The branch used to smack to death some of the animals came from Kavika's golf and War Club bag. Butter Balls are all Titleist. 
There is an oil painting by the Splash Sisters and Brush Brothers.
It depicts the first Jay's Diner Thanksgiving. 
Pilgrims were the guests of honor. 
Note the funny black 17th century buckled hats floating in the bubbling cauldron. In the back is Chef Boiling Water Goldstein smiling.     
Also see an elegant embroidered and framed plaque above the door frame created and sewed by Raven Wing. 
It says, "Someone needs to take a stand on the food, service, and price quality here at Jays. Personally, I choose to stand on it rather than eat or order it".
Brothers and Sisters - Amen!