Category: Travel, Geography and Foreign Cultures
By:
malamuteman
•
3 years ago
•
19 comments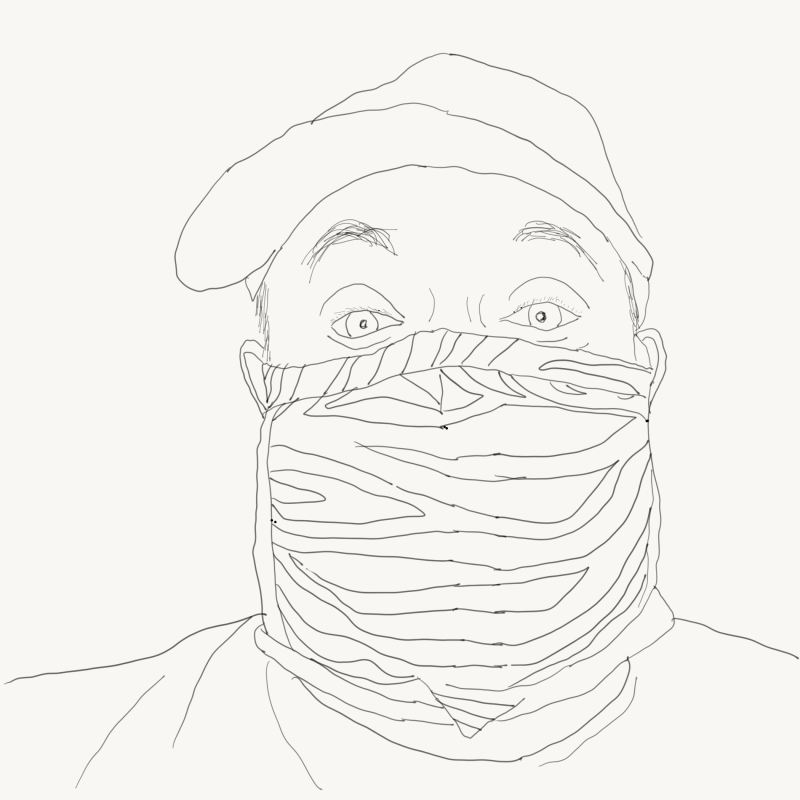 Yesterday (March 20th) we returned home after a wonderful vacation in New Zealand. We came back four days earlier than we had planned to come back because of the worldwide Covid mess.
Near the end of our great vacation I wrote another story, " Three Deep Breaths " (inspired by Lindsay Lonai Linegar) about an amazing experience we had on Doubtful Sound toward the end of our New Zealand adventure (also included at the end of this article).
This story… is about the whole adventure, much of it told through my photos. I am including only photos that meet my personal photography standards, so there are quite a few holes in my photo journal.
We begin on late February with a stop in Tahiti and Moorea… we did this to break up the very long flight from the US west coast to New Zealand. It was a delightful little interlude…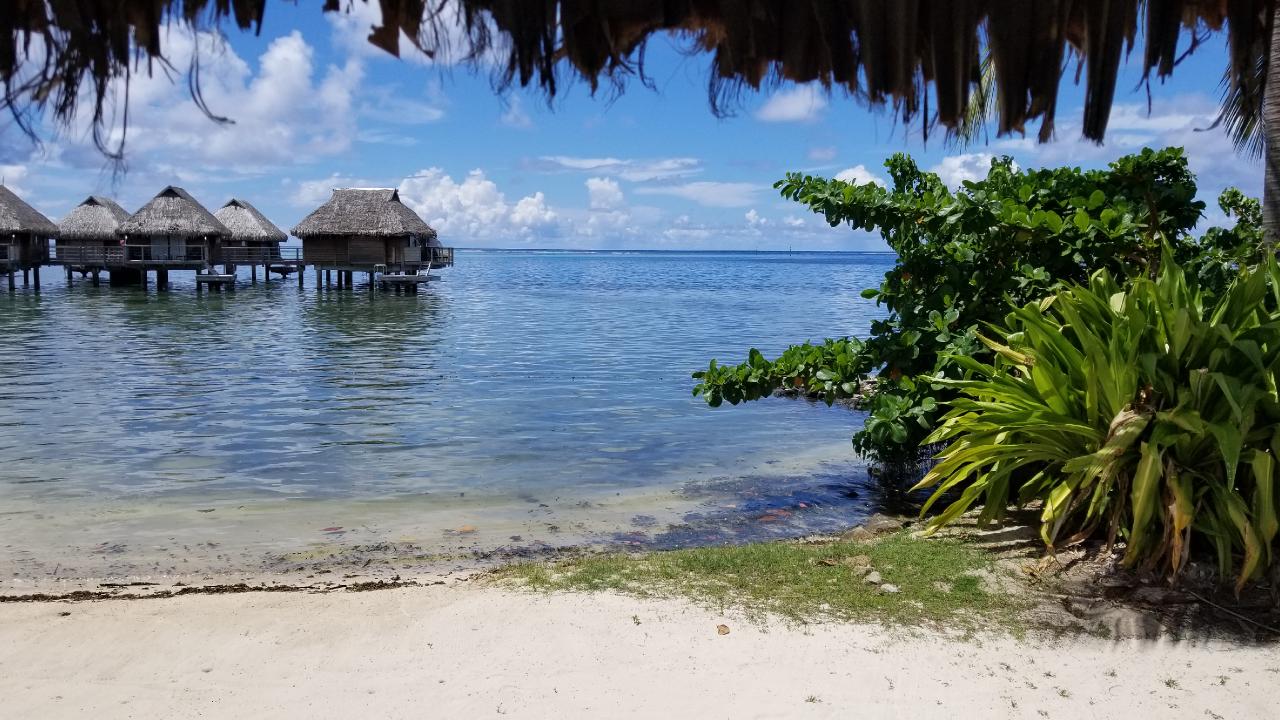 What Are The Odds
Our first two days in Auckland were primarily about recovering from the long journey from 48 N to 38 S latitude. We were doing a self-drive vacation, so we also picked up our first car on the second day. On the third morning, Ellen waited outside the front of our hotel with the luggage while I went to get our rental car from the parking garage. When I got to the car I discovered that neither the fob or the key would open it… Argh!!! They must have given me the wrong key, and the correct key must be locked inside somewhere… Right??? We traipsed off to the rental company to figure out what had happened. No… they did not give me the wrong key…   What are the odds   that a car of the same color, make, and model, exactly like the car we had rented, would be parked in exactly the same parking spot on the garage floor, but one floor above where our car was parked. That is what happened… ARGH!!!! Double-Argh!!! Oh well, I guess my brain still hadn't acclimated to the new time zone…
The 309
Having acquired the   correct   car… Argh again… We headed for our next destination, the town of Hahei on the Coromandel peninsula… chanting our new mantra, "Stay left… stay left… stay left…" all the way. This was a lovely drive, but with some VERY TWISTY roads… A hell of an introduction to driving on the left side of the road. This was all made possible by the GPS system provided by the rental car company. This GPS worked quite well throughout our entire trip…   except … once… On this, our very first day driving on the left… Mal chants to himself, "Stay left, stay left, stay left…" the GPS system tried to send us down a road on the Coromandel peninsula called the "309"… If you find yourself driving a rental car on the Coromandel peninsula and the GPS says take the 309… IGNORE IT!!! Do not take the 309!!!! It is a pothole filled dirt road that would be a delight to any four-wheel enthusiast. On the other hand, if you are looking for a harrowing 4-wheel drive adventure… go for it, the 309 is just just your cup of tea… and it will eventually get you to the same place as the "25", which is also very twisty and hilly, but nicely paved. When we got on the 25 we figured the GPS would eventually "recalculate"… but no… it insisted on sending us down the 309… She kept saying, "Please make a U-turn as soon as it is safe to do so." We turned off the GPS for this section of the journey… There after, it worked perfectly and was immeasurably helpful.
A quail we happened upon on the north island near the town of Hahei

Tree ferns, a ubiquitous symbol of New Zealand...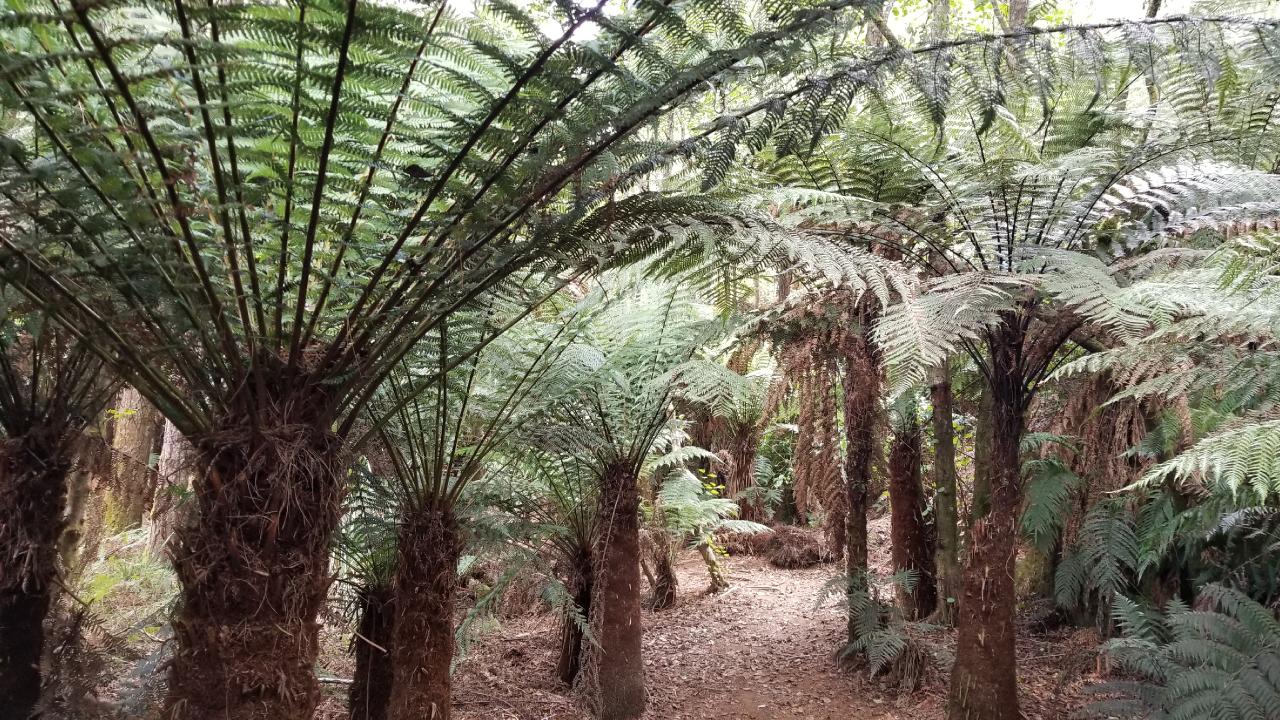 Whakarewarewa
Our next stop was Rotorua, a volcanically active area near the center of the north island. One could spend many days exploring this area. We spent the bulk of our time hiking in the Whakarewarewa Forest, a beautiful forested area filled with native plants, like the primordial looking giant tree ferns, and some giant California redwood trees… and Te Puia as well, a Maori Cultural center. We saw many interesting and informative things at Te Puia, including one of the few Kiwi birds we managed to see on our visit to New Zealand.
The Haka
The Haka is a Maori ceremonial dance that is commonly used today as a welcoming performance. In the past it was often used to intimidate rivals and enemies. While we were at Te Puia, we were graced with a serendipitous performance of the Haka by a group of school boys…
Fast Forward
I'm going to fast forward through the middle part of our journey. There were lots of things we enjoyed in this part of our journey, like the Zealandia Nature Preserve in Wellington. But that was done after dark, in the hope of seeing a Kiwi or two, so I have no photo record of that, and none of the photos turned out...
Dunedin
Dunedin is on the southeast coast of the south island. We had a great time and saw lots of wildlife on a small boat cruise of the Dunedin harbor.
A glaring Albatross in Dunedin harbor... Actually, I don't think he was angry... just the expression he was born with...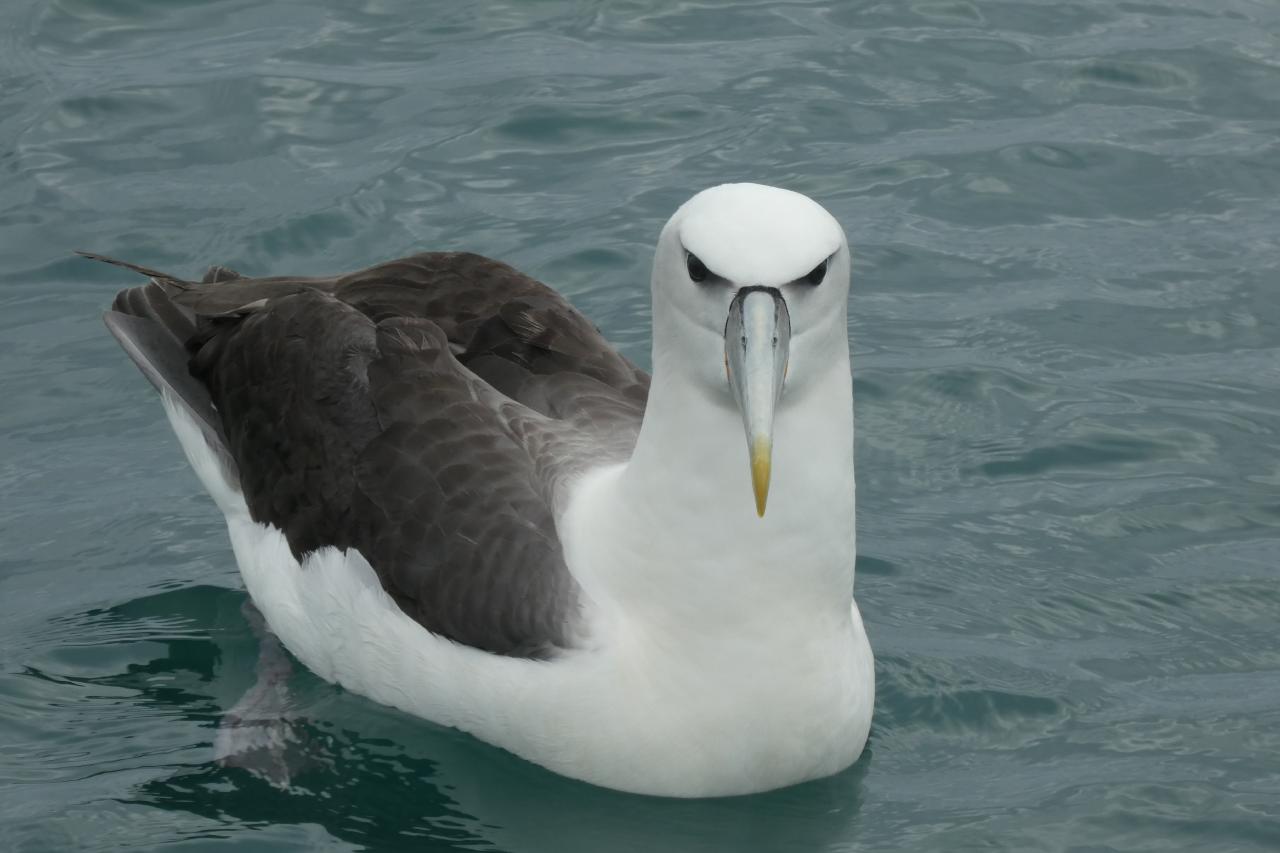 We saw this Crested Penguin in a rehabilitation sanctuary for penguins that were injured or starving. This one looked much better than most of penguins in this sanctuary, which were either molting their plumage or sick, or both.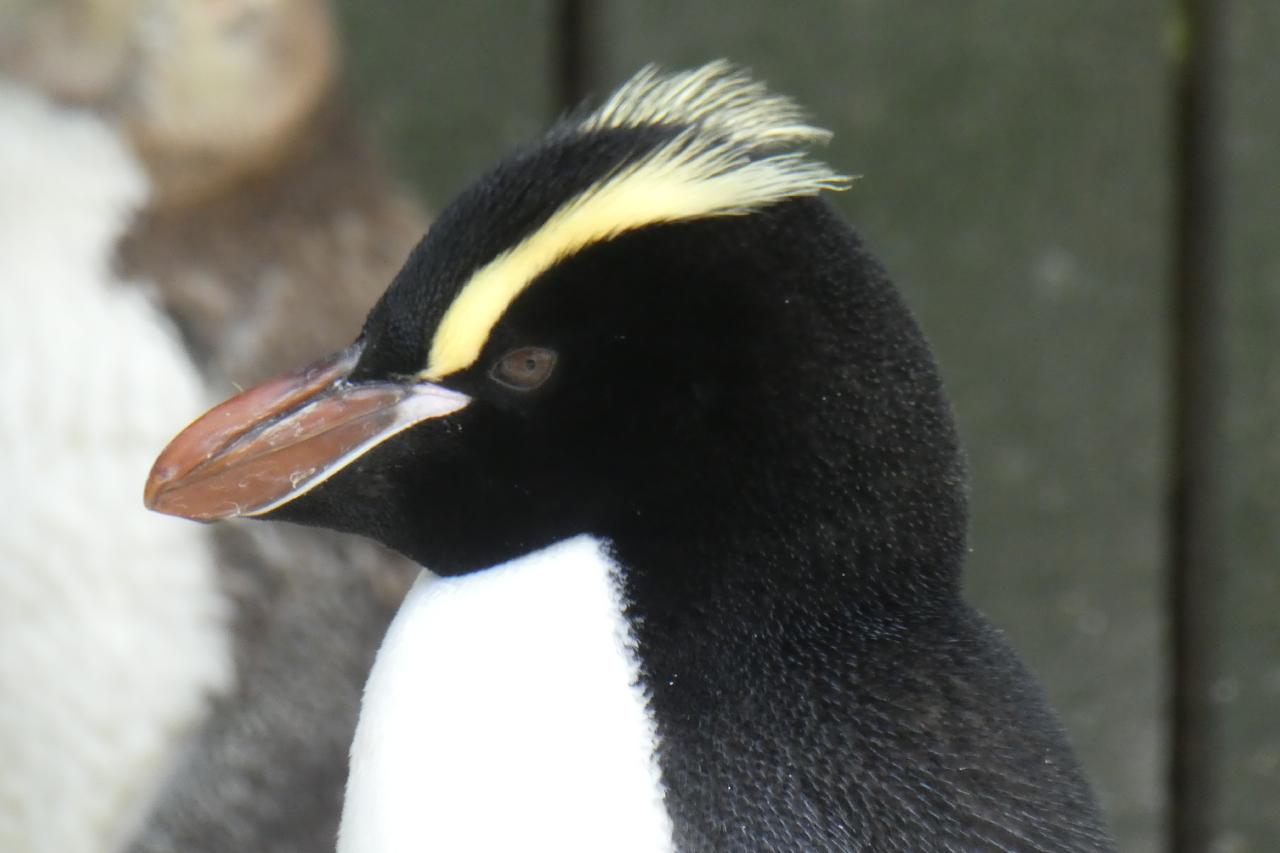 Stewart Island
A one hour ferry ride from the southern tip of the south island is Stewart Island. Here we saw lots of birds, especially on nearby Ulva Island. Ulva Island has no regular Human inhabitants, and has had all the non-native predators removed from the island, making it a great sanctuary for native birds.
A blurry photo of an Oystercatcher we saw on the beach of Stewart Island (take with my cell phone).
A Tomtit on Ulva Island, locally known as a Robin.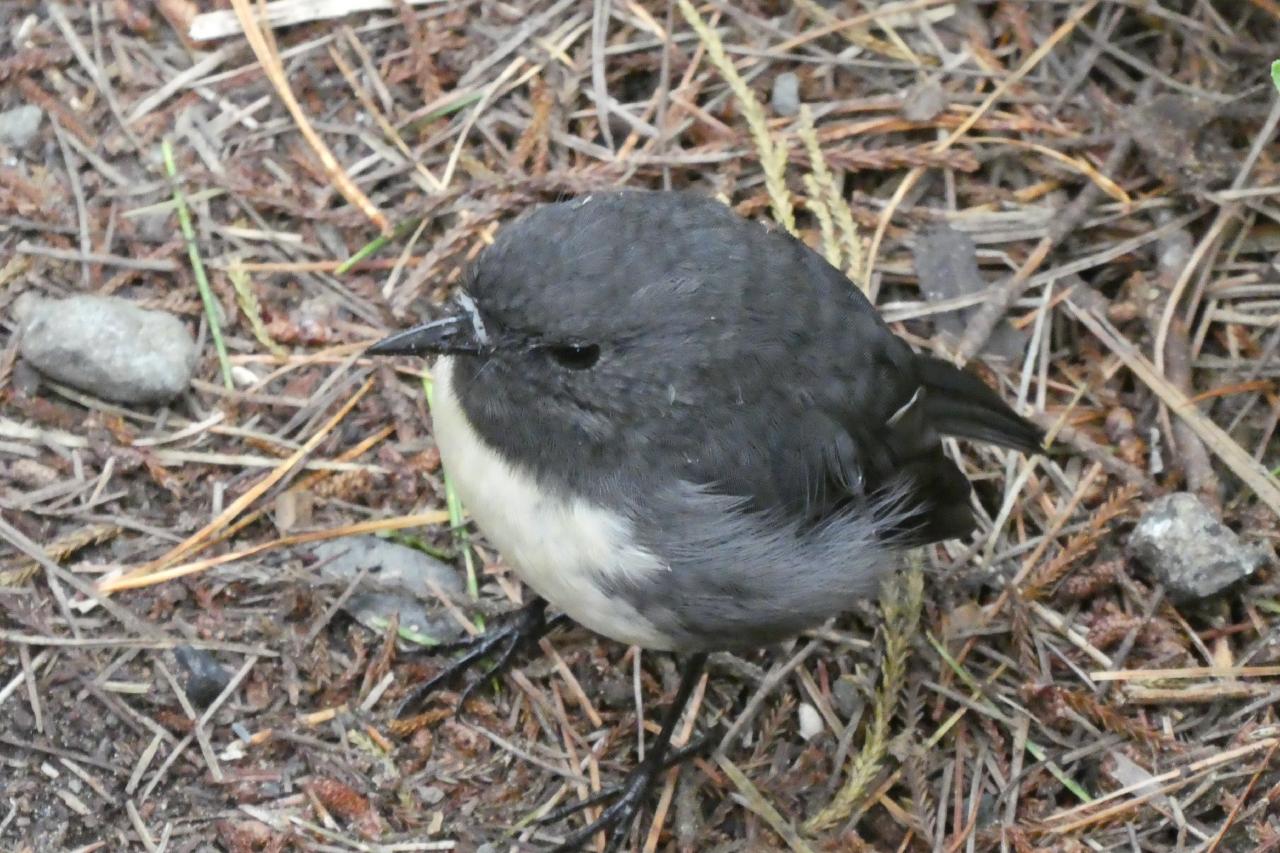 A KaKa Parrot taken with a 30:1 zoom

Doubtful Sound
Almost the very last thing we did in New Zealand was to take a wonderful overnight boat trip through Doubtful Sound on the 70 passenger Fiordland Navigator.

We had a room at the lowest level for passengers… just above the waterline. Some of the other rooms were a bit fancier, but who can complain about a view like this…

Shortly after boarding we were offered opportunities to kayak, or tour around in a small motor boat or even swim if we were up for a dip in the brisk waters of the sound. This is Mallarina (AKA Ellen) Kayaking on Doubtful Sound.

The Captain took us briefly out past the opening of the sound into the Tasman Sea. It was a rather hair raising, rockin' and rollin' ride as far as I was concerned… 8o( …but I saw some young teenage boys who were reveling in the adventure of the moment.
The sights reflected on the side of our vessel.

Here's a panorama of the exit to the Tasman sea...


Night Begins to Descend on the Sound
It was very dark at night in this extremely remote place.
Three Deep Breaths...
Thursday, March 19... At the moment I am sitting in a hotel room in Queenstown New Zealand. I've been on hold with United Airlines for a little more than 30 minutes. The recorded message says I should expect no less than a two hour wait. With the eruption of the Covid-19 pandemic, we are trying to figure out how we will get back to our home in the US. I'll get back to being stuck on the phone… But first, I want to talk about those three deep breaths suggested by Lindsay.
Just 24 hours ago I was on a small passenger boat in Doubtful Sound (south-western part of the the main south island of New Zealand). This whole experience was absolutely magical… Absolutely Magical. One of the most amazing travel experiences of my life… And I've been to some pretty amazing places all over the world in my 69 years (that's about 10 in Mal-years). So anyway, we are very slowly cruising up one arm of this fiordland paradise when the captain brings the ship to a very slow and gentle halt… Then he asks us all to find a comfortable place to sit… Preferably outside… And he implores us to be absolutely quiet… He tells us he is going to turn off all the engines for at least 10 minutes so we can experience the very gentle sounds of this place, the amazing solitude and stillness of this place.
As I said, it was absolutely magical… Even the word magical cannot not fully convey the transcendental nature of this experience. I felt transported… to a time thousands of years ago… Before any human had ever cast cast eyes on this incredible place. I will never forget this experience… this truly amazing place…
I am closing my eyes again now… taking 3 deep breaths… Bringing this wonderful experience to mind… I am transported… Tears fill my eyes… There are no words…
Eventually… I open my eyes… I am looking out the window of our Queenstown hotel room at the beautiful surrounding mountains.
Suddenly, the United Airlines theme song, which has been playing over and over for about an hour and a half on the hotel speaker phone is replaced with the buzz… buzz… buzz… of a busy-signal… the line was dropped. Now what?
Well… I guess it's time for another three deep breaths…
Back to why I am… Uh… WAS… waiting on hold for United Airlines… Last night, about 6 days before we were due to leave New Zealand, returning to home sweet home, I received a text message from United letting us know our flight home was canceled with a cryptic note about "working to get us going again."
Deciding we'd have better odds of winning the lotto than we would getting a real human being from United on the phone, we took ourselves to the Queenstown airport and booked a flight to Auckland tomorrow morning. Then, some how some way we will get ourselves on a flight to the US mainland.
We are sad to leave this beautiful paradise, but we are glad to be on our way back to home sweet home… Especially with all this Covid business everywhere we go.
Time for Three More Deep Breaths…
Postscript
We are now safely at home on Whidbey Island… We are remembering our magical vacation in New Zealand… We are recovering from the long and arduous trip home… We are comfortably self-isolating for two weeks… We are thinking about all the people who have no place to self-isolate, and remembering how luck we are.
Three more deep breaths…