A Possum, Playing Possum.
Category: Other
By:
dig
•
3 months ago
•
65 comments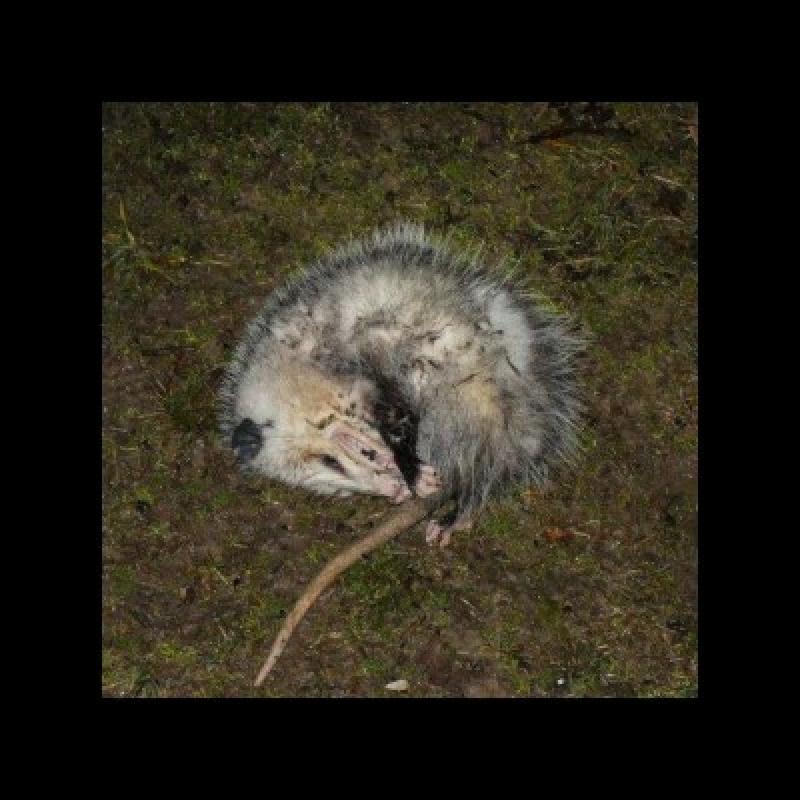 Earlier, I let my dog Polly out for an evening bathroom visit, and when I went to call her back in she wouldn't come.
I slipped on some shoes, went out after her, and discovered what was keeping her. She had apparently surprised a possum out by the bird feeders, so much so that it went into "apparent death" as a defense mechanism instead of trying to run off — otherwise known as playing possum.
From Wikipedia:

Apparent death ,

colloquially known as

playing dead

,

feigning death

, or

playing possum

, is a behavior in which animals take on the appearance of being

dead

. This form of

animal deception

is an

adaptive behavior

also known as

tonic immobility

or

thanatosis

. Apparent death can be used as a

defense mechanism

or as a form of

aggressive mimicry

, and occurs in a wide range of animals.




******

Playing possum -

If threatened, an opossum will either flee or take a stand. To appear threatening, an opossum will first bare its fifty teeth, snap its jaw, hiss, drool, and stand its fur on end to look bigger.

[18]

 If this does not work, the Virginia opossum is noted for 

feigning death

 in response to extreme fear.

[19]

 This is the genesis of the term "

playing possum

", which means pretending to be dead or injured with intent to deceive.

[20]

 The reaction is involuntary and triggered by extreme fear.

[19]

 In this inactive state it lies limp and motionless on its side, mouth and eyes open, tongue hanging out, and feet clenched.

[18]

 Fear can also cause the opossum to release a green fluid from its anus whose putrid odor repels predators.

[19] [21]

 Heart rate drops by half, and breathing rate is so slow and shallow it is hardly detectable.

[18]

 Death feigning normally stops when the threat withdraws, and it can last for several hours.

[18] [21]

 Besides discouraging animals that eat live prey, playing possum also convinces some large animals that the opossum is no threat to their young.

[19]

 "Playing possum" in response to threats from oncoming traffic often results in death.

[22]

It's such a rare thing to see (at least in my experience), that I coaxed Polly back inside, grabbed the camera, took a few shots, and then started taking video to see if I could catch the process of him "coming back from the dead."
Well, I succeeded! I only had to wait about 10 minutes, too.
The images were taken with the camera flash on, but I had to use a flashlight for the video.
I played around with some editing software and made a little movie out of the video. Hope you guys like it, especially if you've never seen a possum playing possum before.
I know he looks kind of nasty, but possums around here always look kind of nasty, and they look even nastier than usual when they're wet from rain and playing dead, apparently.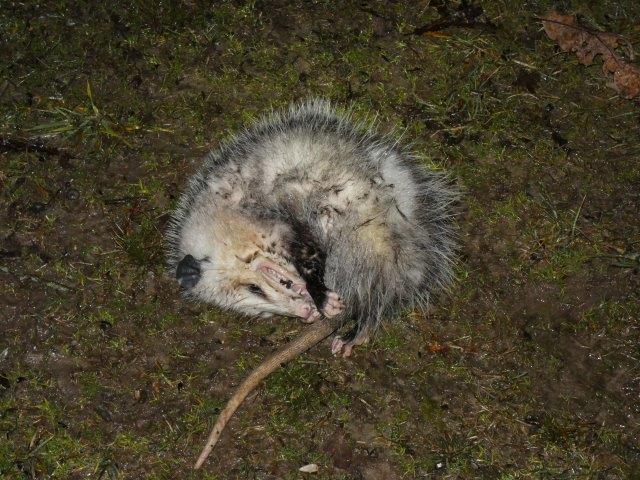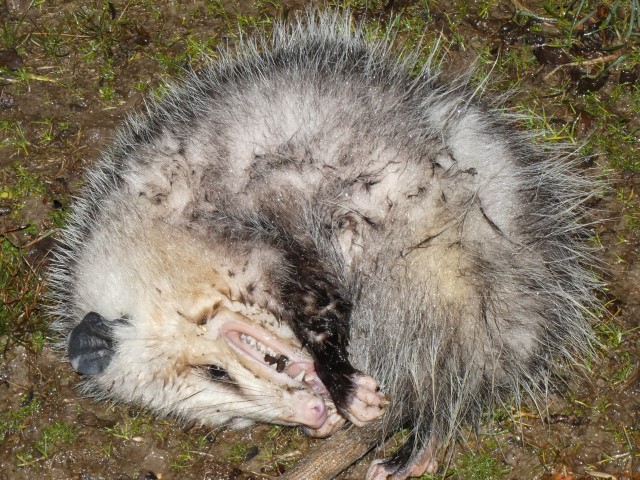 ---
The video is just under 2 minutes long...