Into the belly of the beast
Category: News & Politics
By:
vic-eldred
•
one month ago
•
103 comments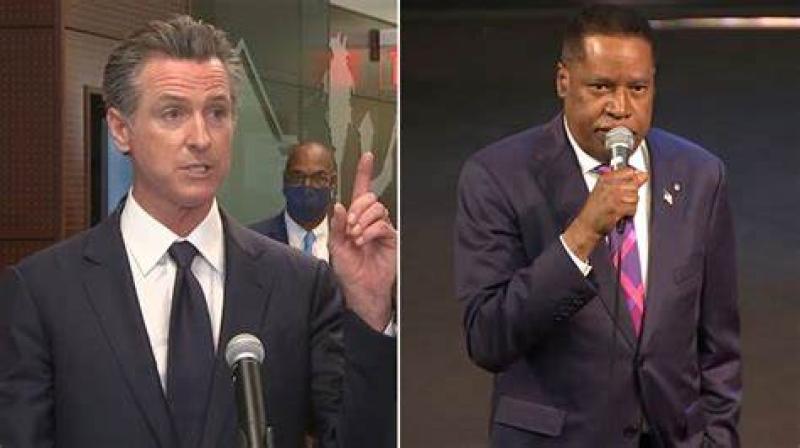 "The leading candidate thinks climate change is a hoax, believes we need more offshore oil drilling, more fracking, does not believe a woman has the right to choose [and] actually came out against Roe v. Wade, does not believe in a minimum wage," Newsom said Thursday night.
Gavin Newsom is facing a Sept. 14 special election that could make him just the third state governor in U.S. history to be removed from office through a recall. His leading opponent is Laurence Allen Elder, an American conservative talk radio host, author, politician and attorney who hosts The Larry Elder Show. What was once a close race has more recently become a demonstration of the behind-the-scenes power base that democrats have created in California.

First of all there is the nature of the campaign itself. Larry Elder has talked about policy changes, most notably the freedom of parents, especially minority parents, to send their children to the school of their choice. The record of Gavin Newsom as governor would normally be the main issue, since it is after all a recall election. However the Newsom campaign has focused on personal attacks against Elder. Most notable was the California professor campaigning for Newsom, who hurled a truly racist attack at Elder last Monday, calling him "a Black face on White supremacy."
A spokeswoman for the Elder campaign accused Newsom of "lashing out" at the Republican candidate because he realizes that his political career is on the line.
"Gavin Newsom is running scared. He cannot defend his horrendous record on crime, homelessness, the rising cost of living, water shortages, uncontrollable wildfires, and tyrannical COVID lockdowns," spokeswoman Ying Ma said in an email. "Larry believes in liberty, personal responsibility, private enterprise, and the ingenuity of the people of California, not Newsom's repressive edicts or the cronyism of his allies."


The CA deep state empire is striking back. The Teacher's Union and the Public Sector Union and Hollywood are sending in the money fueling the Newsom campaign:

"Newsom's anti-recall campaign raked in more money in its first five months — $54 million — than the $50.2 million his 2018 gubernatorial campaign raised over four years.
Most of the money  came in six- or seven-figure donations from longtime Democratic financial backers, including government employee and trade unions, as well as people and interest groups that stand to gain from a relationship with California's governor. Even allies of the governor have expressed concern about the amount of money flooding in. The California Teachers Assn., which has clashed with charter school advocates for years, gave $1.8 million. The Service Employees International Union and its local affiliates, which together represent about 700,000 members, including government employees, donated a combined $5.5 million to Newsom's anti-recall campaign. Others in the $1-million-and-up club include associations representing California Realtors, home builders and Democratic governors.

Newsom's anti-recall committee has  raised tens of millions of dollars more than the committee pushing for him to be removed,  as well as the top Republicans hoping to replace him. Several of those candidates have alleged that the wellspring of donations in support of the governor is evidence that he is beholden to unions and Sacramento's special interests.
Assemblyman Kevin Kiley (R-Rocklin) accused Newsom of closing public schools last academic year under pressure from the California Teachers Assn. and other teachers unions despite guidance from federal health officials that it wasn't necessary.
"Teachers unions just funneled Gavin Newsom another $2.1 million,"  Kiley tweeted in late July.  "It's unclear if this is a bonus payment for last year's shutdown or prepayment for the one to come."

https://www.latimes.com/california/story/2021-08-24/newsom-donors-anti-california-recall

Democratic politicians & officials, including the vice president, have gone to California in recent weeks to campaign for Newsom. The president is also expected to join the bandwagon before the recall vote in about 5 days. Even Barack Obama has urged Californians to reject the recall. Yesterday he told California voters: "Your vote could be the difference between protecting our kids and putting them at risk, helping Californians recover or taking us backwards."


Then there is this:

"H undreds of ballots for California Gov. Gavin Newsom's recall election, drugs and a loaded gun were found last week in a vehicle where a felon was passed out inside, authorities said Monday.
Police responded to a call of a man passed out in a vehicle in a 7-Eleven parking lot in Torrance on Aug. 16, the  Torrance Police Department said ."

https://www.msn.com/en-us/news/us/hundreds-of-california-recall-ballots-drugs-loaded-gun-found-in-passed-out-felon-e2-80-99s-car-police/ar-AANGDNB

Which is a reminder of California's lingering problem with voting.  

From 2019:

"California officials still can't say whether non-citizens voted in the June 2018 primary because a confusing government questionnaire about eligibility was created in a way that prevents a direct answer on citizenship.
The snag comes from a voter eligibility questionnaire that lumps five separate characteristics, such as age and citizenship status, into one prompt that people see at the Department of Motor Vehicles when they try to get or renew a driver's license.
Investigators can see that people marked themselves as ineligible to vote or declined to answer eligibility questions, but they can't tell why.
"We can't assume why they declined to answer eligibility questions or why they said they were not eligible," the Secretary of State's Office wrote in an internal memo on Oct. 8, 2018.
That email and other documents The Sacramento Bee obtained through the Public Records Act shed light on why the Secretary of State has been unable to say clearly whether non-citizens voted last year.  The Bee filed a legal complaint  for the records when the Secretary of State initially withheld most of them."

https://www.sacbee.com/news/politics-government/capitol-alert/article223886630.html

Nothing has changed.



Thus, in the closing weeks of this election, Larry Elder has gone from a position of "too close to call" to the unenviable position of "a very tough reach." The California deep state has saved Newsom and the people of California have been stifled once again.