Pretty Woman - What Was Your Favourite Scene?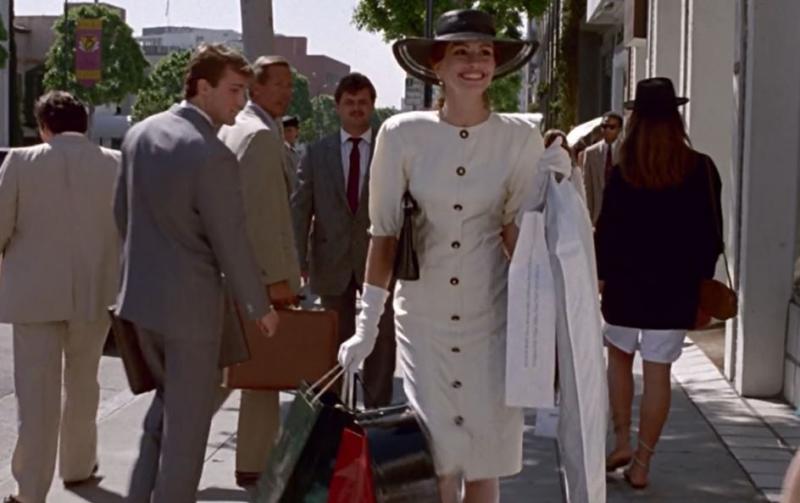 Vivian: I'm gonna treat you so nice, you're never gonna let me go.
Pretty Woman - What Was Your Favourite Scene?
Pretty Woman, a modern "Cinderella" story (without the glass slipper) was a very popular movie world wide, especially in Spain where they have released the movie 19 times since it was originally shown. It was shown recently here in China on TV so I got to watch it again. It was originally going to be called "$3000" which is the amount Edward Lewis (Richard Gere) paid Vivian Ward (Julia Roberts) for the week, but they rethought it, and the choice of Pretty Woman was decided upon, which tied it in with the song that had been around since 1964. The budget for the film was $14 million, and it has taken in almost half a billion dollars world wide.
I enjoyed watching Ralph Bellamy as I have for many years. This was the last film he acted in before his death. Hector Elizondo as the Hotel Manager was a definite benefit to the film, and I believe this was the movie hat made Julia Roberts a very popular star, but now to the reason for this article. There are many scenes in the movie that I liked, but this is the one I chose - it is a running scene of Vivian, dressed in her "hooker" outfit, but armed with Edward's credit card, shopping on Rodeo Drive for a new wardrobe so she can accompany Edward on some very high-powered meetings and special events. She goes into a boutique and because of her appearance is treated like dirt by the snobby staff who tell her to leave the store.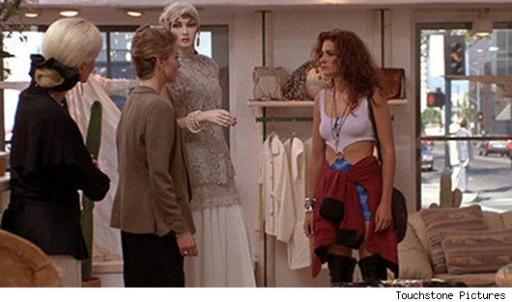 If you can open it, here is a video clip of her experience with the snobby staff:
http://video.tudou.com/v/XMTg3NTk0MDM4NA==.html?spm=a2h0k.8191414.0.0&from=s1.8-1-1.2
The next day she continues her shopping, and dressed to kill in fabulous classic clothes, carrying a number of boxes and packages goes back into that first store, waves the thousands of dollars worth of clothing purchases at the snobby staff and this is the conversation:



Shop assistant

: Hello, can I help you?


Vivian: I was in here yesterday, you wouldn't wait on me.

Shop assistant: Oh.

Vivian: You people work on commission, right?

Shop assistant: Yeah.

Vivian

: Big mistake. Big. Huge. 

I can't find a photo of her going into the snobby store, but here she is walking towards it, attracting admiring glances from the people on the street.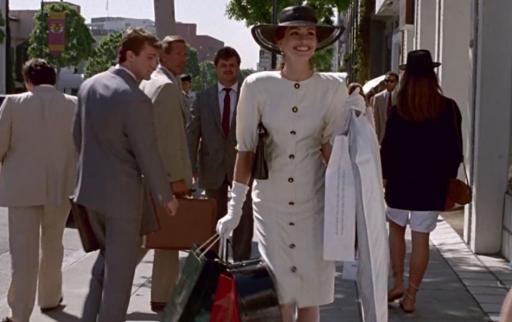 And the song "Pretty Woman" with scenes from the movie::
http://video.tudou.com/v/XMTY2NDg1MDU5Mg==.html?spm=a2h0k.8191414.0.0&from=s1.8-1-1.2
Surely most of you have seen this movie, so what do you choose as being your favourite scene?
You must be a member of the Everyone Loves Movies - Classic to Recent group to comment, but the membership is open and free, so to join just click this link and it will take you to the group page where there is a link to click "JOIN THE GROUP" and you automatically become a member.  You will find this article there as well.
https://thenewstalkers.com/buzz-of-the-orient/group/182/everyone-loves-movies-classic-to-recent