Alan Dershowitz reputation is shot to hell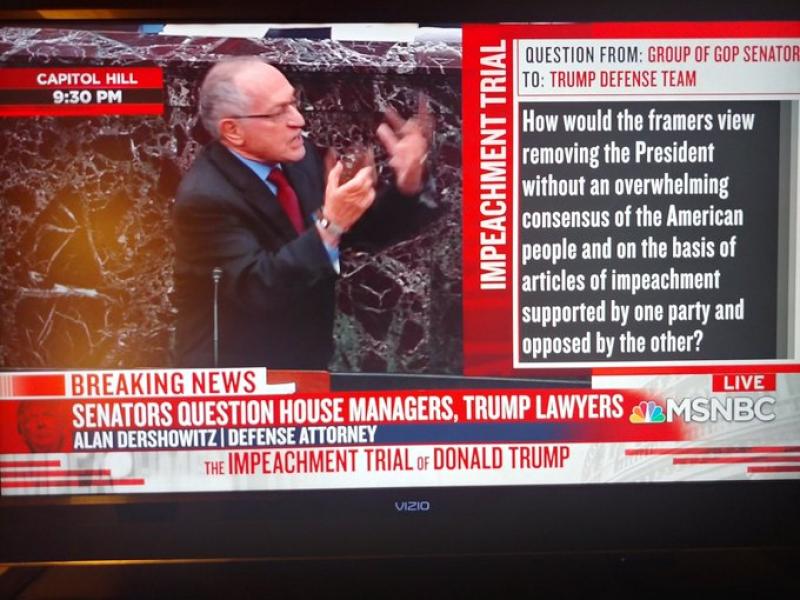 Back in the day Alan Dershowitz was thought of as a fussy, argumentative jackass who defended OJ Simpson in order to promote his own oversized ego. But he was considered a thoughtful legal scholar who could prevail in defense of his "liberal" beliefs. 
Those days are gone. Over the past three or four years he has inexplicably turned himself into a Trump cultist. Now he is humiliating himself on national television. 
Why? 
My guess is that it is all about Israel. Actually its not that much of a guess. Dershowitz hates Iran , presumably mainly because Iran is a threat to Israel, but he hates Iran.  Trump has been threatening Iran since he first started running for president, and he has won over Dershowitz by doing so. 
Tonight, Dershowitz is being blasted on social media for saying this on the floor of the senate.

@mitchellreports
#AlanDershowitz
stirring derision from legal experts for this claim on Trump's behalf:

"If a president does something which he believes will help him get elected in the public interest that cannot be the kind of quid pro quo that results in impeachment."

Really?
------------------------------------------------------------------------------------------------------------
Dershowitz is lamenting, in public, that he is being criticized for turning himself into Trump toady.  He doesnt get invited to the same parties anymore, he is shunned bu old colleagues, no one will offer him honorary degrees or make him commencement speaker.  Yes he is literally complaining about such things. 
It appears, in order to fulfill his own self created role as the defender of Israel, he has turned himself into a footstool for Donald Trump.  I have never really liked this guy because I dont like egomaniacs, but this is actually kind of sad to see. 
============================================================
#AlanDershowitz
just made getting a law degree from Harvard on par with a degree from Trump University
-
Not a lawyer, but
#AlanDershowitz
seems to be arguing that anything done in the national interest cannot be an impeachable offense, and Trump being re-elected is in the national interest, so it follows Trump cannot be impeached for anything. What the fuck?