The Forgotten History of the Filibuster (satire)
Benjamin Franklin was a genius.  He literally captured "lightning in a bottle".  We all know the story of how he flew a kite during a thunderstorm and had his kite string attached (using a key) to a Leyden jar.  Here is a famous image: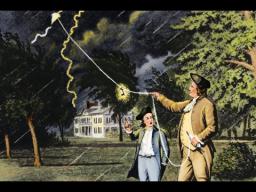 The image is NOT accurate.  Franklin knew how dangerous this experiment was; so the child in the picture actually flew the kite.  As a result, the child (Franklin's "protege") was rendered unconscious and was comatose for an unknown period of time.  The child, Howard Hymen, convalesced in Franklin's home for months.  Naturally, Franklin supervised the care of young Howard.  Franklin invented oral hyperalimentation fluid to keep Howard alive until he regained consciousness.  Franklin mixed milk with honey and toasted flour which was fed to Howard using baby bottles with nipples used to feed calves.  Fortunately, the child's strong sucking reflex facilitated this method.
Benjamin Franklin was a pervert (1).  Franklin may have taken advantage of Howard's sucking reflex and introduced semen into the child's diet.  Young Howard thrived and he made a remarkable recovery and he eventually lived over 100 years.
When Howard reached puberty, he was constantly in trouble for having sex with underage girls.  Howard's wealthy parents were constantly buying off the outraged parents of the little girls.  Howard's friend's began calling him "Buster" because his last name was "Hymen".  Eventually, the Chief of Police in Philadelphia paid a visit to Howard and his father and provided evidence that Howard had raped several little girls.  Mr. Hymen pointed out that being struck by lightning had "changed" his son so he shouldn't be prosecuted.  The Chief gladly accepted a large bribe butt he still advised Mr. Hymen that his son Howard should leave town.
So Mr. Hymen decided to send his son away.  He told his son to go South and try to find a way to earn a living.  So, at 17 years old, Howard went to Kentucky.  Howard found a beautiful old plantation that was being auctioned off because it went bankrupt.  Howard's father came to Kentucky and he bought the plantation lock, stocks and barrels.  The locks and stocks were used to punish the slaves that were part of the plantation and the barrels were used in the plantation's whiskey business.
Howard did not know how to run a plantation so he found a local overseer who he immediately hired when he heard that the overseer was a bootlegger who preferred sex with underage girls.  Butt that rumor was inaccurate.  The overseer, Rich O'Donnell, actually preferred having sex with little boys .
The two men bonded and formed a long lasting partnership.  Using his father's money, Howard invested in stills and sour mash and they began producing excellent Kentucky whiskey.  One of their best customers was Jefferson Epistone who owned a train.  Epistone's train was popular with pedophiles who called it the "Kiddie Car Express".  So for Howard and Rich, it was a win-win.    
They met a slave trader on the train who specialized in selling slave children to pedophiles.  His name was Ronald Rump.  Ronald Rump and Jefferson Epistone were partners.  Ronald Rump, Jeffery Epistone, Rich O'Donnell and Howard Hymen enjoyed a drunken orgy on the Pedophile Express.  Ronald asked Howard about Philadelphia.  So Howard tells them about his old nickname, "Buster".  Ronald laughs and says, "So you're Buster Hymen?  That's perfect!"
Then Jeffery said, "And since you're from Philadelphia so I'm gonna call you 'Philly Buster' from now on.  The nickname stuck.
There were two groups of abolitionists that were beginning to gain influence in Northern States.  One group wanted to ban slavery and the other group wanted to ban alcohol.  This made the four pedophiles decide to get into politics protect their own interests:  slavery and whiskey.  They decided that Rich and Buster were electable because they were known as plantation owners who produced the best Kentucky burbon.  Eventually,  Kentucky elected Senator O'Donnell and Senator Hymen.  The reason these two pedophiles got elected was simple.  People didn't know they were pedophiles and they gave away free whiskey at their campaign rallies.
Years later, as new states were joining the Union, abolitions from Northern states introduced a bill in the Senate to ensure that new states could not be "slave states".  Senator Hymen decided to prevent the Senate from passing the bill so he joined in the debate.  When he was recognized, he refused to yield to anyone.  He "debated" for hours and his goal was to alienate the abolitionists.  He droned on and on insulting everyone from the North.  He also slandered the character and intelligence of slaves comparing them to animals.  It had the desired effect - the Northerners walked out.  He then requested a quorum call.  Since there were not enough Senators left to vote on the bill, it was tabled.
Newspapers the next day had headlines that said, "PHILLY BUSTER PREVENTS SENATE ACTION".  The headline was intended to insult Senator Hymen, but from then on the technique of seizing the Senate floor with an endless speech was associated with "Philly Buster" because he was the only Senator who did it.  Over the years other Senators used this stalling technique so newspapers began referring to these long winded "debates" as "filibusters".   
______________________________________________
1.  11 Gross Facts About The Surprisingly Prolific Sex Life of Benjamin Franklin
https://www.ranker.com/list/benjamin-franklin-private-life/katia-kleyman
Picture credits:
Ben Franklin flies his kite
copied from Documentary Warehouse 
YouTube Channel
https://i.ytimg.com/vi/LVnMM13qN1E/hqdefault.jpg
NOTE:  To anyone who is experiencing deja vu:  I published a similar article about the filibuster about a decade ago on Newsvine.