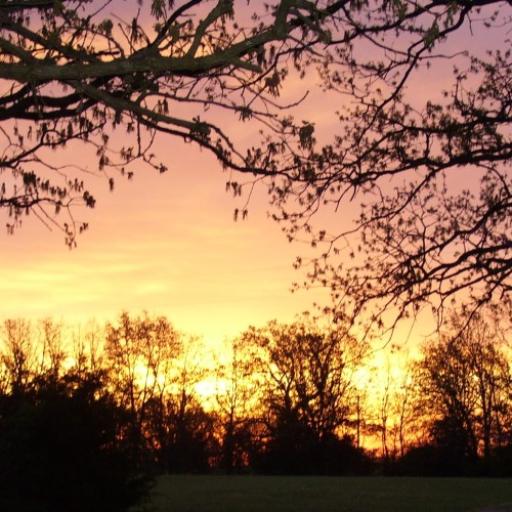 The weather has been a mix of good and bad this month. Some days have been hot and humid, and downright nasty. Others have been pleasant and almost cool. I'm going into another hot spell at the moment. Today is forecasted to be something like 95, and because of recent rain it'll probably be as humid as a swamp. Another cold front is supposed to blow through in a few days, though.
Today's heat aside, it was pretty nice last night when I took the camera up to the garden.
---
August 24, 2021
Yesterday's evening shade.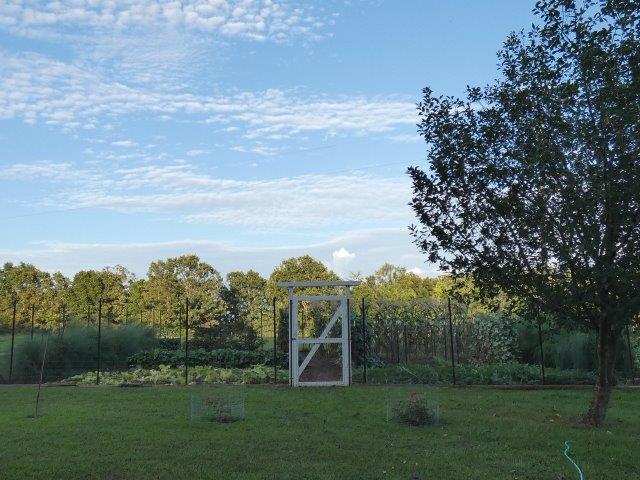 .
One of the Knock Out roses outside the gate..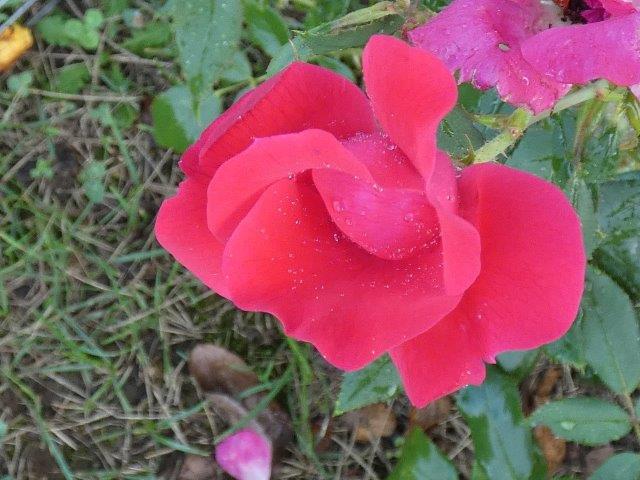 .
It looks inviting this time of day, doesn't it?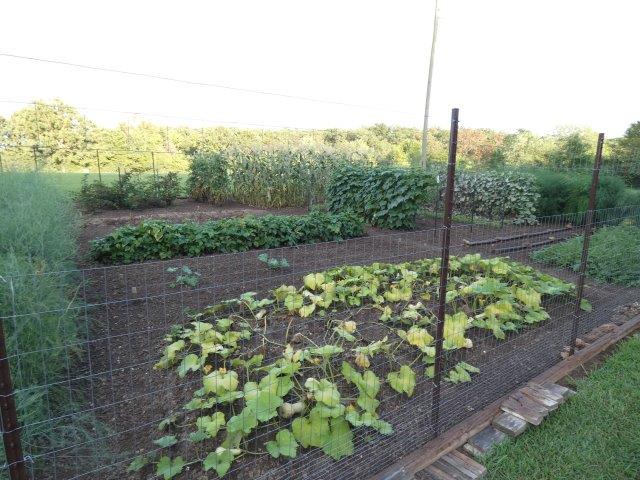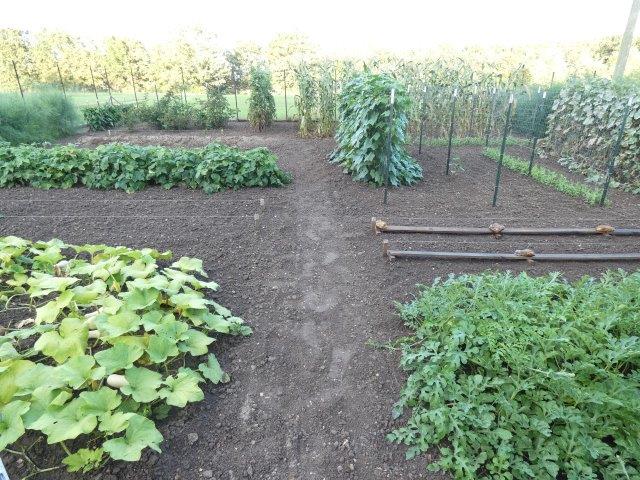 .
The butternut squash. These plants have been weak from the start, and now they look sickly.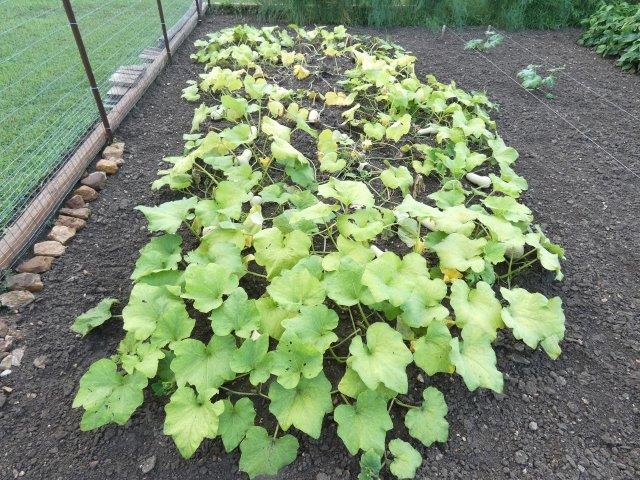 .
There are some squash in there, but I don't know if the plants will live long enough to mature them. One of these days I'll learn my lesson about switching seed sources unnecessarily. Last year's plants were majestic compared to these.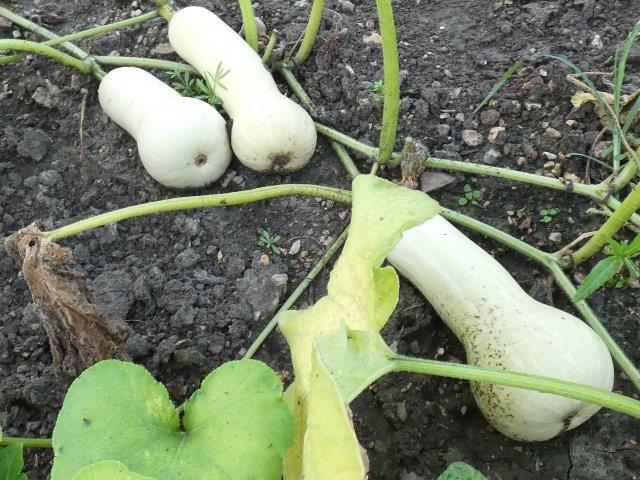 .
Watermelons on the right, and a replanting of beets and carrots under the boards on the left. All of my earlier fall plantings failed (except for the peas). They germinated and I took the boards off, but it was pretty hot at the time and they died. I suppose I should have given them a few more days to send down deeper roots.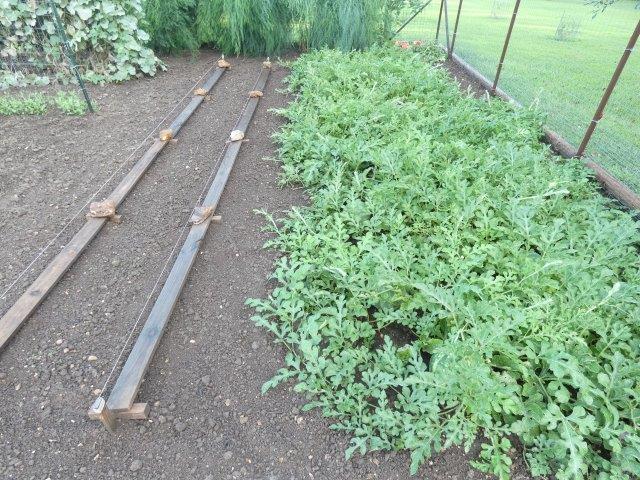 .
Two seedless melons.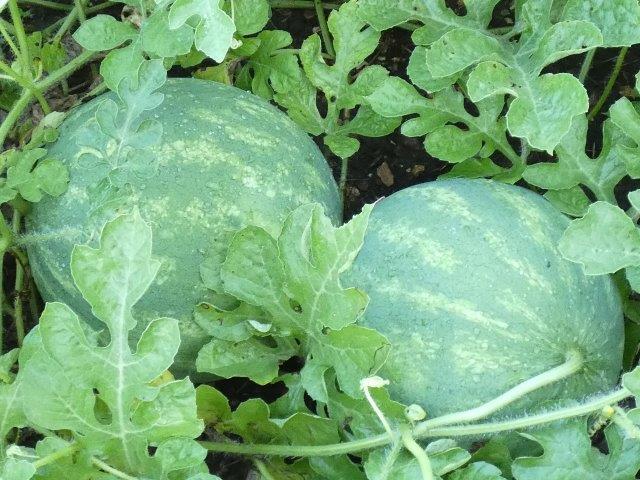 .
A seedless on the left, and a darker seeded variety on the right. They're taking their sweet time this year. They still have a ways to go.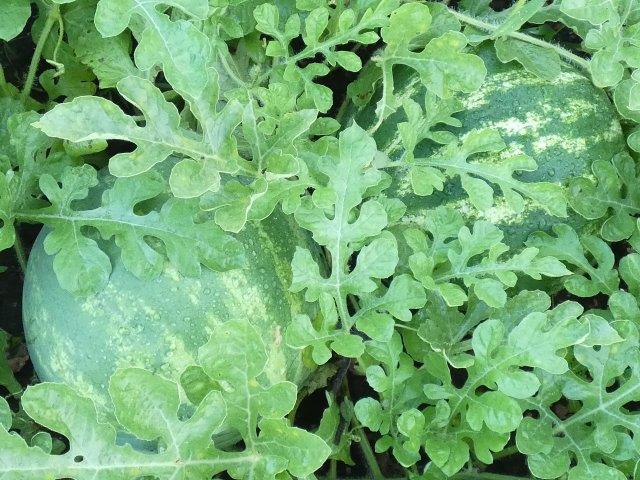 .
New zucchini transplants for the fall.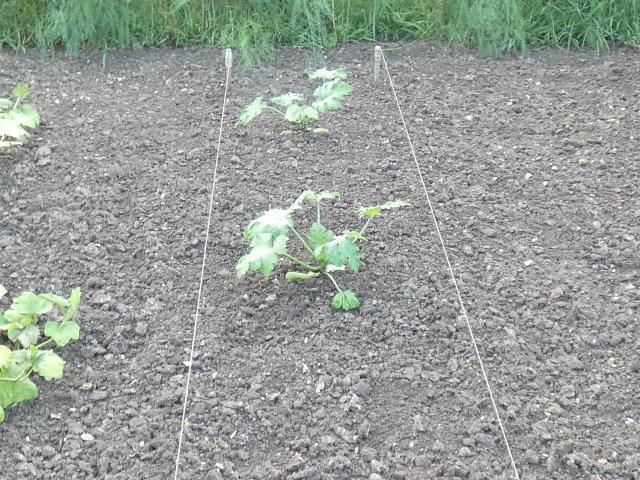 .
The beans are still going.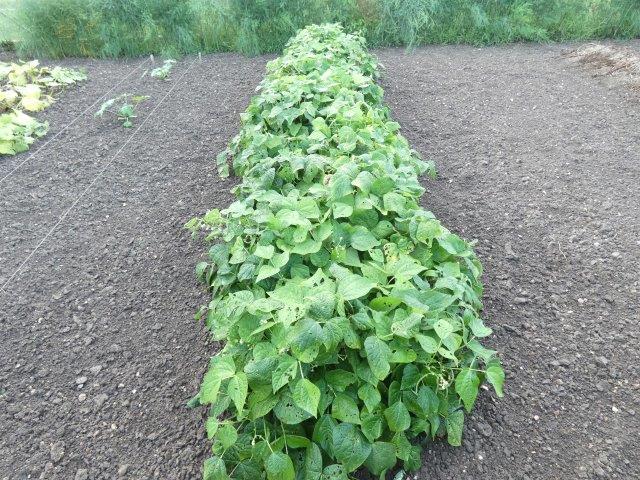 .
Still flowering, even.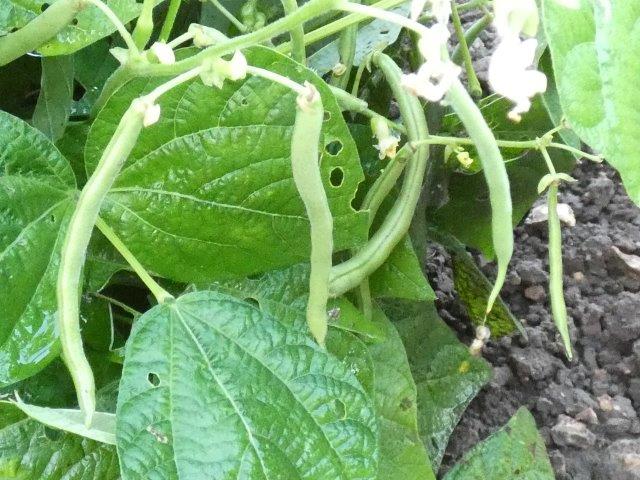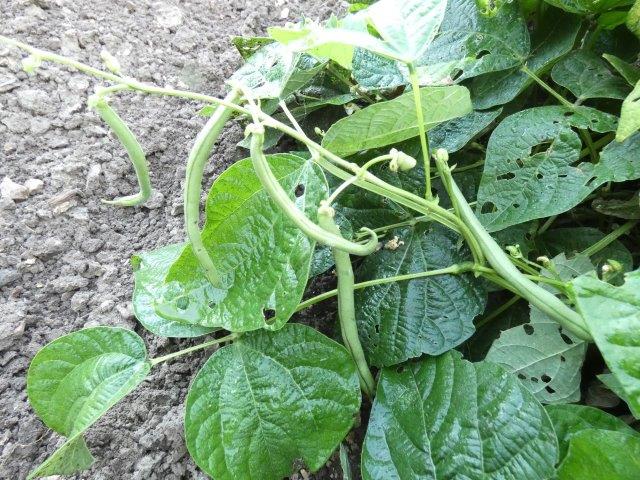 .
This might be the healthiest, most productive cucumber plant I've ever grown. It's almost three months old now and hasn't gotten sick, and it's still producing like a champ.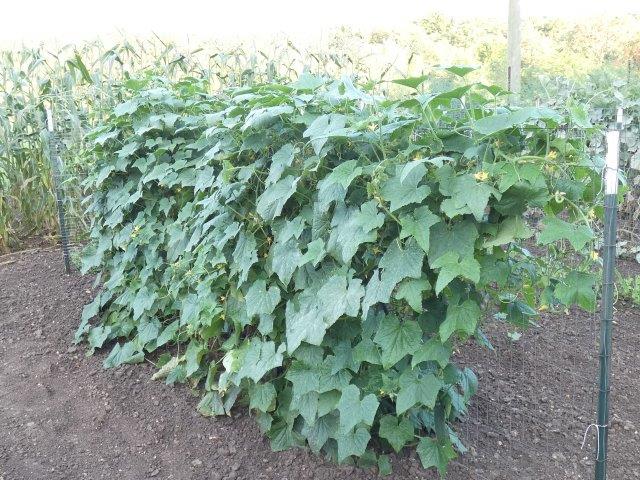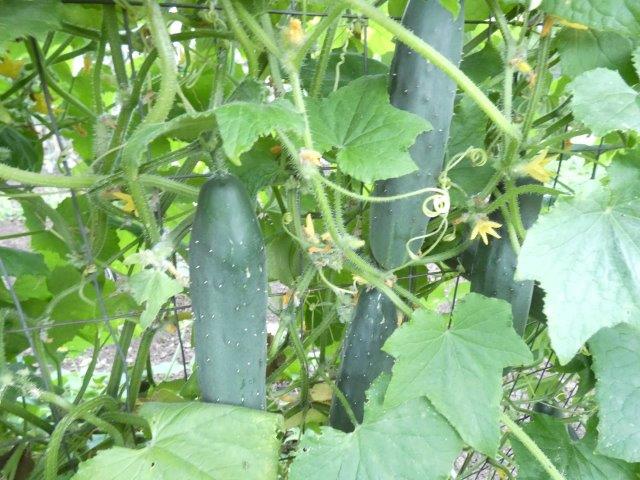 .
This has become a daily ration for me -- a whole cucumber with Zesty Italian dressing.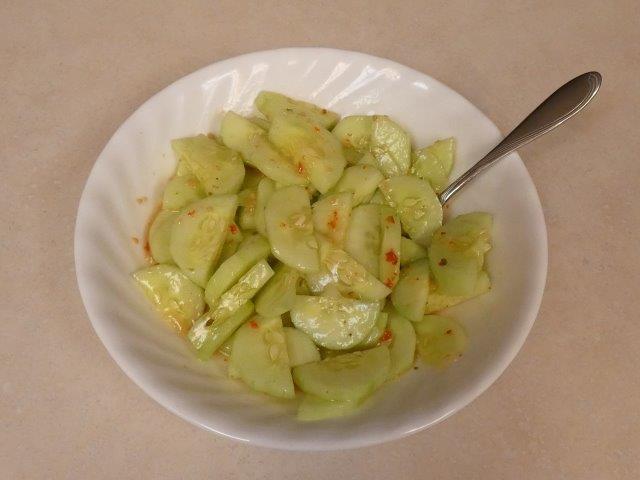 .
They're coming out of my ears. Here's 40 I picked just while taking these pictures. Anyone want any cucumbers?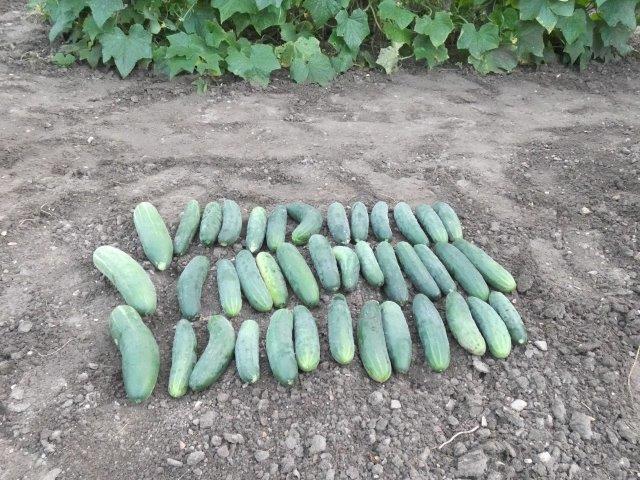 .
Polly dropped by while I was picking them. She decided I was being boring and took a nap.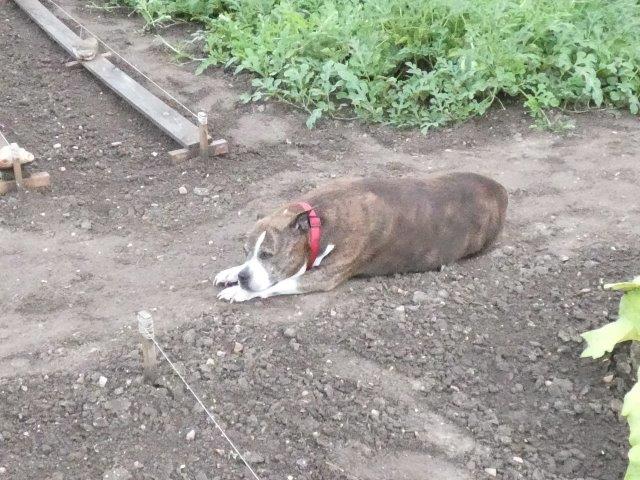 .
Here's another cucumber coming up for the fall. I may not need it, though. Not if Super Plant keeps going like it is. This is actually the expensive variety I couldn't get to germinate at the start of the season. I only had a few seeds left, so I tried starting them in a pot and it worked.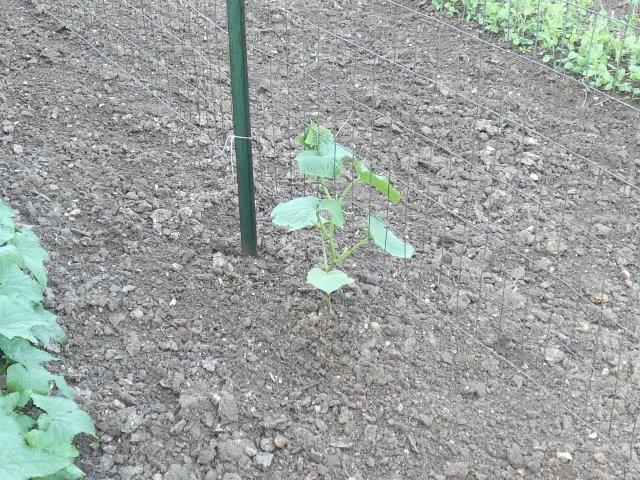 .
Some fall peas coming up.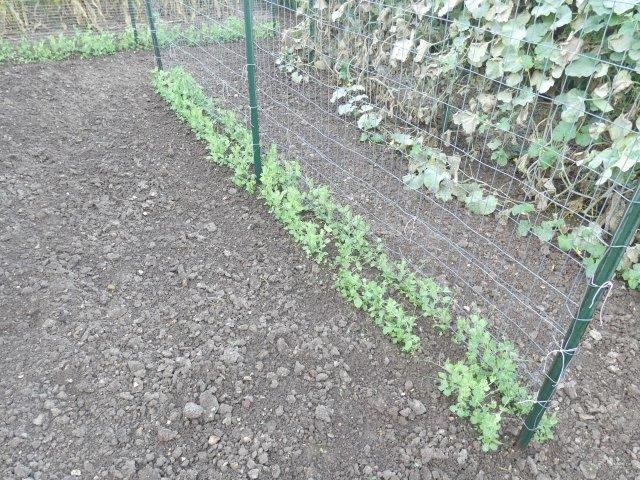 .
The trellised cantaloupes.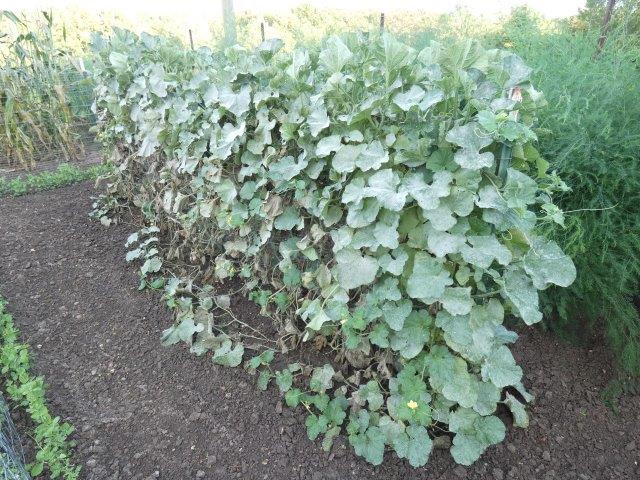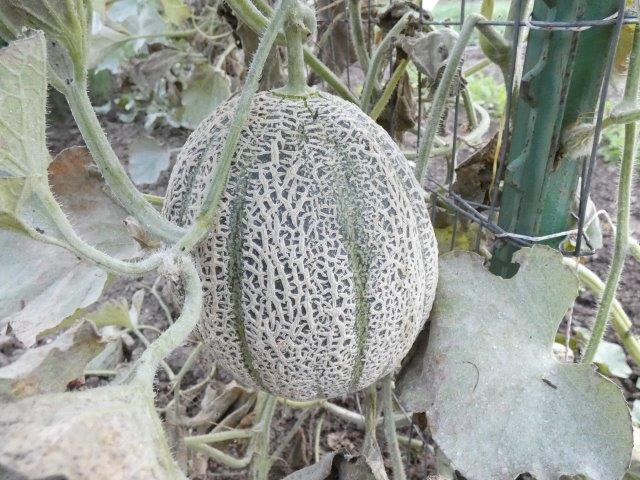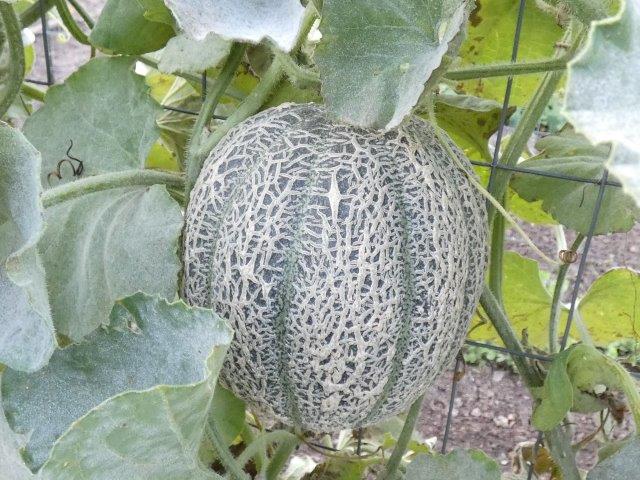 .
I'm not very impressed with this variety. They're too small. Here's one from last week, next to a few tomatoes and cucumbers for comparison. They taste pretty good, but I think I'll go back to a bigger variety next year.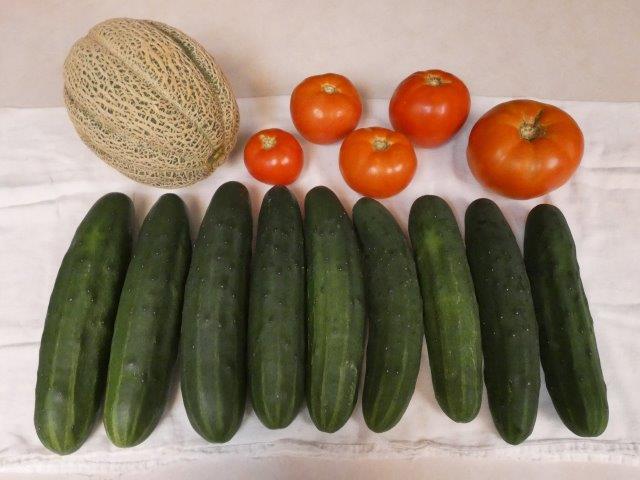 .
The bell peppers.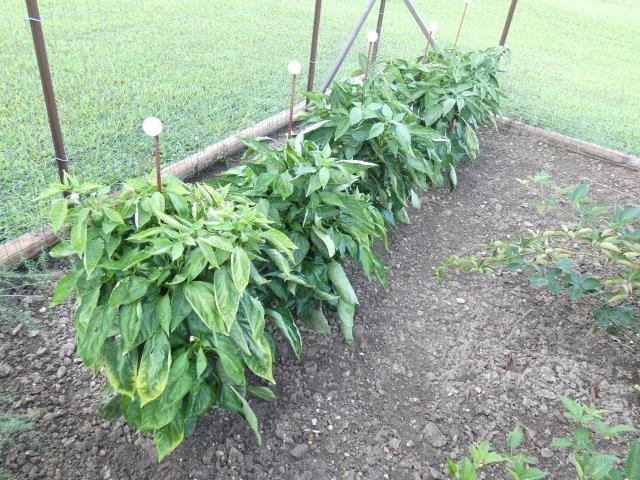 .
Some are finally turning red.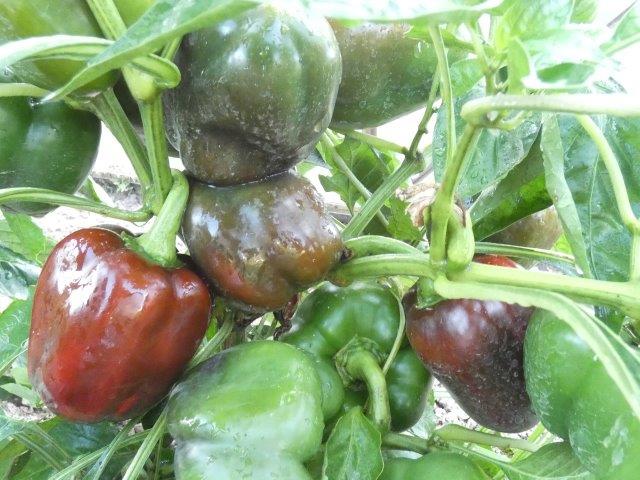 .
A couple of Red Mist lettuce plants. I've been totally slacking off when it comes to lettuce this year. At least I'll have some for the fall. There's more coming up in pots.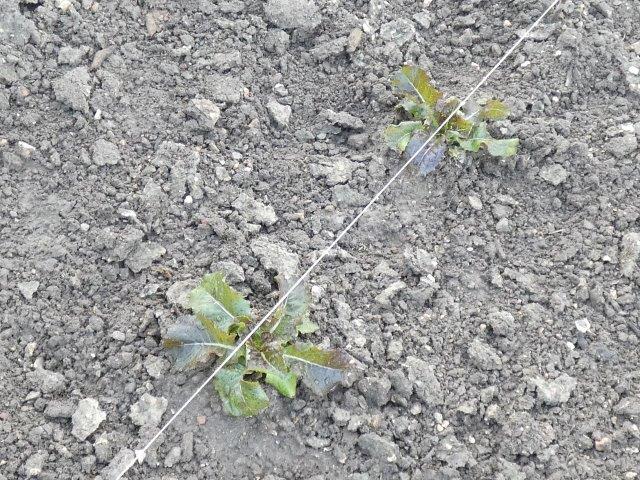 .
The tomatoes.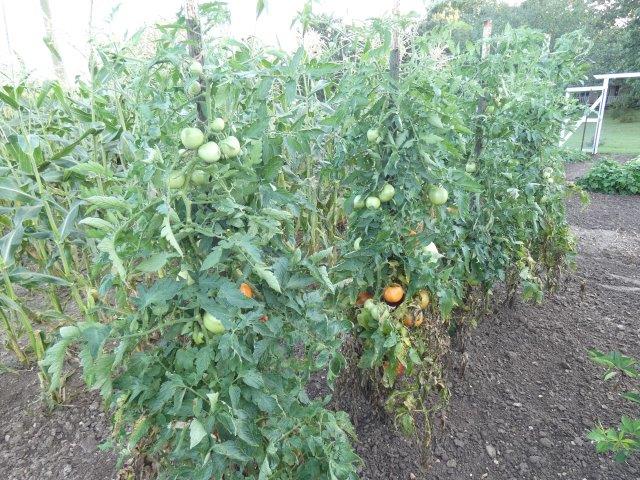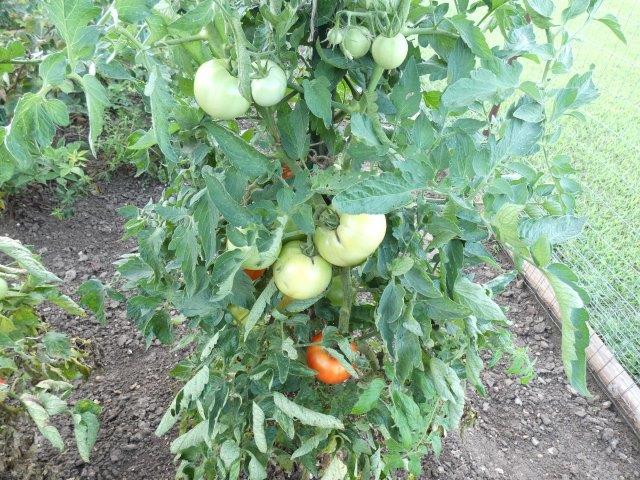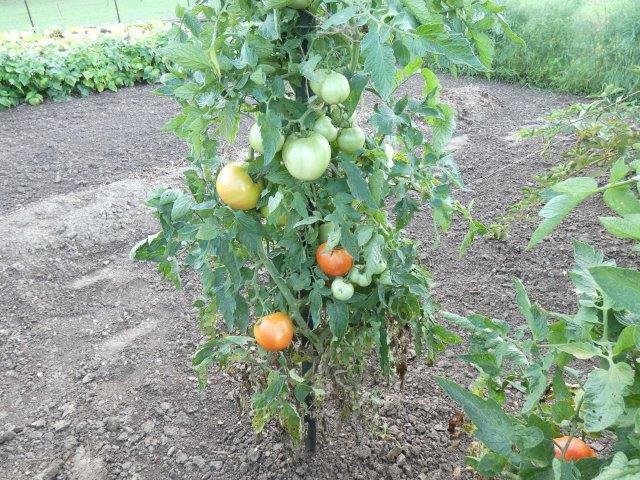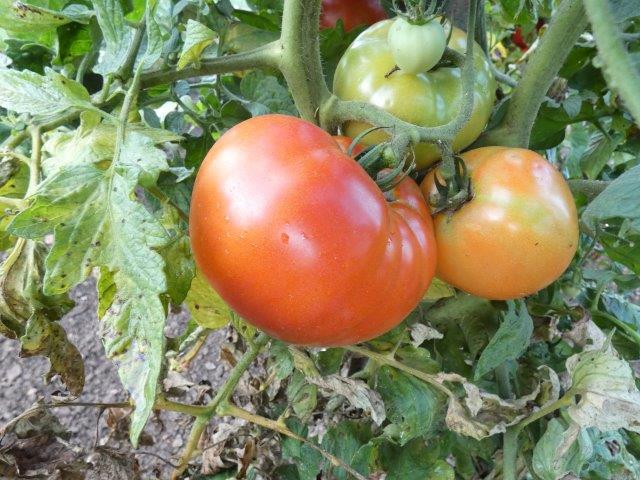 .
The corn has all been picked, but I haven't cleared the stalks away yet. That's another trellis of fall peas on the right.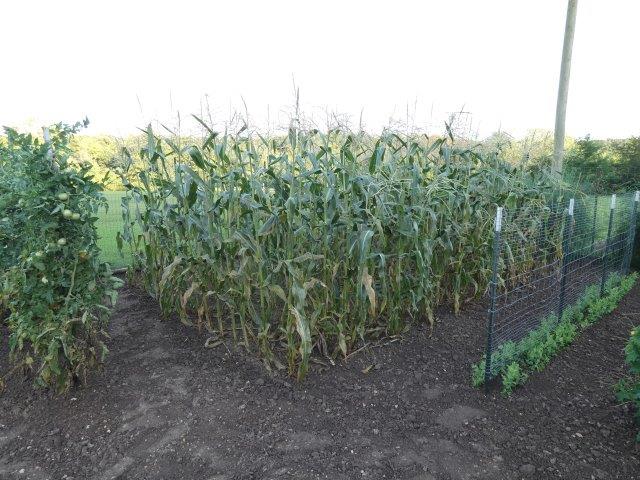 .
Here was the first picking of corn.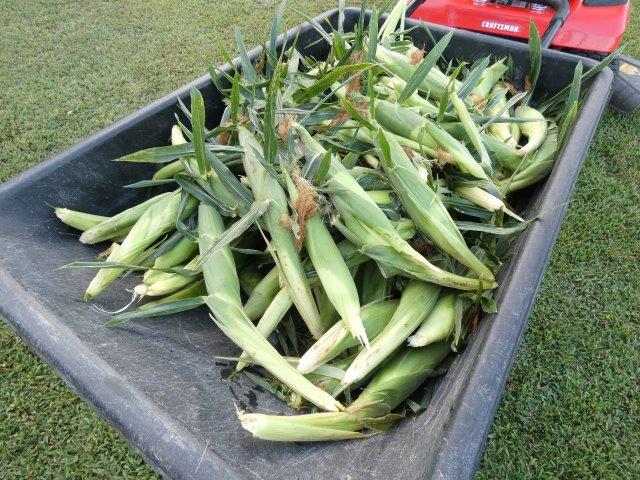 .
I almost walked right into this yellow garden spider while picking it. It was about three inches across. It had made a web between a couple of corn rows, and I barely noticed it in time. If that thing had gotten on me I probably would have come flying out of the corn screaming like a madman.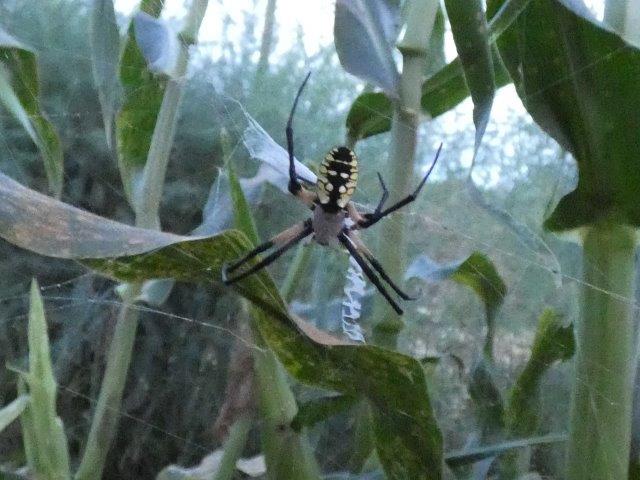 .
Here's a nice one.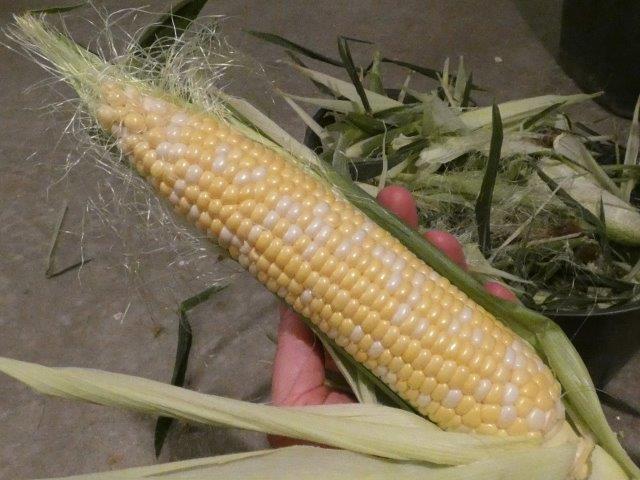 .
Shucked.
.
Cleaned.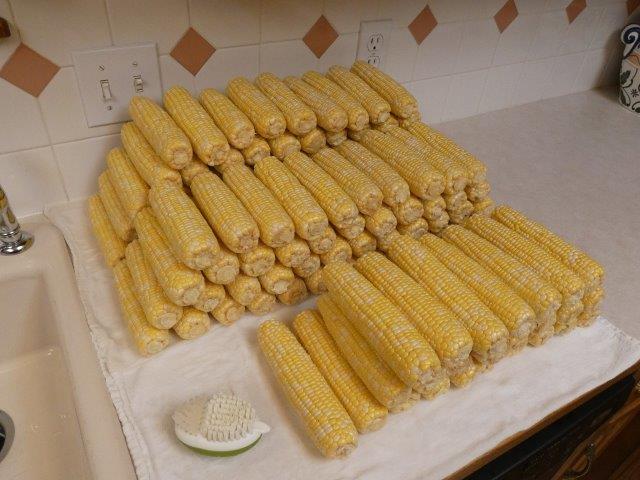 .
Bagged for the freezer.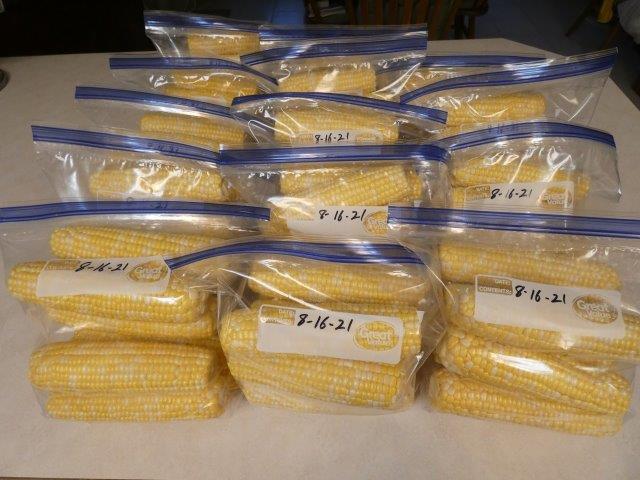 .
Some of it went in the fridge for fresh eating, of course. Fresh corn smothered in butter and a little salt is one of the best things in the world, if you ask me.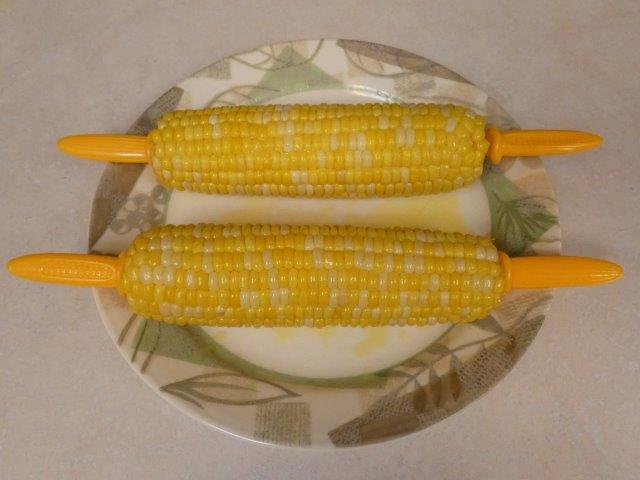 .
Here was the second and last picking a few days later. It's a pretty small batch. The corn grew pretty evenly this year, and almost all of it got picked the first time.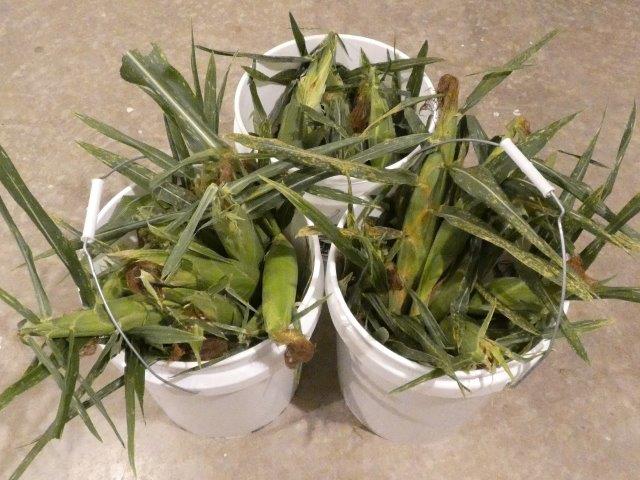 .
Another nice one. I had quite a few of these this year.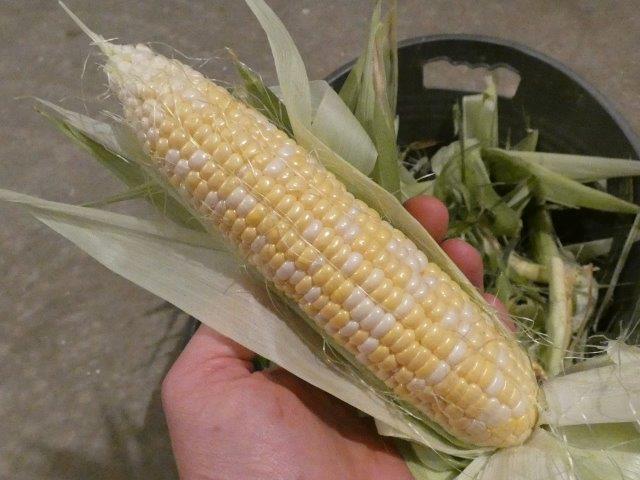 .
Most of them had invaders at the top, though, in both pickings. Damn ear worms.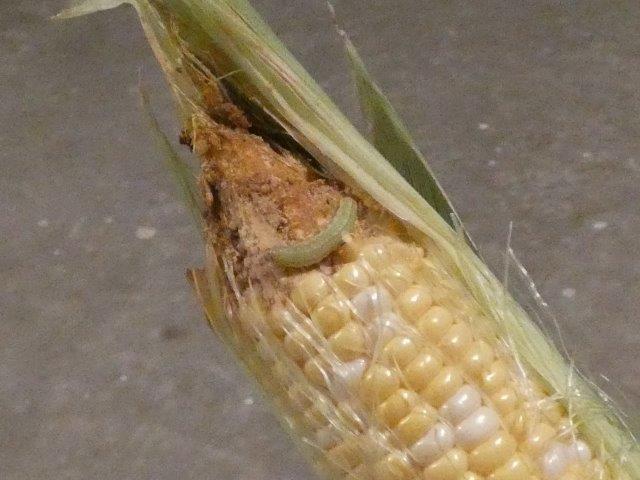 .
It's nothing a sharp knife won't fix, though.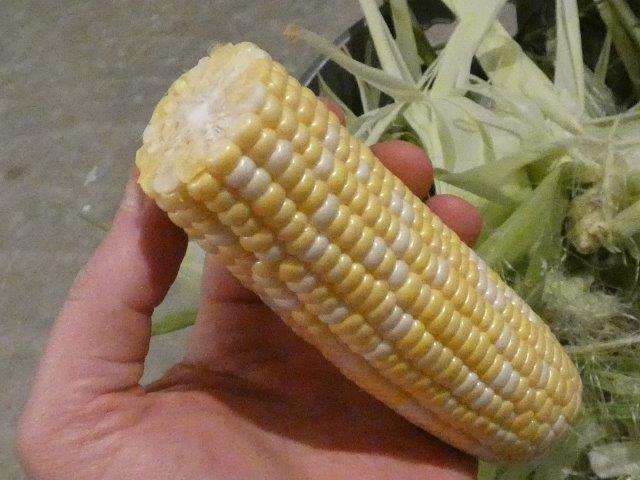 .
Second picking, shucked.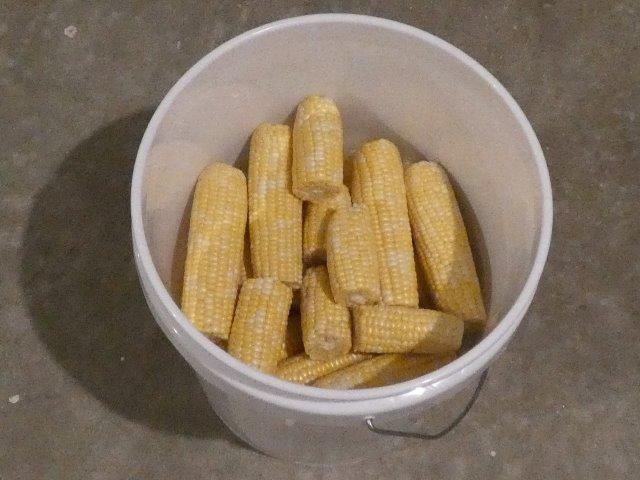 .
Cleaned.
.
And bagged.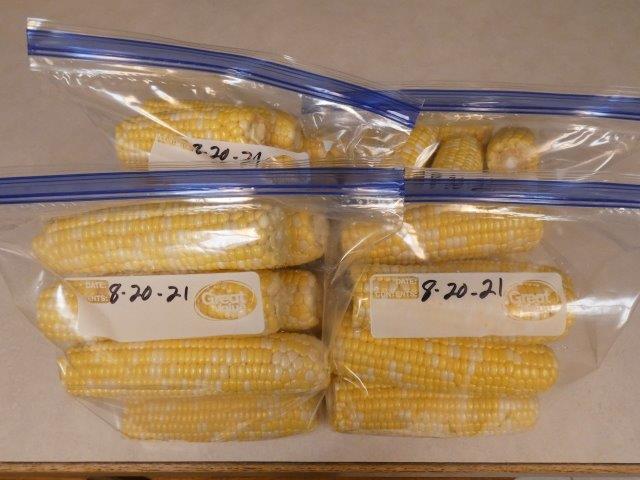 This year's corn tally:
Pre-pick samples - 6
First picking - 126
Second picking - 46
Total - 178
Not quite as many as last year, but still more than my yearly minimum goal of 150 pieces. It was really good quality this year, too. Very uniform.
***
Back to the garden. Here's the raised row of potatoes. The vines are completely dead now, so they're ready for digging. I wanted to include them in this post, but it rained over the weekend and the ground is still wet. Red potatoes are thin-skinned and don't keep very long to begin with, so I decided not to dig them while damp. I'll dig them in another day or two and include them in the next post. The empty space on the left is where the first zucchinis were, but they all died. The squash bugs won the war.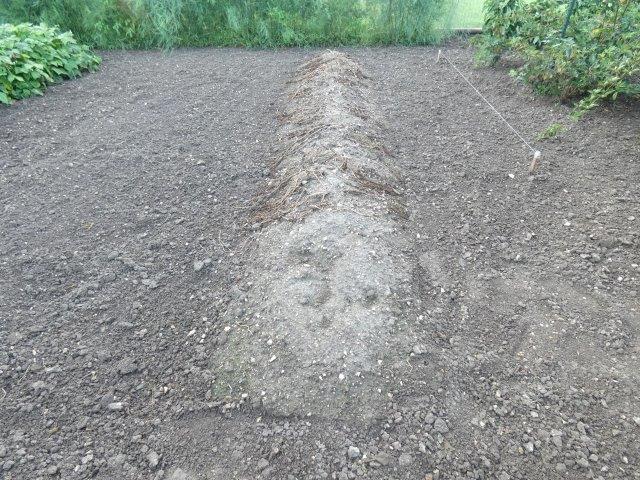 .
I couldn't help but dig a few potatoes since the last post, and I turned some of them into one of my favorite casseroles. I don't think it has a name. It's just potatoes, onions, ground beef, and cream of mushroom soup.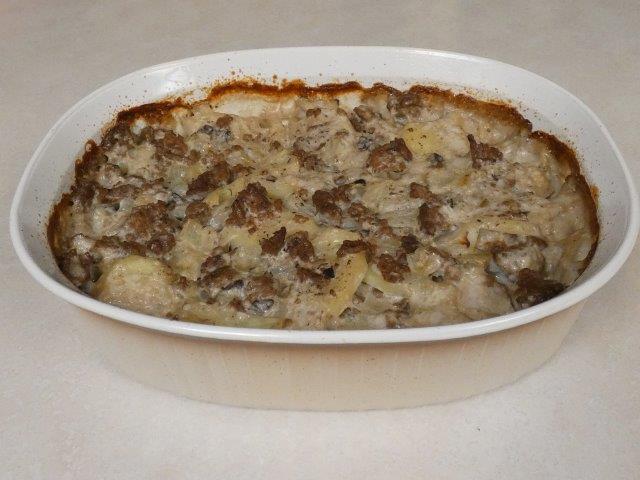 .
It may not look like much, but it's darn tasty. I especially like it in the winter when it's cold out. Fresh corn on the side makes it even better.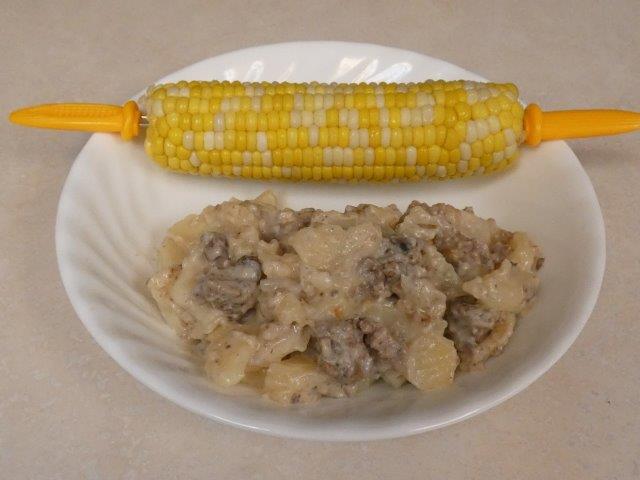 .
Polly's like, "I'm ready to go. Are we done yet?" Yes, Polly. Almost.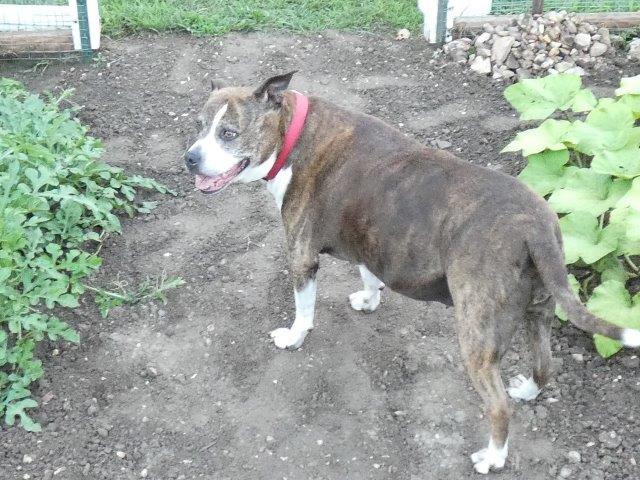 .
Here's the wild tomato growing by the trash pile.
'
The tomatoes are bigger than I expected. Usually when hybrids come back from seed the tomatoes are small like cherry tomatoes.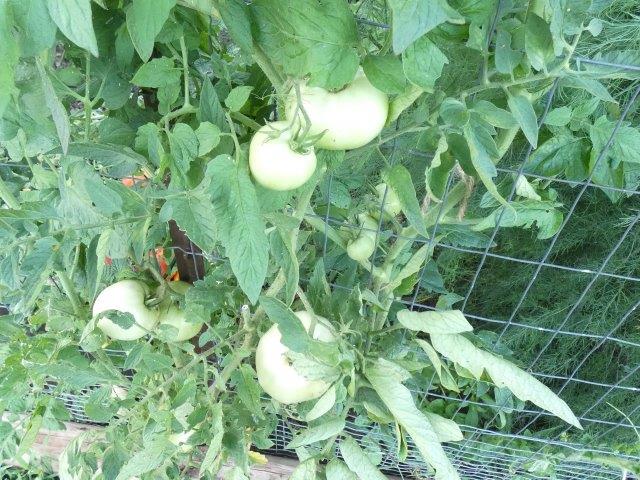 .
The birdhouse gourds in the side plot.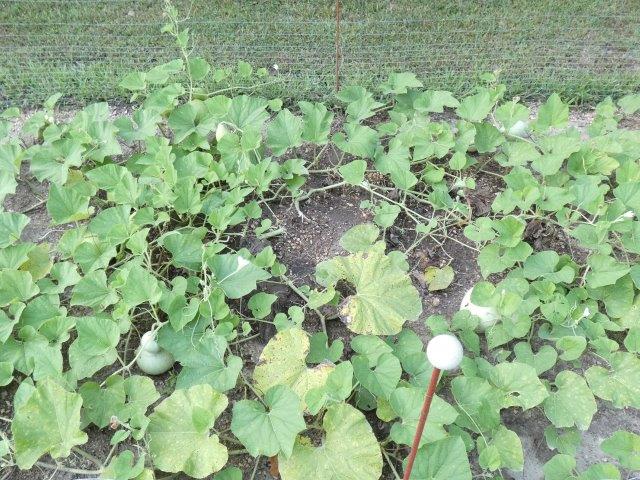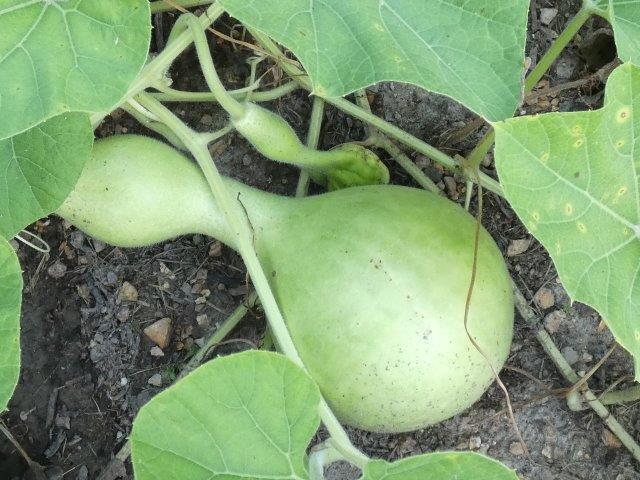 .
Something has been eating my broccoli starts in the planter. Not a good sign. This may not work out after all. I always have problems with things eating brassicas. That's why I hardly ever try to grow them.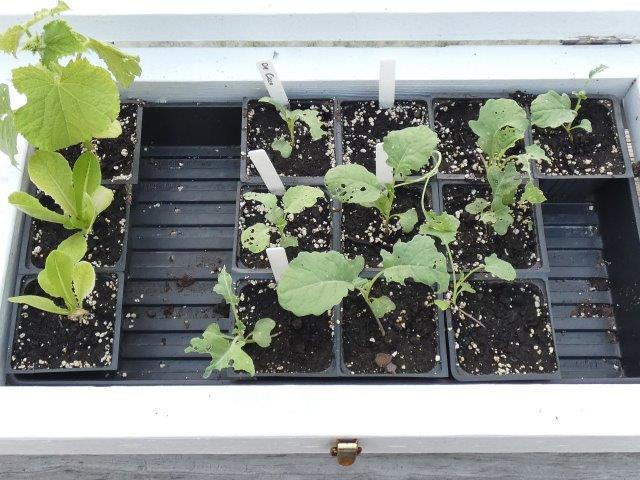 .
Some new potted mums along the garage for the fall, which is just around the corner now. I'm looking forward to it. I love fall.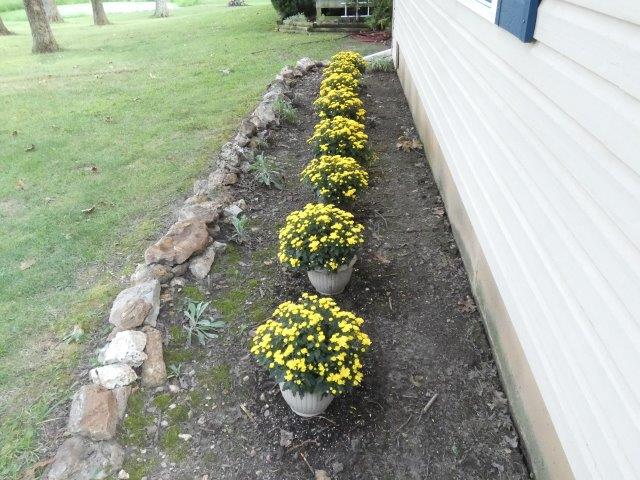 .
That's all for now. See you next time.