Trump Disgraces America By Mentioning "Rigged Election" To NYC First Responders on 9-11 Anniversary
Category: News & Politics
By:
john-russell
•
one month ago
•
36 comments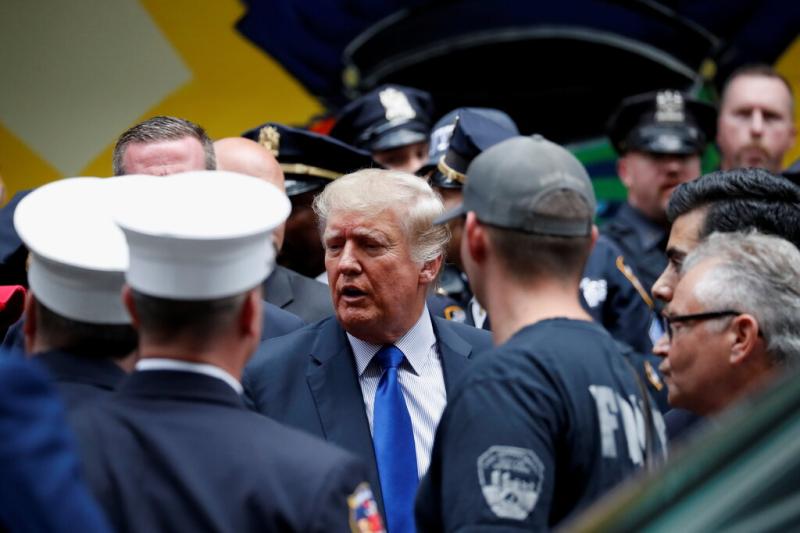 Trump went into NYC on 9-11 in order to stroke his ego and pretend he is still president. That was bad enough as he preened his way through a visit with firefighters and police officers at a city police precinct. 
But the travesty came when he said this at the NYPD's 17th precinct
" "The Taliban was on hold," he said. "I dealt with the top guy Abdul and there was nothing he was going to be doing with us, and all of a sudden we have a rigged election and all of a sudden we flee Afghanistan."
The NYPD backs Trump as most police departments do. Many police forces are disproportionately populated with racists , and I'm sure NYPD is no different. Trump even bragged that NY's largest police union had endorsed him last year. 
His using the occasion of 9-11 to lie yet again about the election was considered so egregious even by Fox News that they were compelled to fact check him on the air. 
"He did not miss any opportunities to air grievances including claiming that the election was rigged, which it was not," anchor Arthelle Neville said. "It has been proven in court multiple times. "
Fox News cut away from Trumps 9/11 remarks in order to point out he was lying about the election. 
-
related
Fox News Anchor Fact-Checks Donald Trump After He Mentions 'Rigged Election' During 9/11 Remarks to NYPD (msn.com)