CNN's Tapper to Mike Pompeo: Wouldn't You Be Mad if a Democrat Invited the Taliban to Camp David?
Via:
krishna
•
one week ago
•
21 comments

S E E D E D C O N T E N T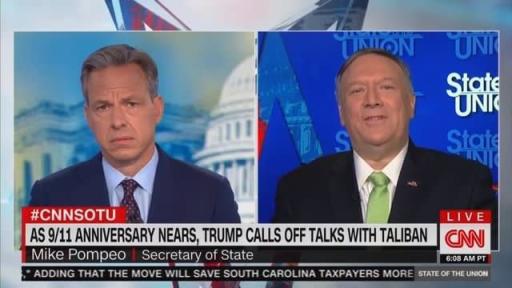 On Sunday,  State of the Union  anchor Jake Tapper repeatedly confronted Secretary of State Mike Pompeo on President Donald Trump's  recent announcement that he abruptly called off secretive peace talks  with the Taliban, asking the nation's top diplomat why the president would invite the Taliban to Camp David days ahead of the 9/11 terror attack anniversary.
"I think there are a lot of Americans out there who had been surprised the Taliban had been invited to Camp David, especially the week of the 9/11 commemoration," the CNN host pointed out.
After Pompeo waved off the criticisms while saying Trump was making "real progress" in achieving peace in Afghanistan, Tapper pressed him again.
"Here's an organization that still supports 9/11—still believes that the United States was to blame," the CNN anchor stated. "We brought that on ourselves. Why bring people like that to Camp David? I understand why you want to negotiate for peace but why bring people like that to Camp David?"
Pompeo, again, punted on the specific question, saying that the administration has an "obligation to do everything we can" and that they "understand who the Taliban are."
This prompted Tapper to then confront Pompeo on how he would view this if the shoe were on the other foot.
"I can't help but think that if a Democratic president had talked about having the Taliban come to Camp David to negotiate a peace process that was not already a done deal," Tapper noted. "That you as a congressman, as a soldier, as a veteran, as a West Point graduate, that you would be rather upset."