What Trump Supporters Are Doing To America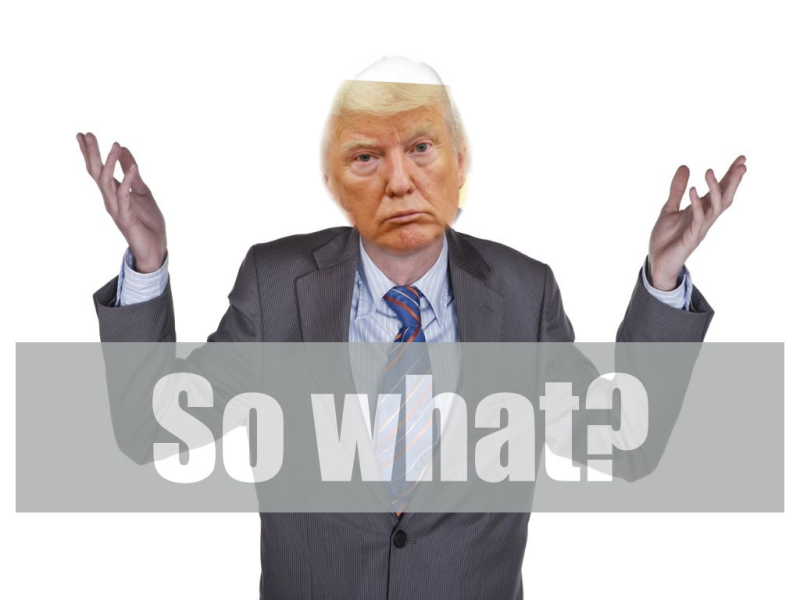 Plainly, Trump supporters have no operative standards of behavior that they demand their leader conform to. Blatant lies are ok with them , rampant insults, often towards completely innocent people, from the president* are ok with them, open bullying is ok with them
First of all , I am not talking about all Trump supporters. Some of them, I assume, are good people. But the conservatives haven't sent us their best. 
I heard on the news this morning that the Trump campaign is raising a lot of money off of this, this being the news a couple weeks ago that President* Trump had asked the president of Ukraine to investigate Joe Biden, one of his main election opponents ( we hear the argument that Biden is not Trump's main election opponent , but what else can you call someone who is running for the SAME OFFICE, and is leading in the polls, AND is beating Trump in most if not all polls ?   And right away here we arrive at a piece of what Trumpsters are doing to America. They deny reality, and when a sizable portion of America denies reality like this it can't help but have a negative effect on the whole).   
Trump supporters seem to be interested in one thing only, in terms of the behavior and truthfulness of the president of the United States  -  how much can he "play" the liberals. After the revelations of his conduct viv a vis Ukraine, all we are getting from Trump supporters on internet forums is pride in how Trump is gaslighting the American people. 
Does anyone in their right mind think that Trump will go down favorably in the history books for having "made liberals cry" ?   I have looked at quite a few comments on this forum and elsewhere on social media and by far Trump supporters are fixated on Trump sticking it to the Democrats. You could say that is all they care about. They literally don't care that the president* is overturning the behavorial mores that have existed in America for hundreds of years. 
Plainly, Trump supporters have no operative standards of behavior that they demand their leader conform to. Blatant lies are ok with them , rampant insults, often towards completely innocent people, from the president* are ok with them, open bullying is ok with them, ridiculous narcissistic preening (such as pushing the president of a small country aside so as to get himself into the front of a photo shoot at an international gathering) is ok with them, Trump's lifelong personal financial corruption is ok with them, as is his claim that he can sexually assault women with impunity. And trying to get unearned help from foreign governments in his election is ok with them.  Abuse of his presidential power is now ok with them.  Last night text messages were released concerning the efforts by Trump forces in Ukraine. Those messages make it clear that support for the Ukranian government and the defense of Ukraine militarily was being linked to a firm commitment by Ukraine to investigate the presidents election opponent. 
Trump, on his own and through his subordinates, was telling Ukraine, "play ball" and investigate Biden, if you want good relations with the US government.  This is blatant abuse of his power as president of the United States. 
What are Trump supporters doing to America?  Isnt destroying respect for our government enough?  They have no standards that Trump must conform to. None.  Berating your supporters ideological enemies is not the duty of the presidency. Acting like a tinpot dictator is not a duty (or a perk) of the presidency. Behaving like a criminal buffoon is not the function of a US president. 
I , personally, have no respect for the Trump supporters who think all this is funny. They are ruining this country.