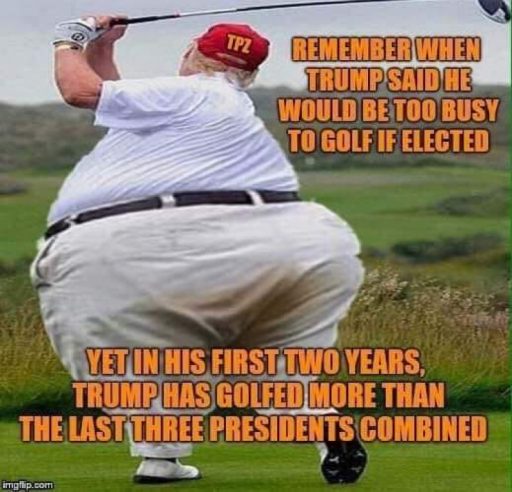 Trump, the Accussed Child Rapist, is again in the news, thanks to his BF Jeffrey Epstein's re-indictment on CHILD SEX TRAFFICKING!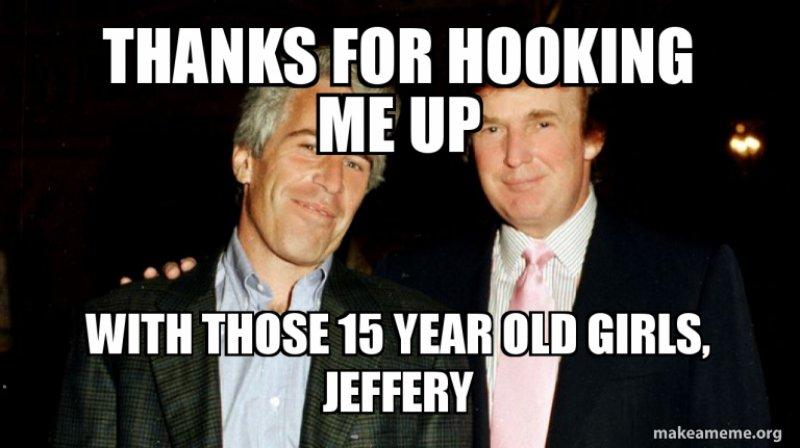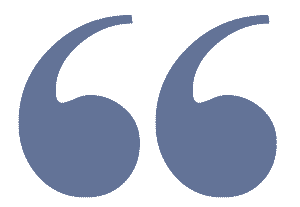 "She's Not My Type." Donald J. Chump
BREAKING NEWS:   July 7, 2019:

ttps://www.cbsnews.com/news/jeffrey-epstein-arrested-in-new-york-today-on-charges-related-to-sex-trafficking-2019-07-05/


JEFFREY EPSTEIN, Trumps Best Friend, and fellow traveler Child Sexual Predator arrested. Charges of Child Sex Trafficking have been brought against him in the Southern District Court of NEW YORK, they reach back to the days when Trump and Epstein were both defendants in a lawsuit filed by two of Epstein's former victims.

The "Main Stream Media" shied away from this story during the Trump because it had been dismissed for a variety of reasons, including several DEATH THREATS the women had received. It was prior to the "Me, Too" movement, and media just brushed it aside.

Trump, of course, called it "FAKE NEWS", as Hitler did, and Putin does on any negative article him.
Now, it is back in the MAINSTREAM NEWS with Epstein's recent arrest on similar charges. The scandal reaches into the Whitehouse and, Trump's cabinet.

The wheels are about to come off of Trump's constant denials of "She is not my type"!

https://www.theguardian.com/us-news/2019/jul/08/jeffrey-epstein-trump-bill-clinton-prince-andrew-case-spotlight-famous-friends

L et the Chips fall where they may. A truckload of logs is about to come down on Epstein's friend, DONALD J. TRUMP!
Below is the previous article that TRUMP SUPPORTERS viciously attacked at unfounded, Bull Chips, lies, etc. because it involved their FAKE HERO. Justice is catching up with TRUMP!

READ IT AND WEEP, SUCKERS. You have been had!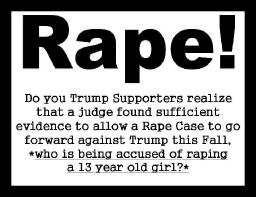 The former article, published, here, on The News Talkers, three years ago, is worth the re-read.

                   * * *

Trump is an "ACCUSED CHILD RAPIST". The affidavits are on file in US Federal Court Judge Ronnie Abram's Courtroom, New York, New York.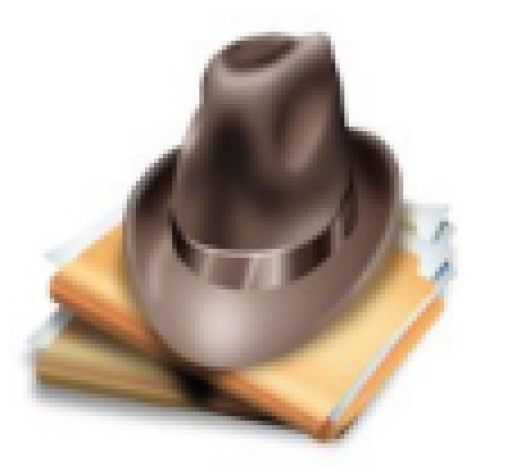 Trump is a "self-admitted SEXUAL PREDATOR" who bragged about it on the infamous "Access Hollywood" tape, where he admitted that he "grabbed women by the pus*ey", and, that they, "let you do it because you are a star."
Trump is a pedophile who blabbed about his fetish on Howard Stern's show, stating that he "walked in on teenage girls undressing" under the guise that he was the owner of the pageant on an "inspection tour" to see them getting dress and semi-naked. Howard and Trump laughed it up on the PUBLIC AIRWAYS, while millions heard and saw his confession on that swarmy, smut-filled talk-trash show.
Trump is a "RAPIST" according to his first wife, Ivana, mother to three of his five children, Ivanka, Eric and John, Jr. She goes into great detail about the assault in her book. 

Trump was, also, accused by a female associate involved in a project with this self-admitted SEXUAL PREDATOR! Both women settled for undisclosed amounts of cash.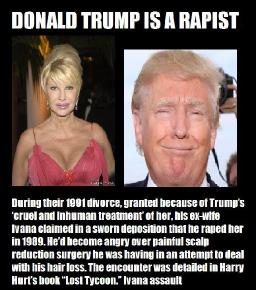 In the New York business community, Trump is a known crooked businessman involved in nearly 4000 lawsuits, involving as a "grifter, a crooked developer" who is legendary for failure to pay his contractors, architects, and workers on his construction projects, and as a notorious LIAR
Trump has been rumored to have extensive connections to the Russian Mafia, who purchased six (6) condominiums from him.

Felix Sater, the son of the leading Russian Mobster, worked with Trump on a proposed Hotel/Casino in Russia. and, help with the $900,000,000 investment from Bayrock, an American company owned by a Russian oligarch with close, personal ties to Putin. That infusion of cash bailed Trump out of a pending bankruptcy and saved his company.


His financial ties to Russian interest has steadily grown from there.
Trump is currently under 4 serious investigations for CRIMINAL wrongdoing. Special Counsel under the supervision of the United States Deputy Attorney's SPECIAL COUNSEL has opened up an investigation into his contact with the Russian operatives during his campaign, and potential obstruction of justice.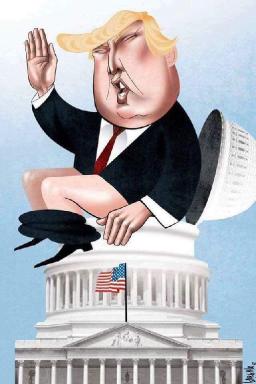 New York's State Attorney General is investigating Trump and Trump Organization's criminal enterprises, including the serious charge of "MONEY LAUNDERING" for the RUSSIAN MAFIA.
The Senate Judiciary is investigating the Trump campaign conspiring with Russians to steal the presidential election.
The world watched on national TV, as the then, "candidate" Trump publicly invited a foreign power to thrust itself into our election: "Russia, if you are listening", find Hillary e-mails, all 30,000." if you found them, I am sure media would richly reward you", or, words to that effect.
The House of Representatives' Intelligence Committee is investigating the "Russian Meddling" in our election, and, other potential criminal activities.
Trump fired Deputy Attorney General, Sally Yates after she informed his office that his National Intelligence Agency's Director, former Brigadier General Mike Flynn might be "compromised" by the Russians.
Trump fired the Director of the Federal Bureau of Investigation (Comey) after he failed to make a loyalty oath to the mobster-acting Trump.

Additionally, Congress questioned whether the Commander-In-Lies obstructed justice by asking the FBI Director, to "go easy on Flynn." " He's a good man", the brain dead fake POTUS advised Comey.
Trump-appointed his son-in-law to negotiate a $65 BILLION DOLLAR ARMS DEAL with Saudi Arabia, which, then, donated $150 MILLION DOLLAR to Jared wife, Ivanka Trump's Non-Profit Organization, which was later forced to close for misappropriation of funds to for-profit ventures. 
The lists of CRIMINAL WRONGDOING is endless! The "Dirty Donald" MUST be removed from office!